← Back
Throwback Thursday, For Fans of Old Photos
Do you love old photos like we do? It's fascinating to see the changing and remaining face of our neighborhoods over the years and decades. Village Preservation is fortunate to serve as custodian of an immense and rich photo archive you can explore here. And sometimes we see some intriguing online resources and archives that have a plethora of catchy images. Today we look at a few of the images in the very cool New York University Archives Photograph Collection focused on Washington Square Park and the area around (and under) it.
Some of these photos have such a classic feel. You might find your new favorite photo here. And see if you are familiar with some of the locations or views. This northeast corner of Macdougal and West 3rd Street below was entirely demolished since the unknown date of the photograph. Check out that serious scaffolding.
You can search the webpage by a keyword like "alley", "subway", roof", or "film". A young Matthew Broderick was filming "No Small Affair" in Washington Square on March 17, 1981. Where were you in 1981?
There's another old corner view in the collection of Thompson Street and Third Street looking east on West Third, with NYU construction at left (perhaps unintentionally, the collection does a great job of showing how much NYU has changed, and in some cases destroyed historic pieces of, Greenwich Village). Cafe Jolie location is where Irving Farm Coffee is located today. This view is before the construction of the unmistakeable NYU Bobst Library (1973) which today would block the view of 50 West 4th Street to the left and rear.
This part of their online collection actually happens to go all the way east to First Avenue. You can see the lettering of the Art Deco sign of the First Avenue Retail Market, a Works Progress Administration era building that is today the renowned Theater for the New City. We spotted this unlabeled photo below with an image of what is most likely one of the "Shadowmen" figures. Regular readers of our blog Off the Grid (and we know you are out there!) would have previously learned about the artist behind this once-ubiquitous image if you didn't know about him already. This one below is just called "Graffiti".
Other "Shadowmen" could be found on walls throughout Downtown neighborhoods like Greenwich Village and the East Village in the 1980s. The man behind these enigmatic silhouettes was Richard Hambleton, a peer of Jean-Michel Basquiat and Keith Haring who garnered extensive media coverage with his graffiti art at the time, but who has since been largely forgotten. Read more here.
A great piece of NYC artistic history is a Keith Haring mural from the 1980s at the now world-famous Bowery and Houston corner mural location.
Many buildings pictured in the archives remain. This image below of Tillis Lunchenoette at the corner of Mercer Street and West 4th still stands. It was until 2018 the location of Dojo Restaurant for over 20 years.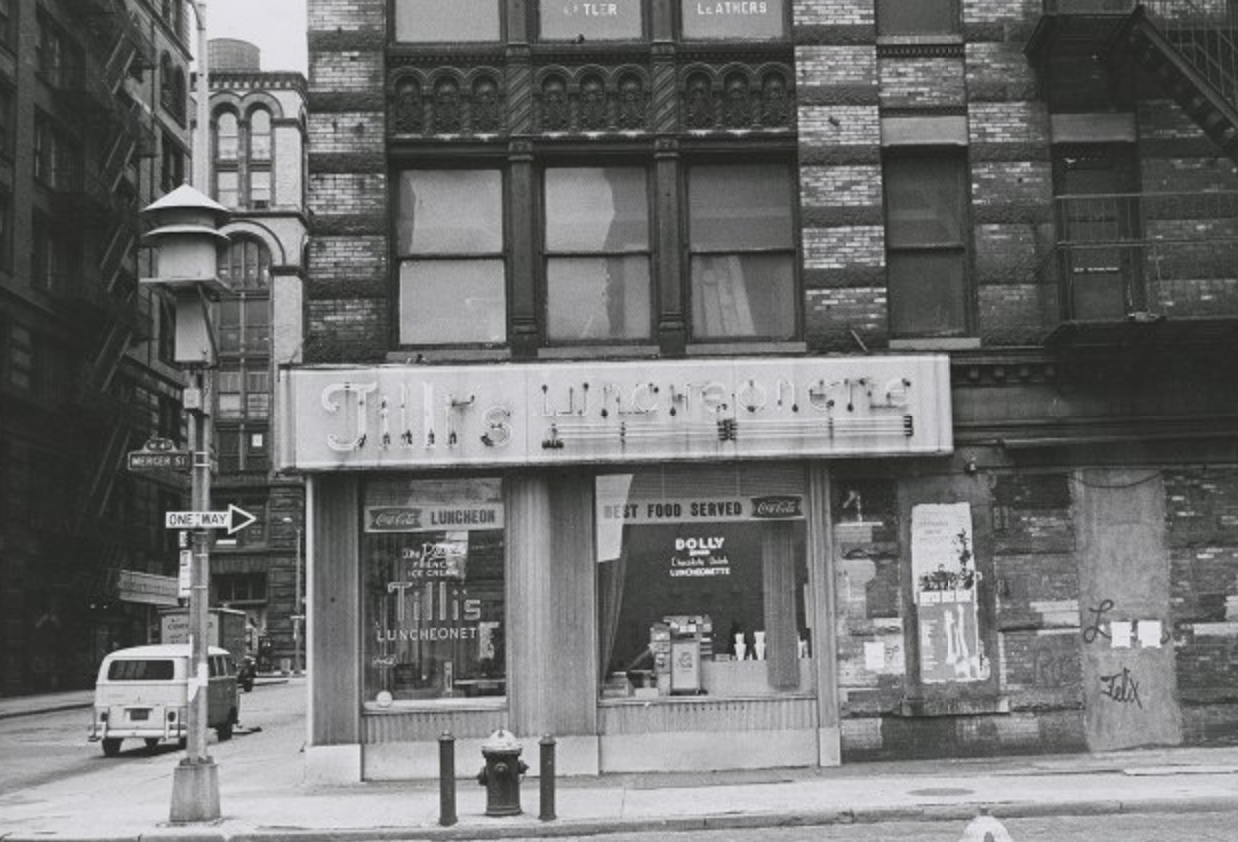 The archive even has some old subway and subway station photos that will harken to another era. Can you tell where this subway entrance is located from the old photo below without looking at the caption?
And yes that is the world famous basketball (and handball) courts in the rear of the photo.
There are many more images of buildings, roofs, alleys, people and fascinating views of how our neighborhood used to look. See then and now in the very cool New York University Archives Photograph Collection focused on Washington Square Park and the area around (and under) it.