← Back
Revolutionaries on East Second Street: The STAR House
The East Village is home to a dynamic group of historic LGBT+ sites — overshadowed as they may be by the many such landmarks of the West Village, including Stonewall. But LGBTQ+ artists, writers, musicians, and activists have long called the East Village home, or spent significant time there. Among them are Allen Ginsberg, Emma Goldman, Ana Maria Simo and the Lesbian Avengers.
In fact, two of Stonewall's leading activists, Marsha P. Johnson and Sylvia Rivera, extended the movement eastward in the early 1970s, through the housing collective for transgender people, STAR (Street Transvestite Action Revolutionaries) House, located on East Second Street.
The activist and artist Tourmaline writes, "Following the Stonewall Rebellion and the first annual Christopher Street Liberation Day March —which held a rally at the Women's House of Detention where Panther 21 members were being held — Marsha P. Johnson and Sylvia Rivera formed STAR in order to create a revolutionary organization that started with a political analysis centering gender self determination and homeless trans people of color, most of whom did sex work."
After Stonewall, several gay rights groups emerged around the Village and the surrounding areas. Among them were the Gay Liberation Front (GLF), the Mattachine Society, and GAA (the Gay Activist Alliance), a "militant, non-violent organization dedicated exclusively to the attainment of civil and social rights for gays." Many organizers involved in these groups were NYU students, who held dances and social events for the organizations on their campus. In 1970, an upcoming dance planned by GAA, GLF, and a group called the Radicalesbians was shut down by the NYU administration. A mass of young gay activists occupied NYU's Weinstein Hall for a multiple-day sit-in in response. This was, as the gay activist and journalist Arthur Bell wrote, "the first time a community spirit came out of a cross-section of the homosexual movement in New York." After five days, the police forced activists out of the building. Rivera, Johnson, and their friends were outraged by the ongoing police brutality against LGBTQ+ people. Furthermore, they were discouraged by the ways in which they were often shunned by even their cisgender lesbian and gay community members. They began to envision what a more permanent home for their movement might look like.
The STAR House began in a parked trailer truck in a Greenwich Village parking lot in 1970. It functioned as a shelter and social space for trans and unhoused LGBT youth. Marsha P. Johnson and Sylvia Rivera ran the shelter and provided food for its inhabitants, and around two dozen young people lived in the trailer. As Martin Duberman describes in his book Stonewall, the truck was soon towed, with many inhabitants sleeping inside. Most were able to leap out in time, but a few were not so lucky.
In search of another home for STAR, Johnson and Rivera found a building at 213 East Second Street, formerly a traditional Jewish tenement home. A friend named Bubbles Rose Maria, who had resided in the earlier, mobile incarnation of STAR, connected the pair with her acquaintance Michael Umbers, who owned the building. Umbers, a curious character, was both a well-known Mafia figure in the Village and an active supporter of the gay rights movement. For a small amount of money up front, Umbers handed over the Second Street residence. It had long been standing empty.
The building was in disrepair. Arthur Bell writes that "the building had a roof but the water was rusty… and there was no heat during the winter." 213 East Second Street had no electricity or plumbing, and no working boiler. The activists were discouraged and confused but, miraculously, made the house livable. They were "queens that don't know shit about nothing," they quipped. "We're looking at the tools, we're looking at each other. We just started taking things apart, putting them back together…"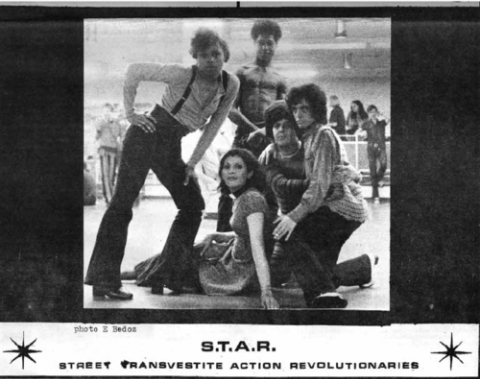 STAR house was notable for many reasons — it was the first LGBT youth shelter in North America, the first trans woman of color-led organization in the US, and the first trans sex worker labor organization. And it was an immense struggle. Eric Marcus writes: "The dream of STAR House was to provide a safe place for street kids, but those kids were just a little younger than Marsha and Sylvia, who were in their early twenties and still had to hustle to survive."
The legal rent for 213 was $310 a month, but Umbers told Rivera and Johnson he'd take $200. They hoped to use the top floor of the building as a school to teach those living in the house, many of whom had been forced to leave home and live on the street at a very young age, how to read and write. Of the organization's successes, Rivera told trans activist Leslie Feinberg, "We fed people and clothed people. We kept the building going. We went out and hustled the streets. We paid the rent. We didn't want the kids out in the streets hustling… There was always food in the house and everyone had fun." Rivera reports that young people "from Boston to California" found refuge in STAR house.
In July 1971, only eight months after they had moved in, the inhabitants of STAR House were evicted for inability to pay rent by Umbers — who enlisted city marshals to help. The building was demolished and replaced in 2005-2006 by a property retailing at over two and a half million dollars.
Almost fifty years later, in June of 1970, a researcher from the Lesbian Herstory Archives unearthed a hidden artifact of the STAR days. The reel-to-reel recording, now digitized, of a WBAI interview from 1970, is likely the earliest recorded interview with Rivera and Johnson, as well as likely the only recorded interview with members of the organization. This one-of-a-kind primary source testifies to the immense historic importance of Rivera and Johnson's organizing, and of the futures they envisioned through STAR.
The short-lived STAR House was on the one hand a social space, one where those shunned from society could find solace, pleasure, and kinship with one another, and on the other hand a space of community rehabilitation where "young queens… could maybe even learn enough skills to start another kind of life."
You can learn more about significant sites in the East Village, including notable LGBTQ landmarks, through our interactive resource, East Village Building Blocks. The STAR House is also one of many radical spaces featured in VP's Civil Rights and Social Justice map.