← Back
Top Five Most Popular 'Off The Grid' Posts of 2020
As 2020 comes to a close, it's a good time to take stock and look back on our most popular posts of the year. This eclectic mix of culture and history include the 1960s boy band the Monkees, and the oldest residence in Manhattan, 44 Stuyvesant Street. Tellingly, three of the five posts focus on music and ties to the Village.
My personal favorite of the five, this post is about the four elevated rail lines that ran above the streets of our neighborhoods from the late nineteenth century until the mid-twentieth century. It explores how they shaped our communities and advanced the development of New York City. It was published just last week, which makes its presence in the top five even more amazing as it has not had months of shares to bring in new views.
This June article explored the recent release by Smithsonian Folkways Recordings of an almost 60-year old previously unheard recording of legendary artists Doc Watson and Gaither Carlton. These tapes were recorded at Doc Watson's two earliest concerts in Greenwich Village, in 1962, one of which took place in an NYU auditorium at 35 West 4th Street. Those shows were among the rare appearances of Doc's father-in-law and fiddler Gaither Carlton ever made outside of North Carolina.
The marriage of Nicholas William Stuyvesant, descendent of Director-General Petrus Stuyvesant, and Catherine Livingston Reade, a member of New York high society, was held on January 31, 1795. That marriage led to the construction of what is today the oldest residence in Manhattan, 44 Stuyvesant Street. It is only one of two remaining houses from the early generations of the Stuyvesant family. The other is the Stuyvesant Fish House built in 1803 just across the street at 21 Stuyvesant Street. Along with the Jumel Mansion and the Dyckman Farmhouse in Upper Manhattan, 44 Stuyvesant Street is the only surviving residential building from the 18th century in Manhattan.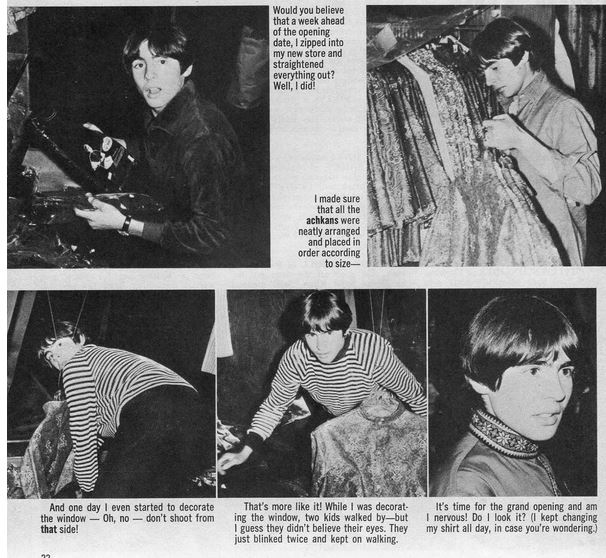 Davey Jones, the lead singer of boy band The Monkeey had a 'mod' clothing shop called Zilch I at 217 Thompson Street from 1967 to 1969. This post written by Monkees mega-fan and VP Director of Research and Preservation Sarah Bean Apmann noted that over 2,000 fans attended the grand opening on October 20, 1967. For you non-die-hard Monkees fans, Zilch was the name of a song from the group's album "Headquarters" released in 1967.
The top rated blog post of 2020 was also a recent one, written earlier this month. Harry Bubbins, VP's East Village and Special Projects Director, leads our Business of the Month program and wrote two of our top five posts in 2020. He has been working hard this year to highlighting our amazing small business community, which is a major reason the Village is such an incredible place to live and shop.
Since 1968, Bob Abramson has owned the store — first on Bleecker Street, and since 1980 on a cozy part of Carmine Street a few doors down from Our Lady of Pompeii Church. Bob cherishes the diversity of people who come to Greenwich Village, not only from the U.S. but from all over the world. He says that the Village is "still very quaint, interesting looking and the buildings are very artistic."
He sells only records, 45s, LPs and yet still has outlasted famed Bleecker Bob's, Tower Records, and many, many more. As Bob points out, "Many big fancy stores have pushed out the little guy due to high rents."
The times have fortunately caught up with House of Oldies. While tapes and CDs were de rigueur for many years, music aficionados never let go of the classic vinyl recording. And neither did Bob Abramson.
Now more than ever we need to show our support for small, local, independent businesses. House of Oldies has survived and thrived for over 50 years thanks to the dedication and passion of owner Bob Abramson, and to the support of local residents and visitors from all over the world, famous and unknown. With your support, they can carry on for years to come.
What special small business would you like to see featured next? Just click here to nominate our next one. Thank you! #shoplocalnyc