← Back
Butterfly McQueen's Groundbreaking Performances in the Village and Beyond
Butterfly McQueen — it's an unusual name, but in many ways perfect for the woman to whom it is attached, as it evokes both flight and royalty. Born in Florida, McQueen was a dancer and actor who was made famous by her role as Prissy in Gone With The Wind — followed by many similar roles, about which she said: "I didn't mind playing a maid the first time, because I thought that was how you got into the business. But after I did the same thing over and over, I resented it. I didn't mind being funny, but I didn't like being stupid." An Emmy winner, an outspoken atheist who never married, and a serious performer, McQueen played essential and groundbreaking roles in the Greenwich Village and Lower East Side theater scenes, including the Harlem Suitcase Theater, run by the International Worker's Order located at 80 Fifth Avenue; Villager Barbara Kahn's first play, "Gravediggers," at LaMama ETC Theater, and a one-woman show in 1978 at Reno Sweeney, at 126 West 13th Street.
Born January 7, 1911 in Tampa, Florida, McQueen's mother, Mary, was a domestic, and her father worked the docks. By 1930, though, Mary was listed in census records as a widow. By age 8, Thelma — Butterfly's birth name, which she used again in her old age — was living with an uncle. She would say she didn't know prejudice until she traveled to the North, which she did, joining a theater group in Harlem. She studied dance with Katherine Dunham, Geoffrey Holder, and Janet Collins. She danced with the Venezuela Jones Negro Youth Group, and took to the stage wherever she could. Performing in a Midsummer's Night's Dream, dancing a Butterfly Ballet, she was given the name "Butterfly," and decided to keep it.
McQueen at the International Worker's Order and LaMaMa
McQueen found friends and community, and more dynamic roles, when her career brought her to Greenwich Village, and particularly when it brought her in contact with the International Worker's Order (IWO).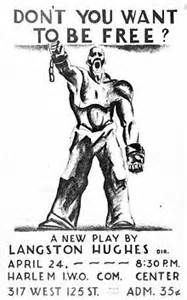 In a prior post about the IWO, my colleague wrote that even as they pushed for equality for workers in the spheres of politics, employment, and public life, the organization also stressed the importance of art, literature, music, and theater in the fight for civil rights. Actor, musician, and activist Paul Robeson was a prominent IWO member, who frequently performed at the Order's rallies and concerts. The IWO also organized the Harlem Suitcase Theater, led by Thompson Patterson, which sought to bring socially-conscious theater to African American audiences throughout the Depression. Butterfly McQueen was a member, and made her acting debut in "Don't You Want to be Free?" by Langston Hughes. Today, the Harlem Suitcase Theater and the organization's other troupes, including the IWO's Freedom Theater, are viewed as trailblazers of experimental community theater.
Years later, in 1975, writer and director (and Village Preservation supporter) Barbara Kahn cast McQueen in her play "Gravediggers." Kahn remembered: "I came to New York just in time to work with some of the pioneers of Off-Off-Broadway… The first play I ever did at La MaMa was 'Gravediggers,' a spoof of horror movies and movie musicals co-written by me and Ray Hagen and starring the wonderful Butterfly McQueen" (presented by Ellen Stewart at LaMaMa E.T.C.).
In 2015, Kahn went on to write Women of the Wind, which explores the lives of two secondary cast members of the movie Gone with the Wind —  Butterfly McQueen and Ona Munson who played brothel owner Belle Watling. Munson had three career-protecting heterosexual marriages that she hoped would deflect attention from her intimate relationships with other women, and McQueen never married. The play explored their struggles and interactions.  
McQueen's Successes and Struggles with Racism
Butterfly not only acted, she sang, danced, and played the piano. She appeared on the Broadway stage in the comedy What a Life in 1938 when she was spotted by a talent scout for Gone With the Wind. While she wasn't the young actor that the filmmakers had envisioned, she won them over and got the part. However famous the film made her, it was filled with humiliation — that slap from Vivien Leigh was real, and McQueen claimed Lena Horne directed slurs at her. McQueen and her Black colleagues were barred from the film's premiere because the theater was "whites-only." The NAACP boycotted the movie, and Malcolm X said he was embarrassed by McQueen's character Prissy. McQueen later said she got "used to being hated," and vowed never to do another role like it.
She continued to pursue roles on the big screen, but they were limited. She had a substantial role in Mildred Pierce opposite Joan Crawford, but wasn't even credited for the part. With her livelihood came such mistreatment, and so McQueen often quit Hollywood and acting, understandably, bouncing back and forth between theater, radio, and odd jobs.
McQueen also took jobs at Macy's and worked as a taxi dispatcher. She called herself a "worker" and took theatrical work where she could. She wanted parts with dignity. She walked out of Jack Benny's radio show because she didn't want to play a servant anymore. "I would be disgracing my race," she said, tired of being "looked down upon."
On July 8, 1978, the New York Times wrote about McQueen's one-woman cabaret show:
…Down in Greenwich Village over the weekend. One show stars no less than Butterfly McQueen, the famed "Prissy" of "Gone With the Wind"… If "Gone With the Wind" remains unforgettable, so does Miss McQueen's voice — an amusing, high‐pitched whine that almost stole many scenes in the movie, including the burning of Atlanta. Miss McQueen's featured role, as Scarlett O'Hara's bumbling servant, is her best‐known part, but she also made later, brief appearances in "Duel in the Sun," "Mildred Pierce," and a few others, including one funny bit in the department store scene of "The Women." Now, years later, Miss McQueen is a busy Harlem resident, teaching drama, music, ballet, and karate. A few seasons back, she appeared in an "interlude" entertainment on the stage of Town Hall.
Her new club act is scheduled for 9 and 11:30 P.M. tomorrow and Monday, and again on Aug. 15 through 20, at Reno Sweeney, 126 West 13th Street. Miss McQueen will sing in several languages and recite modern and classical poetry. She will end each show with a question‐and‐answer session, and some candid revelations about her Hollywood days. 
McQueen's Later Life and Legacy
In 1975, after years of study, McQueen earned her BA at City College of New York, becoming the first college graduate in her family. She told the Morgantown Sunday Dominion Post in 1975 that "We were born to improve ourselves as human beings."
McQueen won an Emmy for her character Aunt Thelma, a fairy godmother, in "Seven Wishes of a Rich Kid" (1979). Her final feature film role was in The Mosquito Coast (1986). Her final appearance was in the TV movie Polly, a reimagining of the Pollyanna story with a Black cast.
In 1980, McQueen won $60,000 in her case against Greyhound Bus Lines for racial profiling and assault and took that money as her retirement to Agusta, Georgia, where she lived quietly for the rest of her life in anonymity in a modest one-bedroom cottage.
On the night of Dec. 22, 1995, McQueen was severely burned by a kerosene heater in her cottage, which was destroyed by the fire. She was taken to Augusta Regional Medical Center, where she died at age 84. McQueen's legacy is one of perseverance and undeterred passion for her craft. From the experimental stages of La MaMa to the progressive civil-rights focus of the IWO community theater, McQueen's work in the Village was celebrated, even if her life in the national spotlight was more fraught.