← Back
The Umbra Collective: "The Downtown Poets Stayed Downtown"
Like the New York branch of the Black Panther Party, the Umbra Poets Workshop started in an unidentified location somewhere in the East Village. Working to establish a Black poetic community counter to the mainstream in the 1960s and '70s, the collective conducted readings, performances, and festivals, met to collaboratively workshop each others' writings, contributed to political discourse, and acted as a major social and literary influence to avant-garde poetry.
The first issue of Umbra's eponymous magazine was published in the Winter of 1963, edited by the New Orleans-born poet, playwright, and oral historian Thomas C. Dent, and co-edited by the poets David Henderson and Calvin C. Hernton. It was offered to the public at $0.75 per copy, or $2.50 per year (three issues, mailing costs included.) The foreword, signed simply "The Editors," states that "UMBRA is not another haphazard 'little literary' publication." Instead, the collective believed that "there [were] unpublished and infrequently published ethnic writers whose works are excellent, important and often far superior to those adopted few with which the standard press habitually and expediently affronts the public." Umbra printed a second issue and a third, which was titled "Umbra Anthology 1967-68." The fourth issue was called "Umbra Blackwork," published in 1970 and finally, "Umbra Latin/Soul" was co-edited by Henderson, Barbara Christian, and Victor Hernandez Cruz and released in 1974.
Umbra wanted to provide a platform for young writers who "present aspects of social and racial reality which may be called 'uncommercial,' 'unpalatable,' 'unpopular,' and 'unwanted.'" They wanted writers who were "too hard on society." They would not "print trash." The collective's first issue included contributors between the ages of 18 and 39, and from a wide range of places, including Africa, the Caribbean, Illinois, Pasadena, and Queens.
After the second issue of Umbra, the assassination of Malcolm X on February 21, 1965, created a sort of political schism within the collective. As many writers have noted, Malcolm X's assassination was a moment of reckoning, adaptation, and frustration for many Black artists and thinkers. Amiri Baraka, previously deeply involved in the Lower East Side's Black poetry scene, relocated to Harlem, and many Black poets followed his separatist lead. But, as Daniel Kane notes in his book All Poets Welcome: The Lower East Side Poetry Scene in the 1960s, "while 'Umbra' was a 'positive assertion of cultural blackness,' it was not necessarily a separatist political group." The group remained entrenched in the East Village, carving out a Black subculture in the midst of other, whiter poetry communities. As David Henderson put it, "The downtown poets stayed downtown. Of course, we were [Black] nationalists and into the civil rights movement, but… we were just not doctrinaire nationalists."
Henderson, who was only twenty years old when the first issue of Umbra was published and who resided on the Bowery, soon took over Umbra's editorial helm. As poet and scholar Iris Cushing writes in her research on Henderson, he was a writer of "'local epics,': Henderson's poetry drew upon a rich life of experience, responding keenly to the complexities of the world he inhabited…. the roving subjectivity of the urban flaneur moves through [his work], which collects and interprets slangs, slurs, declarations, declamations, gestures." Amiri Baraka, writes Cushing, once described Henderson's poetry as the "world echo" of "the Black man longing for the god who is him self." Cushing quotes, as example of Henderson's "totality of aliveness," his poem "Bopping:"
… days when we had to show ourselves love
in difficult pretensions
as if speaking words of self-love
was too remote a performance
when before the fact
we understood all too well
the action of the thrust.
Umbra stayed rooted in place through its homes in various cultural institutions in today's East Village, including the literary "coffeehouse scenes" of Les Deux Mégots (64 East 7th Street) and Café Le Metro on Second Avenue. Le Metro hosted Monday and Wednesday night readings throughout the 1970s. On the rotation alongside Denise Levertov, William S. Burroughs, Diane DiPrima, and Allen Ginsberg, were the Umbra poets. According to poet Lorenzo Thomas, Umbra poets would "hijack the readings at Le Metro and blow them all away — we had lots of energy." Importantly, Thomas writes, there had been a cultural precedent of "single Black writers who had held the public eye as representative of the 'Black writer' and had succeeded each other," but Umbra "rejected this sort of tokenism and began to read eight or ten at a time."

Chance poetic encounters on the streets of the Village, East Village, and Lower East Side were also foundational to Umbra's character. Thomas describes how "contacts with the hidden pulse of Black culture came from meetings with the fabled "characters" of post-Beat Generation Greenwich Village." One such character was "Jorge Brendon, the Puerto Rican bard of Union Square." A sign-painter with his own shop on East 10th street, he was "famous on the streets for his… ventriloquist poetry and future telling," which Joe Johnson, an editor of Umbra, believed might have been connected to the divination and mythology of Yoruba, a West African folk tradition.
In 1961, Archie Shepp, a member of Umbra, began organizing free jazz concerts in the West Yard of St. Mark's Church-in-the-Bowery on Sunday afternoons with the likes of Pharaoh Sanders. The collective hosted the "Freedom North" arts festival at St. Mark's in July 1963, showcasing the work of African American painters, sculptors, photographers, poets, and musicians, including Lloyd Addison, Tom Feelings, Al Haynes, Joe Johnson, and Freddie Redd. The poets of Umbra entered and shaped the St. Marks poetry community at large, going on to sponsor a series of "audacious" poetry readings.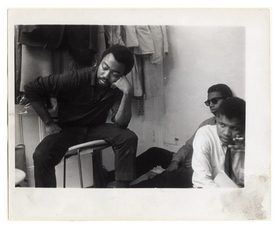 The Umbra Collective is notable for the ways in which it "preceded, presaged,  and shared the excitement … generated" by later literary magazines published exclusively by Black writers and for Black readers, such as Soulbook, Black Dialogue, and The Journal of Black Poetry. Members of this group went on to create and/or participate in literary journals like NKOMBO, BLACK RIVER JOURNAL, CALLALOO, YARDBIRD, Y'BIRD, QUILT, EAR and MAIN ST.  The group is remembered for the ways in which it "thrust poetry back into its original grandeur and reaffirmed the poet's primary role of social commentator."
You can read more about small-press poetry culture in the East Village in this entry on Angel Hair Press.