← Back
"Secret Banned Rites": Poets at Café Le Metro
Café Le Metro, now the 13th Step Sports Bar, was located at 149 Second Avenue. A four-story Greek Revival row house, it is the oldest on its block front and currently retains its original stoop, entryway and upper façade. Constructed in 1850 for original owner Joseph Kirnichon, the building was "tenementized," or converted to house multiple families, during the late 19th and early 20th centuries. In the 1800s, this building was home to Roderick Cameron, a prosperous South Street merchant who ran a fleet of clipper ships. Following this, in the 1890s through 1915, the building became the House of the Holy Comforter, aiming to care for Protestant women and children with incurable diseases.
From 1963 until 1965, the poet Paul Blackburn organized many poetry readings at the site. The readings at Café Le Metro set important precedents for the downtown avant-garde poetry scene. Here, Allen Ginsberg and Robert Lowell shared the stage for the first and only time. Among many, many other luminaries, the cafe hosted Robert Duncan, Anne Waldman, Ted Berrigan, the UMBRA Collective, John Ashbery, Diane Di Prima, and Patti Smith.
Newsday reported in 1963 on artists on the Lower East Side: "Poets aren't lacking … Cynthia and Moe Margules, who operate Le Metro, a coffeehouse on Second Avenue, have found that poets are regular, if not heavy-spending customers. Once or twice a week the poets drop in … to read to each other."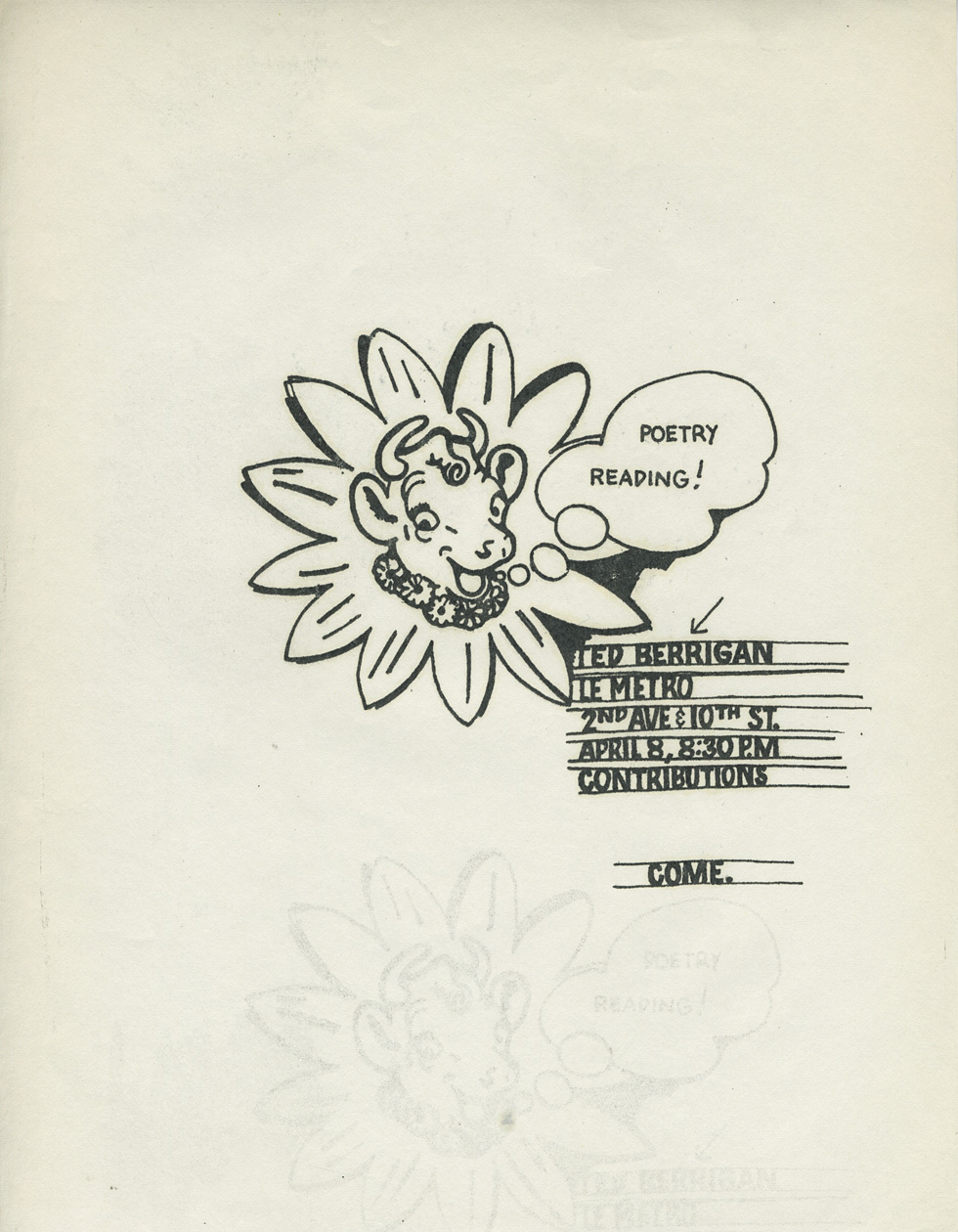 A curated reading series took place Wednesdays at 9 pm. A sample calendar for Wednesdays at Le Metro in 1965 included Kenward Elmslie, "the unbelievably brilliant and unique New York Poet," and Jerome Rothenberg ("Better harden yr heart for this reading"). Admission was 25 cents. Meanwhile, as a note on the bottom of the typewritten flyer notes, "Also there are open readings Mondays at 9pm." The Monday/Wednesday reading series, previously held at a nearby coffehouse called Les Deux Megots, was reprised at the Poetry Project at St. Mark's Church-in-the-Bowery, where many Le Metro poets and friends migrated in later years.
Cafe Le Metro was an important fixture in the coffeehouse poetry culture that flourished on the Lower East Side from 1960 onwards. Allen Ginsberg, as Miles Champion writes in "Insane Podium," traces the lineage back even further to the readings at the MacDougal Street Bar (later the Gaslight Cafe) in the late 1950s, which for their part were prompted by the San Francisco and Berkeley-based poetic "renaissance."
The poet Dan Saxon collected manuscripts (either hand- or type-written) from those who read on Le Metro's stage and compiled them into a mimeographed magazine which he circulated for free around the community. Ron Padgett, a New York School poet and contemporary of Saxon's remembers:
"Dan Saxon would come into Le Metro during the readings and hand out rexograph sheets, and we would get one stencil each. Some people would take them home and type on them, but a lot of us wrote by hand on one of the old wooden tables at Le Metro. Some would spontaneously write a poem by themselves or collaborate with somebody. Or they would draw a poem picture. A few people would come in occasionally and write from memory a poem they had written recently. … Poets at Le Metro was kind of a free-flowing record of the readings that went on. Some of the poems were awful, but that didn't matter. It was more the sense of spontaneity that was important to me."
In February of 1964, a city license inspector appeared at a reading by poet Jackson Mac Low at Le Metro, and issued a summons, citing the New York Coffeehouse Law of 1962, which outlawed unlicensed "entertainment." Le Metro, like other small neighborhood coffeehouses, did not serve liquor, and this summons threatened to put the cafe out of business. Businesses without cabaret licenses (which required fire department codes and were prohibitively expensive) could be put out of business for hosting this type of "entertainment." In response, Paul Blackburn and Ginsberg, along with Ted Berrigan and others, fought for and won the right to read poetry without a cabaret permit.
Terrence Diggory writes: "more than merely a place to share their work, the Metro gave artists a sense of community, born out of the shared creative energy. Significantly, the Metro was much less formal than many subsequent poetry reading venues. At the Metro audience members did not necessarily give the poet their full attention but, rather, allowed the poetry to meld into the ambient noise and conversation."
Poet Anne Waldman, who would carry the legacy of Le Metro and other Lower East Side coffeehouses to her tenure as Executive Director of the Poetry Project, recalls: "I do remember Diane Wakoski reading and Carol Berge and was happy to see women poets at that time who were assured, confident. The room was filled with a crow of poets who were starting to be "legendary" in my young imagination… You felt the poets were trying the work on — often for the first time. The energy of the place indicated it would find expanse."