← Back
(Even More) Artists, Theaters, and Advocates for Civil Rights and Social Justice in Our Neighborhoods
Our neighborhoods have a long and profound history of advocating for civil rights and social justice. In 2017, to honor the many struggles that have been fought here, Village Preservation launched a new Civil Rights and Social Justice Map covering Greenwich Village, the East Village, and NoHo. This map is consistently being updated as new information rises to the surface, expanding our documentation of the African American, Women's, LGBTQ, Latinx, Asian American, and other social justice history that has emerged from these blocks. Most recently, we have added sites where an artists' collective, two theater troupes, and a young Chinese American advocate pushed for civil rights. These new additions exist within a rich context of the social justice legacy of the area, which frequently intersects with art, theater, and literature.
The Spiral Group, 147 Christopher Street
The Spiral Group was a collective of fifteen painters formed by Charles Alston, Romare Bearden, Norman Lewis, and Hale Woodruff, which included Reginald Gammon and Emma Amos. The group worked in diverse styles and explored the role of Black artists in the fight for civil rights. Active from July 1963 through the autumn of 1965, the group met regularly at 147 Christopher Street.
The Spiral Group first got together with the purpose of organizing a bus to take New York-based African American artists to the 1963 March on Washington for Jobs and Freedom. They kept meeting on a weekly basis in Bearden's studio to discuss how their art might relate to current political goals, and to explore aesthetics that transcended categories of politics, beauty, and race.
Some artists worked in figuration and others in abstraction, while others used multiple approaches. The Spiral Group organized only one group show, in Greenwich Village in 1965, the last year the group convened. The only organizing principle was that all works had to be exclusively in black-and-white.
A summer 2011 exhibition "Spiral: Perspectives on African-American Art Collective," held at the Studio Museum in Harlem, raised more awareness of this legendary group, as did a 2018-2019 exhibit at the Brooklyn Museum. Although short-lived, this seminal African American arts collective had a broad impact on the careers of the involved artists, and on Black history and art history at large.
As shown on our Civil Rights and Social Justice Map, our neighborhoods have been home to many artists who applied their skills toward social justice efforts. From 1983 until his death in 1988, artist Jean-Michel Basquiat lived and worked in a former stable located at 57 Great Jones Street. Basquiat was one of the first Black artists to achieve his level of success in the art world, and his work referenced issues of class and race and drew upon street art and graffiti art. Basquiat's painting 'Defacement (The Death of Michael Stewart)' decried the killing of young African American Pratt student and graffiti artist Michael Stewart while in police custody after his arrest at the First Avenue and 14th Street L subway station.
The Japanese and Irish-American artist Isamu Noguchi was another one of the 20th century's most important and critically acclaimed artists, and an outspoken advocate against the internment of Japanese Americans during World War II. Although he could have avoided internment himself, Noguchi was voluntarily interned in a camp for seven months. From 1942 until the late 1940s, Noguchi lived and worked at 33 MacDougal Alley, which was soon after demolished to make way for the high-rise apartment building at 2 Fifth Avenue. The Japanese American artist Miné Okubo, meanwhile, lived at 17 East 9th Street after World War II. Okubo is best known for her 1946 book Citizen 13660, in which she recounts her experience in an internment camp. The book, a forerunner of the graphic novel and memoir forms, was one of the first widely-circulated personal accounts of the repression and indignities faced by over 100,000 Japanese Americans during World War II. When the War Relocation Authority began allowing people to leave the camps and relocate in areas away from the Pacific Coast, Okubo moved to her Greenwich Village address, where she completed her work on Citizen 13660.
Greenwich Mews Theater and Repertorio Español, 141-145 West 13th Street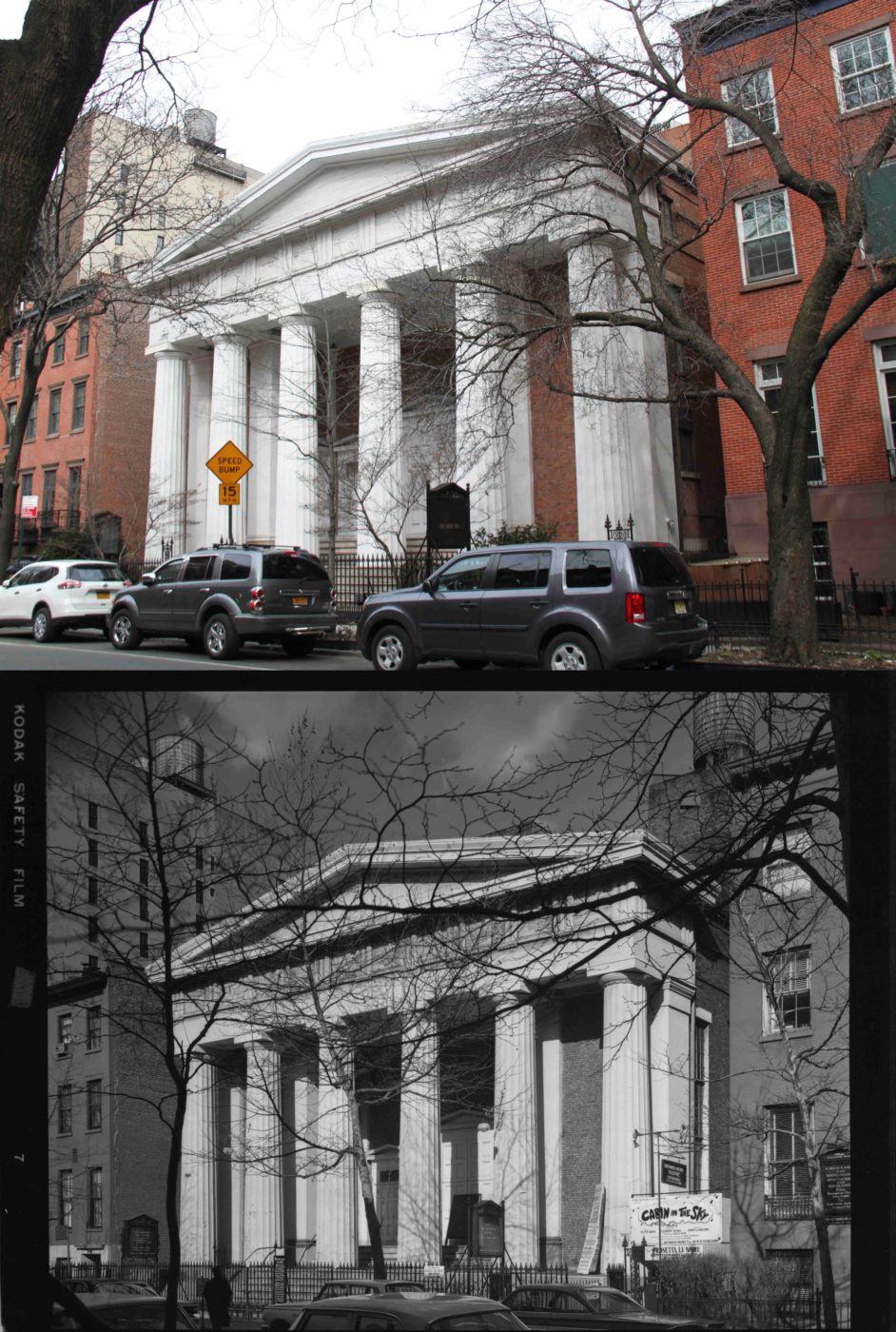 The former Village Presbyterian Church at 141-145 West 13th Street was the birthplace of Repertorio Español, a theater company aimed at introducing the best of Latin American, Spanish, and Hispanic American theater to broad-ranging audiences in New York City and around the country. Over the course of the 20th century, as immigration changed the neighborhood's demographics, the church merged with other Presbyterian congregations to remain afloat. Inviting different faiths to rent out space, as well as offering it to various organizations, including theater groups, became one of its main sources of income.
The Greenwich Mews Theater troupe had been operating out the 200 seat theater within Village Presbyterian Church since the 1940s (founded as the Greenwich Mews Playhouse). It was led by Stella Holt from 1952 to 1967, a tenacious manager who insisted on following the author's word in a very straightforward way, and encouraged the production of works written by people of color. She would produce the work of many leading Black writers, including Langston Hughes, Loften Mitchell, and William Branch. At the time, the Greenwich Mews Theater was one of the only theaters producing shows with integrated casts, and in 1955 Holt even produced Alice Childress's first full-length play, Trouble In Mind, a critique of the experiences of Black artists in the white-dominated theater industry.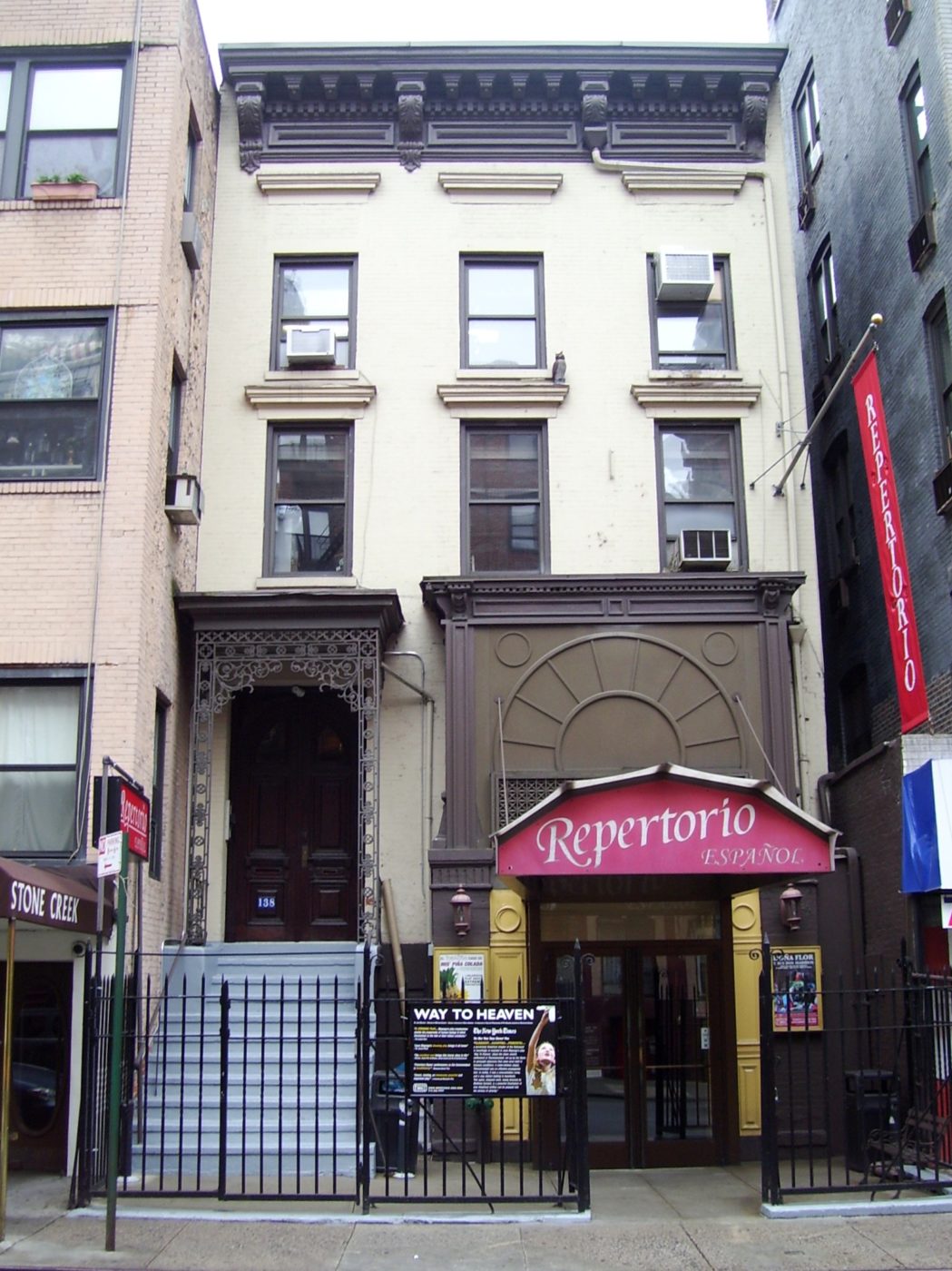 From 1965 to 1967, Holt worked with the Cuban American theater artist Juan Gilberto Zaldívar, who had joined the Playhouse as an associate producer. The two worked together on Langston Hughes' Prodigal Son, which toured in Europe. In 1968, Zaldívar and the Spanish-language copywriter René Buch created their own theater troupe at this site: Repertorio Español, which showcased productions in English and Spanish. The troupe widely involved the hundreds of Spanish actors in New York working in restaurants and offices, giving them an opportunity to perform in their native language. By 1972, Zaldívar raised enough funds to occupy the 140-seat Gramercy Arts Theater at 138 East 27th Street, where Repertorio Español lives today. The troupe has produced plays ranging from Spanish works of the 17th century, such as those by Pedro Calderón de la Barca, and new works from Hispanic playwrights, totaling more than 250 plays in 40 years.
For over two centuries, our neighborhoods have been shaped by theaters and performing spaces such as this, which have devoted themselves to the advancement of civil rights. In the early 19th century, the first known Black theater troupe — the African Grove Theatre — operated at Mercer and Bleecker Streets. Decades later, the Provincetown Playhouse staged its first performance at 139 MacDougal Street on November 22, 1918. One of many famed performers to work with the Playhouse, African American singer, actor, and civil rights activist Paul Robeson, appeared here in the lead role of O'Neill's plays "All God's Chillun' Got Wings," and "The Emperor Jones." These were two of the most groundbreaking and controversial plays of the time to address racism and the challenges facing African Americans.
Eight blocks away, from 1930 until 1954, the progressive mutual-benefit fraternal organization the International Workers Order had offices at 80 Fifth Avenue. Among the IWO's many efforts to protect working-class people, it led the Harlem Suitcase Theater. Led by IWO vice president and Harlem resident Louise Thompson Patterson, the theater sought to bring socially-conscious theater to African American audiences throughout the Depression. It featured productions on topics including racism, lynching, and industrial workers poverty, and travelled to Atlanta, Nashville, and other American cities. Four years after the IWO ceased operation, Joe Cino opened a coffee house at 31 Cornelia Street in 1958. For ten years, Caffe Cino became a hangout for people involved in the arts, poetry, and theater — especially among the LGBTQ community. Today it is considered the first Off-Off-Broadway theater and New York's first gay theater.
In 1973, writer Miguel Algarin (along with Pedro Pietri, Miguel Pinero, Bimbo Rivas, and Lucky Cienfuegos) founded the Nuyorican Poets Café in the living room of his East Village apartment. Now located at 236 East 3rd Street, the café is a non-profit organization based on the Nuyorican art movement and has become a forum for poetry, music, hip hop, video, visual arts, comedy, and theatre.
Mabel Ping-Hua Lee, Fifth Avenue
The first women's suffrage parade in New York City took place along Fifth Avenue on May 4, 1912. One of the 10,000 marchers at the helm of the parade was Mabel Ping-Hua Lee (b. October 7, 1897). At 16 years old, Lee joined other Chinese American women riding on horseback along the march route, from Washington Square Park to 27th Street. Both The New York Tribune and The New York Times wrote articles about her activism prior to and during this landmark event.
In 1912, Lee enrolled at Barnard College, where she joined the Chinese Students' Association and wrote feminist essays for The Chinese Students' Monthly. In 1915, she gave a speech at the Women's Political Union's Suffrage Shop, in which she encouraged the Chinese American community to uplift the education and civic participation of women. Following her graduation from Barnard, Lee became the first Chinese American woman to receive a PhD in economics, from Columbia University. She published her research in the book The Economic History of China. When her father passed away in 1924, Lee assumed his role as the director of the First Chinese Baptist Church of New York City.
Lee was also the founder of the Chinese Christian Center, a community center providing a health clinic, kindergarten, vocational training, and English classes. Though New York women gained the right to vote in 1917, and the 19th Amendment ending all gender-based voting discrimination was ratified in 1920, Chinese American immigrant women and men could not vote until 1943. The Chinese Exclusion Act prohibited Chinese American immigrants from obtaining United States citizenship and therefore voting rights. It remains undetermined whether Lee ever became a U.S. citizen and voted here.
As illuminated in Village Preservation's Civil Rights and Social Justice Map, and 19th Amendment Centennial Storymap, a remarkable number of people and places in Greenwich Village, the East Village, and NoHo played key roles in the women's suffrage movement. These neighborhoods have long been centers of political ferment and progressive social change, and women and men here played a prominent part in removing barriers to women voting in New York State and the country. Inez Millholland, who lived with her family at 9 East 9th Street by 1909, is renowned for interrupting a New York campaign parade for William Howard Taft by speaking through a megaphone on the issue of suffrage. Around the same time, Clara Lemlich led the New York shirtwaist strike of 1909 and lived at 278 East 3rd Street by 1910. After being blacklisted for her labor union work, Lemlich devoted herself to the campaign for women's suffrage, founding the Wage Earner's Suffrage League.
Siblings and suffrage advocates Max and Crystal Eastman also lived at a number of addresses in our neighborhoods. Max Eastman is perhaps best known for his work founding the Men's League for Woman Suffrage. Meanwhile, Crystal Eastman was active in the National American Woman Suffrage Association's Congressional Committee, helped found the Congressional Union, and co-founded the National Woman's Party.
Check out the Civil Rights and Social Justice map to learn more about these and approximately two hundred other locations where people have altered the course of history in our neighborhoods: