← Back
2021 Village Awardee: Casa Magazines, 22 Eighth Avenue
It's that time of year again…time for Village Preservation's Annual Meeting and Village Awards! The Village Awards recognize and honor some of the businesses, organizations, and institutions that make our neighborhoods such special places, while our Annual Meeting also includes a review of Village Preservation's activities and accomplishments over the past year. This year's event will be held on Wednesday, June 16, 2021 at 6:00pm — reserve your spot by registering HERE.
Casa Magazines opened about 50 years ago, and for the past 26 years has been operated by Mohammed Ahmed. Clearly a treasure of the Village, Mohammed has been named the "Last King of Print" by the New York Times, and Casa was our September 2018 Business of the Month. He's joined in that store most days by Syedkhalidwasin Wasim (who goes by Ali), who started working there about 20 years ago.
Casa Magazines is an amazing place — small and cramped with over 3,000 magazines piled on every surface, covering the walls from floor to ceiling. The best-sellers are lain flat on the lower ledges, while a broad array of quotidian and esoteric titles from all over the world are displayed on racks and shelves packed to the ceiling. But Mohammed and his staff know where every single title is. And if they do not carry it, which would be a surprise, Mohammed is glad to order it for you or even ship it. The daily tabloids and international papers are also on hand, along with gum, batteries, and other daily basics.
Casa not only offers every magazine from around the world, it's a neighborhood go-to hot spot and hangout. Mohammed knows everyone by name.
Despite the growth of online reading, Mohammed says professionals in the arts, fashion, and architecture particularly tend to want a real paper copy of things, and these customers constitute the foundation of his business. The feeling of a rolled-up copy of the New Yorker at the beach or on the train still can't be matched by a Kindle, or reading on an iPhone, iPad, or even laptop or desktop.
Casa was hit hard by COVID-19. It was closed for several months until it got permission to sell outdoors in June, 2020, one moth before New York State allowed businesses like this to reopen. Business is still down, but is slowly coming back. One Casa fan wrote to us: "When CASA Magazine was able to open, it resiliently proved to be a gathering place, a place to actually go! With people! The papers were set up on tables outside so people didn't have to cram in the tiny (but meticulously well organized) store. Ali would go inside and bring out requested magazines."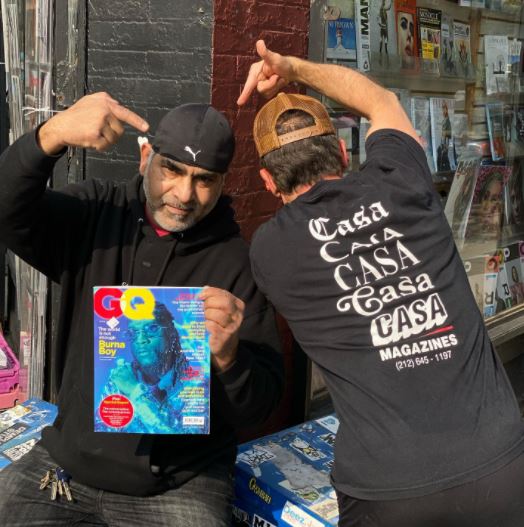 Casa Magazines has an extremely popular Instagram account (@casamagazinesnyc) and Facebook page. Social media is being run by Happy David (@happydavid), who has grown the shop's Instagram following to over 27,000. It's an unofficial partnership, she says, in which she's rewarded with the occasional magazine or Corner Bistro burger. Recently, she's approached her side gig with newfound vigor, captioning images of incoming covers or a mask-clad Ali with the hashtag #LongLivePrint, as well as spearheading multiple fundraisers. Happy has recruited excellent artists for the fund-raising swag. The Casa canvas bag is VERY chic and has been spotted around town.
We are honored to present Mohammed Ahmed and Casa Magazines with a 2021 Village Award, for his many contributions to our neighborhood, and his positive impact on the lives of so many residents since 1995.
Please join us in celebrating on Wednesday, June 16th! To learn about other 2021 Village Awardees and to register for the event, click HERE