Legendary Village Voice photographer Fred W. McDarrah captured so much about life in New York, and especially downtown, in the latter half of the 20th century. One of many examples: this Saturday night shot of Cafe Wha? on the corner of MacDougal Street and Minetta Lane, when the band The Fugs were performing there, taken on June 25, 1966, from our historic image archive.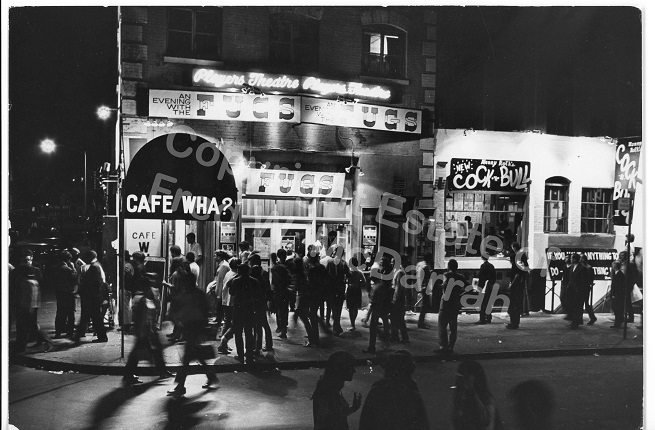 In the 1960s, Cafe Wha? was where some of the first performances were held by Bob Dylan, Jimi Hendrix, Bruce Springsteen, Janis Joplin, Woody Allen, Lenny Bruce, Bill Cosby, Richard Pryor, and Peter, Paul, and Mary (Mary Travers was a waitress at Cafe Wha? prior to joining PP&M).
The venue was located at 115 MacDougal Street, which was built as a stable in 1907-08. Between 1932 and 1936 it was converted into a garage, and by 1958 it was transformed again, into a theater, restaurant, offices, and rehearsal space.
In 1959 someone told actor and World War II veteran Manny Roth about the space. At that time, the basement was still bisected by a trough previously used as a gutter for horse dung. Manny opened his coffee house here, which he built himself, personally laying the marble floors and painting the walls black.
Throughout the 1960s, Cafe Wha? was a prime destination for musicians, poets, other performance artists, and tourists. Performers were paid through baskets passed around the audience. Describing Cafe Wha?, Bob Dylan wrote that it was "a subterranean cavern, liquorless, ill lit, low ceiling, like a wide dining room with chairs and tables."
Manny Roth sold the venue in 1968, and by the early 1970s, the venue was named Café Feenjon and featured middle eastern and world music under the direction of Menachem Dworman. Menachem's son Noam brought back the rock music format in 1987 (Menachem and Noam went on to own and operate the Comedy Cellar comedy club). Fun fact: Van Halen singer David Lee Roth is the nephew of Manny Roth, and David Lee Roth and Van Halen have performed at Cafe Wha?
The Dwormans sold the venue in the late 80s, and it has remained a music venue ever since.
The Fugs — the band performing at Cafe Wha? the night McDarrah took this iconic shot — were a NYC band who, according to their Wikipedia page: led the underground scene of the 1960s and became an important part of the American counterculture of that decade. The group is known for its comedic, even lewd, nature but also earned fame through their persistent anti-Vietnam War sentiment during the 1960s. Some 1969 correspondence, found inside an FBI file on the rock group The Doors, called The Fugs the "most vulgar thing the human mind could possibly conceive".
Click here and here to see more Fred W. McDarrah images of the Village during the 1950s and 60s from our historic image archive.