← Back
Meet the Wolf of SoHo/NoHo/Chinatown!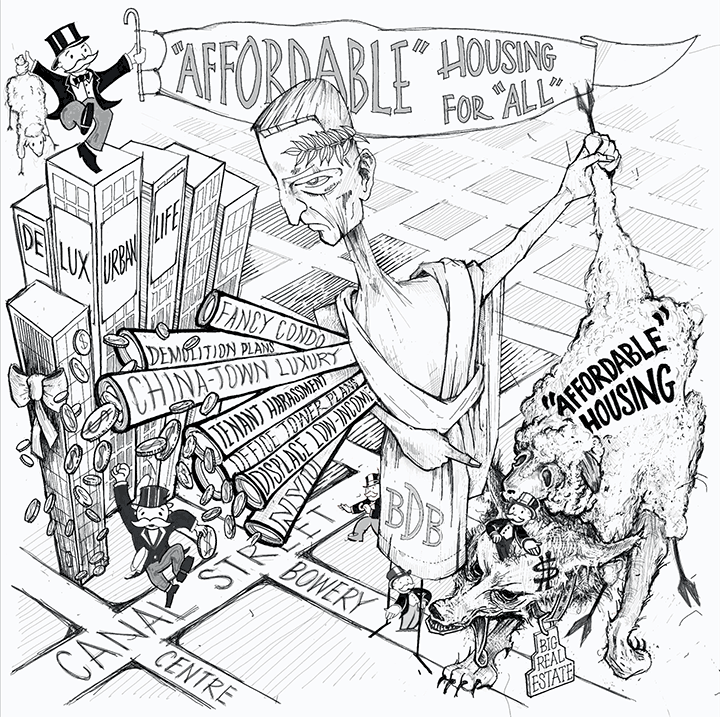 We have received a piece of art that truly captures the essence of the SoHo/NoHo/Chinatown rezoning and breathes new life into the age-old maxim: never pick a fight with someone who buys artist paint brushes by the dozen. It arrived courtesy of a resident of the area who shares his neighbors' concerns about the likely effects of de Blasio's plan. The drawing requires little explanation, illustrating, as it does, those concerns and indicting the rezoning for using false promises of affordable housing to rationalize an enormous giveaway to developers and political donors granted at the expense of the current low-and moderate-income residents. The facts however, merit elaboration.
The magnitude of de Blasio's giveaway is enormous. This rezoning more than doubles in many corridors the allowable size of development, matching densities found only in neighborhoods like Midtown.
In return for this handout, the public gets little or nothing, unless one is inclined to count false promises of affordable housing.
Little if any of the affordable housing anticipated by the plan will likely ever be built, because the rezoning provides multiple, profitable alternatives to build without including any of it. (more here)
The financial rewards made available by de Blasio's plan create a huge incentive to buy out or harass low- and moderate-income tenants so as to displace them, demolish buildings with affordable housing (there are well over 700 units in the rezoning area), and build larger market rate ones in their stead. (20% of residents in the neighborhood, it is worth emphasizing, earn less than the lowest income residents targeted by the promised affordable housing that will never be built — more here.)
Even if all of the promised affordable housing were built, the new development (which would include 75% super luxury housing) would still make the neighborhood as a whole richer and its housing less affordable than they currently are. This is because of the low levels of affordable housing required under the plan, the relatively high income levels and prices which go along with the "affordable" units, and the fact that amidst all the wealthy newcomers currently in the neighborhood, there remain many low-to-moderate income longtime residents, who are disproportionately seniors and Asian Americans (more here).
The plan will also push out smaller independent businesses and arts groups with an allowance for big box chain retail of unlimited size that would make it virtually impossible for other kinds of use of retail space to remain.
To learn more about the problems with the plan, go here.
To get a flyer that covers the basics and that you can share with friends, go here.
To tell public officials to oppose the Wolf, go here.
To keep informed, email "SoHo" to info@gvshp.org
(Art credit: Brenden FitzGerald)