← Back
Beyond the Village and Back: The American Radiator Building
In our series Beyond the Village and Back, we take a look at some great landmarks throughout New York City outside of Greenwich Village, the East Village, and NoHo, celebrate their special histories, and reveal their (sometimes hidden) connections to our neighborhoods.
Sitting in Bryant Park behind the New York Public Library's main branch, tourists and admittedly a few native New Yorkers often marvel at the clear sight they have of the Empire State Building, a rare perspective for midtown Manhattan. Perhaps even rarer is that, in the same field of view, the iconic tower has some competition in the standout building department from a mere 23-story landmark, resplendent in black and gold, one that has a unique connection to Greenwich Village in the last century.
The building at 40 West 40th Street, completed in 1924, is best known as the American Radiator Building, even though it has been the Bryant Park Hotel since the start of the 21st century. Its architect, Raymond Hood, designed the structure when he was a relatively obscure architect and before he became "perhaps the 20th century's greatest molder of the skyscraper form," according to architecture critic Paul Goldberger writing in the New York Times. Hood passed away just 10 years later, but in that time crafted many other historic architectural works in our city, including the Daily News Building and the Art Deco masterpiece McGraw-Hill Building at opposite ends of 42nd Street, and guided the design of Rockefeller Center.
Hood's design for the American Radiator Building "broke with tradition and utilized new forms," wrote the Landmarks Preservation Commission in its 1974 designation report, at a time following World War I when many architects were still relying on classical details and principles of proportion in skyscraper work. He "initiated a new trend in skyscraper design … with its bold cubic massing of forms — often associated with the Art Deco style — and its freedom from the Beaux-Arts classical details that had previously encumbered in New York City skyscrapers." The fine details on the lower floors, including caricatures of medieval grotesques to enhance the American Radiator Company showroom windows and modified Gothic-style pinnacles at the entrance opening, make for a unique sidewalk view from West 40th Street. The tower then rises straight up for 15 stories, after which it begins a series of setbacks that give the structure a striking silhouette (as well as letting it comply with the city's zoning laws).
Hood furthered an already impressive design with his decision to clad the building in black brick, to prevent its windows from looking like holes in the facade and destroying the solid effect of the tower. (Hood disliked the typical office building facade, where the regular dark glass reflections of the windows contrasted with the light masonry skin, making most buildings look like a "waffle stood on end"). Gold accents — actually bronze powder placed on cast stone — create an elegant contrast to the darkness of the brick. In 1926, architectural historian Talbot Hamblin described it as "the most daring experiment in color in modern buildings yet made in America."
Thanks to those colors, the building truly came alive at night. Hood was very aware of the importance of architectural illumination. He hired a Broadway lighting designer, Bassett Jones, to conduct experiments in situ on his design — moving lights, spotlights on jets of steam rising out of the smokestack, cross-lighting. Eventually, Hood and Jones settled on 56 amber flood-lighting units, from the 21st floor on up. At night, the structure gave off a nice warm glow in the evening, akin to a glowing ember or an iridescent chunk of lit coal, an excellent advertisement for a company selling furnaces and radiators. "The appearance of the building at night is one of the sights of the city," wrote editors of Architectural Record in 1924, "vast throngs that crowd this district at night are blocking traffic."
The effect was mesmerizing not only for pedestrians, but also for artist Georgia O'Keeffe. Spying the building shining in the night from her apartment on the top floor of the Shelton Hotel, she captured the drama in the building's luminous crown, searchlights shooting up into the evening sky, some catching a neighbor's heating fumes, and the name "Alfred Steiglitz" in red neon to "advertise" the work of her publicity-shy husband-photographer. The dynamic 1927 painting "Radiator Building — Night, New York" was one of a series of New York City skyscraper paintings she created between 1925 and 1929.
The LPC designated the building a landmark in September 1974, despite protests from American Standard (successor to American Radiator) stating that "the building has no historical significance at all." It was also added to the National Register of Historic Places in May 1980.
While Hood became one of the nation's most prominent architects in the 1920s, just a few years earlier he was floating around the city in complete obscurity, trying to survive on very small jobs as an architect. His lucky break came by way of the restaurant at 144-146 Bleecker Street.
In 1883 or 1884, Placido Mori opened his eponymous Italian restaurant at the location, originally built as two row houses in 1832. In 1920, Mori befriended the 40-year-old still-novice architect, gaining enough confidence in him "to let him have his meals on the cuff when his pocket proved empty," wrote Hood biographer Walter H. Kilham, Jr. "Mori had picked him as a winner. As he said at the time, 'He must be a genius — he eats so much.'"
Mori also gave Hood the job of designing a new facade for the pair of row houses, adding a row of Doric columns across the ground floor, imitation Federal lintels, and a setback penthouse studio, per historian Christopher Gray. The restaurateur also let him live in a small apartment on the site. Every Friday, according to Kilham, the "Four Hour Lunch Club" met, eventually becoming an institution among architects, drawing in regulars Hood, Joseph Urban, Ely Jacques Kahn, and Ralph Walker, as well as such guests as Frank Lloyd Wright and artist Tony Sarg.
While living in his small shelter above Mori, Hood married his secretary, Elsie Schmidt, and got a small job designing radiator covers for the American Radiator Company, later to be his employer as architect. They soon moved to a house on Washington Square — perhaps 134 West 4th Street, where he did some restoration work and added a full fourth-floor artists' studio with casement windows.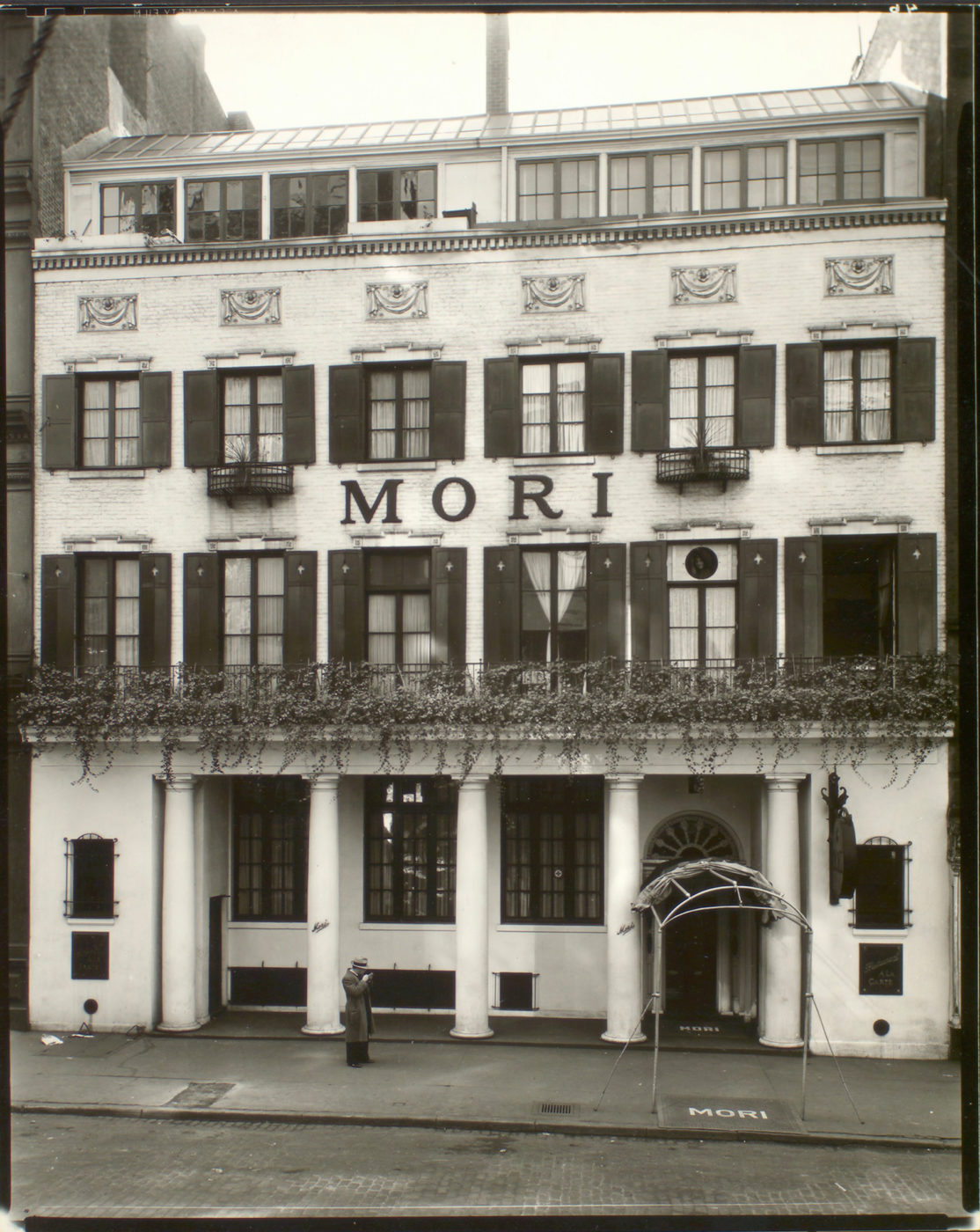 Mori closed in 1937, three years after Hood's death and two years after Berenice Abbott photographed it for the Federal Arts Project "Changing New York." (In 1960, the site was converted into a movie theater, eventually becoming the Bleecker Street Cinema, a film landmark in its own right until it closed in 1990.) Mori himself passed away in 1943, and his gravesite in Woodlawn Cemetery in the Bronx is marked with a memorial designed by Hood and sculptor Charles Keck.
Hood, who became a prominent architect almost overnight, but died too soon after he gained that notoriety, is remembered for more than just the landmarked buildings mentioned already, and many others both big (the Chicago Tribune Tower, with John Mead Howells) and small (Rex Cole refrigerator showrooms in Brooklyn and Queens). "These are great buildings all, and they alone would have assured Hood's place in history," Goldberger wrote. "But he was also an architect with a clear, consistent vision of what the skyscraper and the city should be, and, at a time when we seem to throw buildings into the city with little sense of what kind of overall environment they are making, Hood's dreams are as relevant as his built works."