← Back
Urban Queen Anne: Tenement Architects Explore Decorative Excess
On August 31, 1893, a trio of 5-story Queen Anne Old Law tenement buildings located at 52, 54, and 56 East 7th Street near the corner of 2nd Avenue were completed. The three buildings are nearly identical: all designed by Ernst E. W. Schneider and Henry Herter for roughly $22,000 each, 5-stories high with a basement, and living space for about 21 families per building, 63 families in total. By the 1890s, when these buildings were designed and constructed, tenement design reached its pinnacle of flamboyance as architects increasingly explored a wide variety of building materials and ornamentation despite the profit-driven utilitarian nature of these buildings. As the eclectic Queen Anne style of architecture surged in popularity in the design of freestanding private residences, tenement architects began to incorporate some of these features in their designs too. 
The Queen Anne style of architecture was first popularized in the 1870s by British architect Richard Norman Shaw as the architectural synthesis of the ideals of the Romantic era and a commitment to unfettered decorative excess. Most scholars recognize the first Queen Anne building in the United States as H.H. Richardson's 1874 William Watts Sherman House. The home's steep central gables, varied color palette and use of material, along with the use of decorative woodwork along the roofline would all become hallmarks of the Queen Anne style. The prevalence of the Queen Anne style throughout the United States exploded as pattern books by Hudson Holly, William Comstock, and George Barber became widely available and the railroad system provided easy access to mail order pre-cut architectural details no matter your location. Queen Anne was the predominant style of residential building from 1880 to 1900. While this style lends itself much more easily to free-standing homes, asymmetrical massing, faux front gables, and variation in materials, color, and texture were expertly applied to rowhouses throughout New York City.
Given the strict confines of the tenement massing per the Old Law, and the desire to keep costs down to maximize profit, tenement designers had to find subtle and creative ways to evoke decorative excess in their Queen Anne style tenements buildings. This was primarily accomplished through masonry patterns and texture. While these buildings used the same fine red brick and light sandstone ornament as their neo-Grec predecessors, they dropped the strictly planar facades and regular arrangements of window openings in favor of more complex compositions. The facades of these buildings have more depth, with projecting central sections and recessed spandrels along with a more wide ranging use of architectural ornament. Common features of Queen Anne tenements in the East Village include terra-cotta spandrels and beltcourses, as well as brickwork laid in saw-tooth, corbelled, and rusticated patterning.
In addition to the Queen Anne style, tenement architects also explored Romanesque Revival and Renaissance Revival ornamentation during this period. The basic composition of tenement facades in any of the three eclectic revival styles are very similar. Most feature richly molded terra-cotta detailing, textured brickwork, densely layered beltcourses, projecting piers with foliate capitals and brackets, and boldly massed cornices. Nearly all have one or two stories of arcaded windows, either with true round-arched openings or similar blind tympana. Rounded balcony sills were sometimes added to create the appearance of depth on the facade. What sets Queen Anne apart from other eclectic revival styles of tenement house architecture are the use of applied ornament and polychromy. Queen Anne tenement facades are particularly exuberant and tended to mix materials, textures, and colors in a highly expressive manner. Fanciful decorations such as grotesques, griffins, and putti were common, along with natural sunflower and sunburst motifs. Architects used brick and terra cotta in a range of colors, from deep reds and oranges, to dark grays and browns, to a light cream.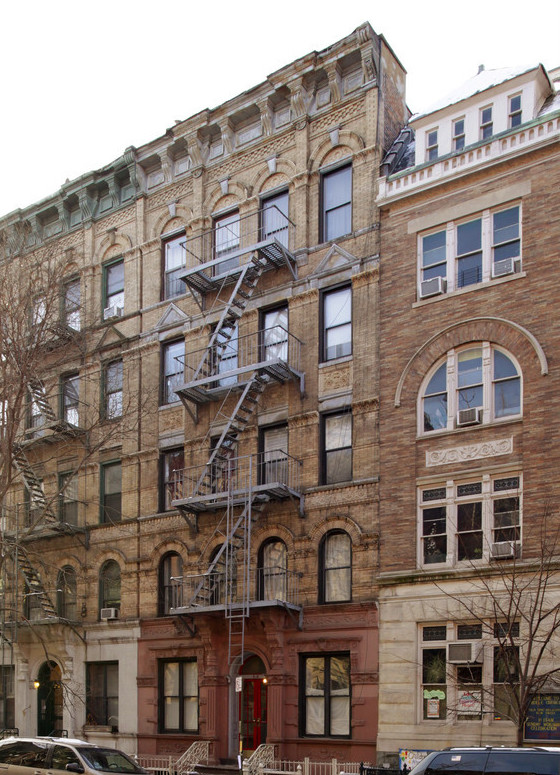 The Queen Anne tenement buildings at 52, 54, and 56 East 7th Street while sparse compared to high-style Queen Anne buildings employ the central tenants of the style in their design: richly varied and decorative masonry throughout, differentiated first story in both color scheme and ornamentation with a prominent rounded front door and stoop accented by an ornate decorative sculptural program, columns, corbels, and frieze, alternating window shapes, and a highly ornamented bracketed metal cornice crowning the structure. Today, only 52 East 7th Street retains all of these Queen Anne elements. Both 54 and 56 have been stripped of their first-floor ornamentation and 56 has had its decorative metal cornice removed. While the buildings are not in perfect condition, the designation of the East Village-Lower East Side Historic District in 2012 allows us the opportunity to preserve some of these historic streetscapes for future generations. 52, 54, and 56 East 7th Street are amazing examples of how popular aesthetics permeate all corners of design – from a private home on the beachfront in Newport, Rhode Island to a tenement building in the East Village.