← Back
Business of the Month: Beasty Feast, 327 W 14th Street
Your input is needed! Today we feature our latest Business of the Month — help us to select the next. Tell us which independent store you love in Greenwich Village, the East Village, or NoHo: click here to nominate your favorite. Want to help support small businesses? Share this post with friends.
We all need friends to help shore up our psychic health as we confront the travails of modern urban life. For many of us, those friends are covered in fur (and not because they don't shave). And for those wanting to show such friends how much you appreciate their wet-nosed companionship, there's no better place to do so than our September 2021 Business of the Month, Beasty Feast, located at 327 West 14th Street. This longstanding local standby has, for almost half a century, supplied the needs of our four-legged neighbors and occasionally even for their relatives visiting from throughout the city and beyond. Currently the largest independent pet supply store in town, Beasty Feast offers an unparalleled selection of products, as well as several indispensable services. Whatever your needs, you're certain to find something there to wag your tail about.
Dimitri Kelembeladis Sr., Beasty Feast's founder, immigrated from Greece in the early 1970s. Upon his arrival, he ran a deli on Bleecker Street and Grove. Noticing how much pet food people bought at the deli, he decided in 1977 to open a pet store just down the block, on Bleeker Street and Carmine. Within a few years, Kelembeladis opened two more stores in the area, including one on Hudson Street and Jane. That store remained in operation until Dimitri Jr., who had grown up just a few blocks away occasionally helping, took over the business in 2000, whereupon he made a few changes that anticipated the expansion to come. He opened a small grooming service in the back, and he started carrying a wider array of health-oriented products.
During the 2000s, perhaps due to a well-documented affinity among Millenials for dog-ownership, the pet supply business boomed, and a wider range of products became available. This allowed Dimitri to expand his already considerable selection to include items such as freeze-dried raw food and frozen raw food, as well as interactive and training toys, the kind in which you hide treats. He even began making his own line of leashes, collars, and harnesses, using Made-in-the-USA raw materials and having them assembled locally.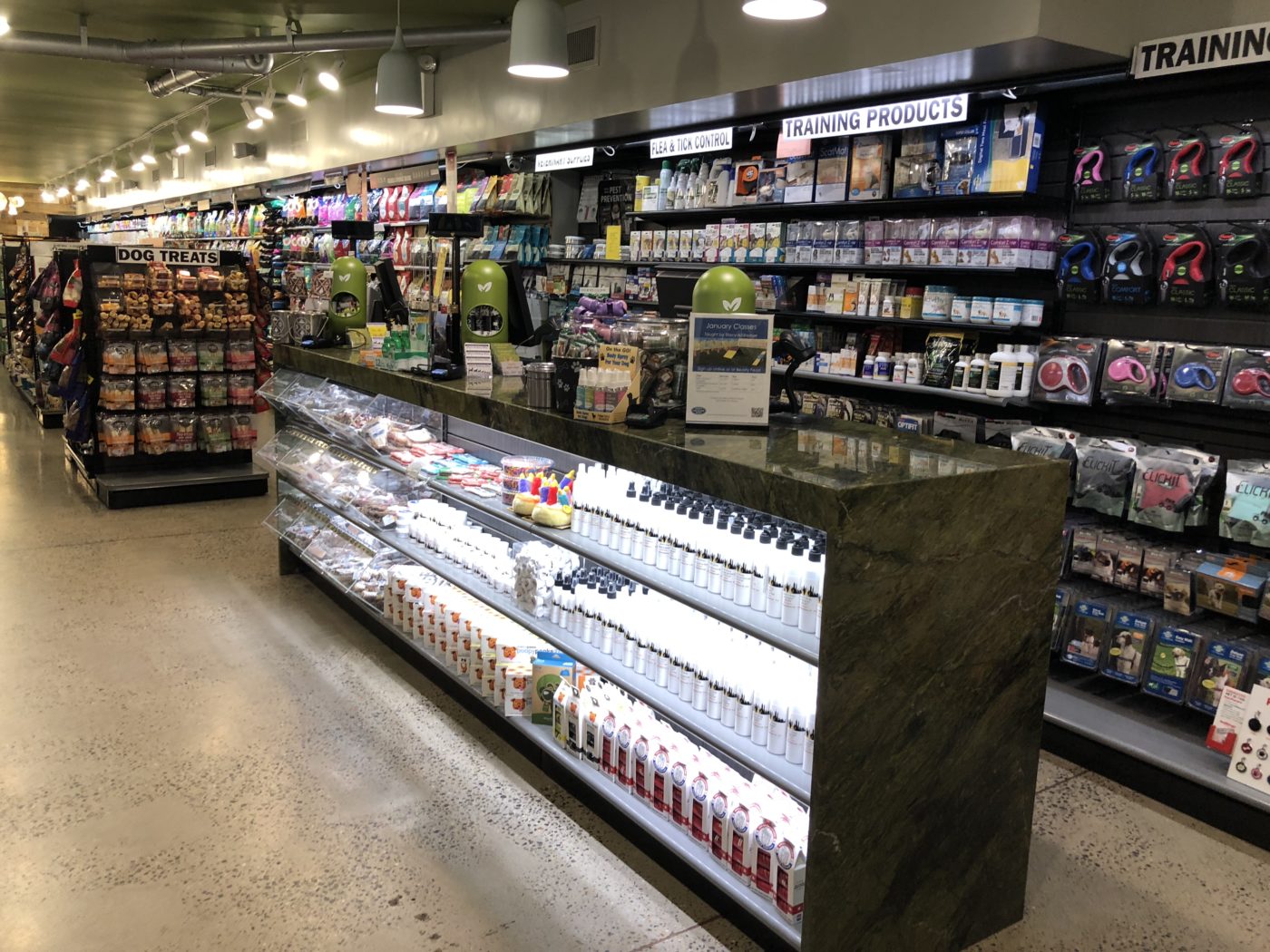 The increase in business encouraged Dimitri in 2017 to grow his operation by opening a larger store on 14th Street. This branch would still serve his neighborhood but would also capture more visitor traffic, while allowing Dimitri the opportunity to offer more services and products. The new store features 3,000 sq ft of ground floor space, accommodating a much larger retail area and grooming service than the Hudson Street store could. It also has a 2,000 square foot basement that Dimitri set up as a dog training facility. There, Andrea Arden, a nationally recognized pet expert, offers puppy training, agility training, and play time, which is an opportunity for puppies to learn to socialize–kind of like junior high school parties, but without the cruelty. In addition, Beasty Feast occasionally hosted Little Wanderers, a local cat adoption service.
Due to all these features, Beasty Feast prospered in its new, expanded form despite the costs and complications of doing business in the city as an independent store. Then COVID hit. This forced Dimitri to shut down all services for over half a year and to make substantial changes to his retail operation so as to facilitate internet purchases, deliveries, and curbside pickups. The elimination of services led to a sharp drop in sales, since the vast majority of service clients used their visits as opportunities to do their pet supply shopping. The combined decline in business eventually led Dimitri to regretfully close the store at Hudson Street. While the situation has since gradually improved, challenges remain. The grooming department is still operating at half capacity; foot traffic remains a fraction of what it once was, because of the sharp drop in tourism and in commuting to nearby offices; and supply chain problems persist. Manufacturers have struggled to keep up with demand resulting from the so-called pandemic puppy boom, and online giants are first in line among purchasers, ahead of independent businesses like Beasty Feast.
Despite these recent difficulties, Dimitri remains undaunted and has full faith in Beasty Feast's ability to bounce back. Its end users are ever more numerous, and the store continues to provide a vast selection of high-quality products as well as superior service and great services. The several people who nominated Beasty Feast for Business of the Month emphasized the personalized treatment they received, the helpfulness of the knowledgeable staff, some of whom have been with Dimitri for over a decade, and, more generally, the great resource that this independent shop offers to the neighborhood. When you run this kind of operation, customers ultimately vote with their feet — sometimes all four of them. For this reason, we are happy to name Beasty Feast our September 2021 Business of the Month.
Stop by at 327 West 14th Street or visit their website.
What special small business would you like to see featured next? Just click here to nominate our next one. Thank you! #shoplocalnyc
Here is a map of all our Businesses of the Month: