← Back
Robert Rauschenberg: Combining Media, Materials, and Movements
The great artist Robert Rauschenberg hailed from a small refinery town in Texas near the Louisiana border. Born on October 22nd, 1925, his early life was confined by a very conservative Christian community. It is fortunate for the world that Bob, as he was called by his friends, settled in New York in 1949, a place he determined to be the center of the art world. The contents of Rauschenberg's work were intrinsically tied to his time spent on the streets of lower Manhattan.
He arrived on the art scene in our neighborhoods when the Abstract Expressionist movement was coming into its full maturity. But while Rauschenberg was a fan of the Ab Ex artists, he had ideas that extended beyond the work of the New York School. Along with his friends (and sometime lovers) Jasper Johns and Cy Twombly, he broke the stylistic and conceptual dominance of the work of the Abstract Expressionists and expanded the horizons of art. In Rauschenberg's case, the work literally broke beyond the dimensions of a canvas into 3-dimensional art.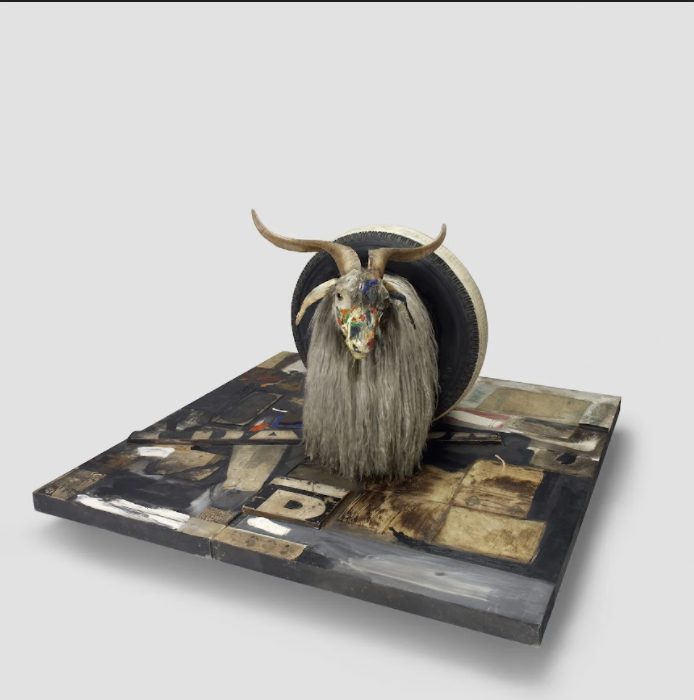 Rauschenberg is perhaps best known for his Combines; a hybrid between painting and sculpture. The Combines challenge gestural abstract painting and two-dimensional canvases and this innovation cemented him as a pivotal figure of the American avant-garde.

The majority of Combines were produced between 1953 and 1964 while he lived in New York. Each piece confronted traditional art presentation style and medium through the use of found objects, graphic and cultural imagery, and sculptural arrangement. In a 1953 exhibition statement, he wrote "the order and logic of the arrangements are the direct creation of the viewer assisted by the costumed provocativeness and literal sensuality of the objects." Most objects that were incorporated into Combines were found during the artist's walks through the city, each transforming from belongings to trash to art by his hand.
An early manifestation of this form and a key work in his career is Untitled, 1954. A collage of wood, newspaper, comics, sundry clothes, and old lace, Untitled is saturated with a thick sealing coat of paint. The surface is open to drips and chance combinations, not with an expressive intent as in abstract expressionism, but with a field of unexpected juxtapositions. You see a pattern, a heron, a door, all washed over with paint. Rauschenberg was trying to see the world as it existed in that very moment. If you look carefully you can find a piece of the front page of the New York Times from 1954.
Rauschenberg's early life in a small town in Texas was fundamental to his aesthetic as an artist. His mother was a devout Christian and a very frugal person. She made all the family's clothing from pieces of scrap. This practice strongly influenced his work with collage and assemblage. Rauschenberg roamed the streets of lower Manhattan in search of detritus – "whatever the day would lay out." These objects would eventually be repurposed into his work.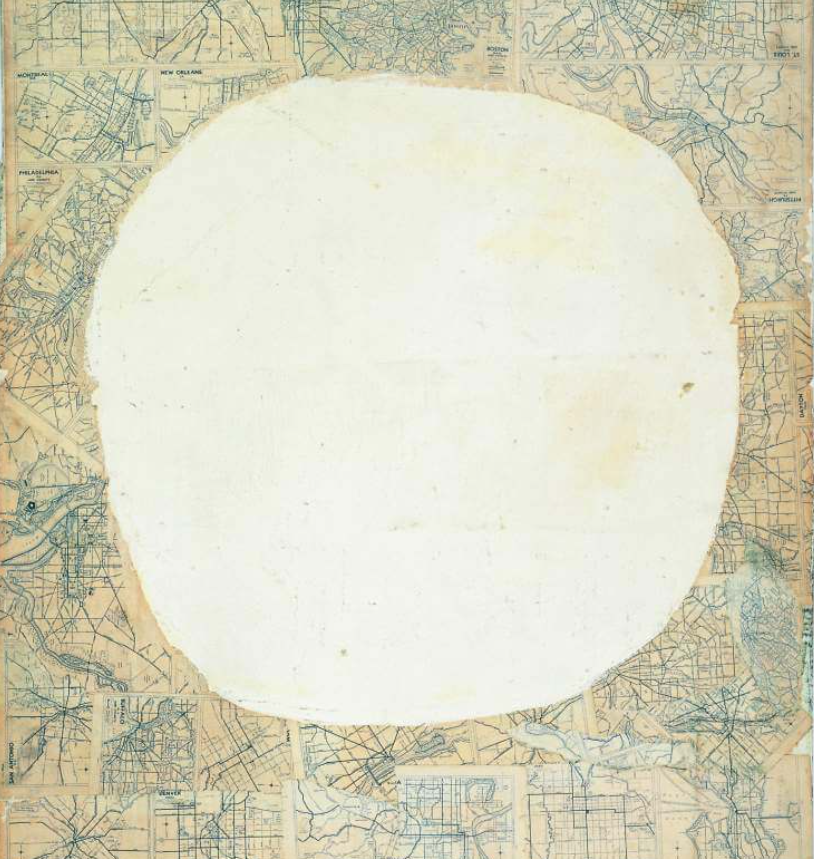 Rauschenberg was known as a person with an enormously generous spirit. This attribute was key to another of his great successes as an artist. Often working in collaboration with artists, dancers, musicians, writers, engineers, and sound artists, he invented new interdisciplinary modes of artistic practice. His 60 year + career (he passed away on May 12th, 2008) saw him collaborate with artistic greats such as John Cage, Trisha Brown, Merce Cunningham, Jasper Johns, Paul Taylor, and so many, many other talented people. The hallmarks of Rauschenberg's work were openness to the world, commitment to dialogue and collaboration, and global curiosity. Rauschenberg and his rich body of work are a touchstone for our time.
In 1965, Rauschenberg purchased the building at 381 Lafayette Street. It served as his residence and his studio. 381 still serves as the headquarters of the Robert Rauschenberg Foundation, whose mission is to expand upon the artist's legacy. The Foundation celebrates new and even untested ways of thinking and acting. It supports research, institutions, and artists that embody the same collaborative, inclusive, and multidisciplinary approach that Rauschenberg exemplified in both his art, his life, and his philanthropic endeavors.
The life and work of Robert Rauschenberg are part of our 2021 Outdoor Exhibition, VILLAGE VOICES; an engaging installation of exhibit boxes displayed throughout our neighborhoods featuring photographs, artifacts, and recorded narration that will provide entertaining and illuminating insight into the momentous heritage of the Village. Village Voices will run through October 31st.