← Back
Celebrating World Pasta Day
Not to be confused with National Pasta Day on October 17th, World Pasta Day was established on October 25th, 1995 by forty pasta producers from around the world gathered at the first World Pasta Congress.
Two areas in our neighborhoods were hubs of Italian immigration and settlement in the late 19th century. The South Village, south and southwest of Washington Square, and the area of the East Village around 1st Avenue between 14th and Houston Streets had thriving Italian American and Italian immigrant communities, and therefore lots of pasta.
Within these neighborhoods there remain a handful of Italian restaurants that have served the neighborhood for over 100 years, where you can eat some of the best pasta in New York City. These include Monte's Trattoria at 97 MacDougal Street (opened in 1918) and John's of 12th Street at 302 East 12th Street (1908). We have Il Mulino at 86 West 3rd Street (1981) and Villa Mosconi at 69 MacDougal Street (1976), and many others that have opened since then, but today we highlight a local spot in each neighborhood where you can get your fresh pasta fix.
Founded in 1906, Raffetto's makes about fifty types of fresh pasta, including pasta made with black squid ink, chestnut, buckwheat, chocolate, or saffron, in all shapes, sizes, and fillings. Their philosophy is to use the best quality ingredients to produce the best quality pasta.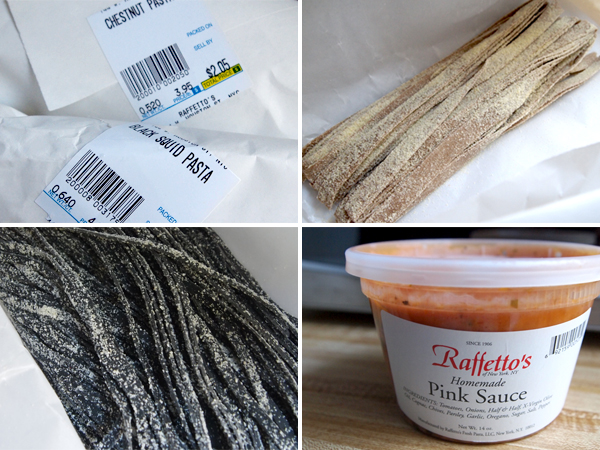 "If you are greeted by mouthwatering aromas of simmering sauce with hints of basil and garlic," food critic and longtime Villager Mimi Sheraton wrote in The New York Times in 1997, "know that Romana Raffetto (click here for her oral history) is working on one of the sublime sauces she turns out here." Romana passed away in 2018, but her tradition of excellence continues as the fourth generation of the family runs the business.
Click here to access Romana and Andrew Raffetto's oral history.
Russo Mozzarella and Pasta, 344 East 11th
Founded in 1908 at this location, Russo's is an East Village favorite. It serves homemade fresh mozzarella and other cheeses, cured meats, olive oils, breads, other imported Italian goods, and of course, a wide range of different kinds of pasta.
Not just a pasta shop, you can also purchase prepared foods or fresh sandwiches, which, at still under $9, is one of the best deals in the East Village.
Click here to read more about the history of Italians in the South Village, and click here to read more about Italian history in the East Village.