← Back
#SouthOfUnionSquare, the Birthplace of American Modernism: Edward Laning
"South of Union Square, the Birthplace of American Modernism" is a series that explores how the area south of Union Square shaped some of the most influential American artists of the 20th century.
Throughout the 20th century, the area south of Union Square attracted painters, writers, publishers, and radical social organizations, many of whom were challenging accepted American social and cultural ideals. This area is true crossroads — where art, politics, industry, commerce, the New York elite, and the working class collided to create an eclectic culture and built environment emblematic of New York City's status as America's "melting pot." It was an ideal environment for inspiring creative expression, so much so that the area has its own art movement — the social realist Fourteenth Street School — named after it.
At the beginning of the 20th century, American art was still struggling to be seen as legitimate among artists of the Western world. The Art Students League, an artist-founded institution that began in 1875 when many art students became dissatisfied with the lack of quality instruction in the basics of portraiture, sculpture, and composition offered by New York art schools, was an incubator for artists who would catapult American art into the global spotlight. One such artist who was both educated and taught at the Art Students League was Edward Laning (April 26, 1906 – May 6, 1981). Born in Illinois, Laning was greatly influenced by populist politics, American Regionalism, and American Scene Painting. Laning moved from Chicago to New York specifically to study at the Art Students League. There, he studied with John Sloan, Kenneth Hayes Miller, and Reginald Marsh, who cemented his love for realism and social satire.
Through his studies with Kenneth Hayes Miller, Laning began to work closely with Isabel Bishop and Reginald Marsh on depicting the distinctly contemporary life of working-class New Yorkers in the prosperous late 1920s into the onset of the Great Depression in the early 1930s. Laning's early work can be distinguished from his contemporaries by the cheerful and bright pastel color palettes that serve to sanitize quotidian life on 14th Street to the point of near propaganda, promoting its "commercial success." Conversely, Laning's images depicting civil unrest or impending danger are rendered in a grittier, smoky palette. The color story of these paintings serves as the primary means of social satire. In 1933, his close friend Reginald Marsh described Laning's work as "singing The Sidewalks of New York to the tune of the Italian Renaissance—the national anthem of Fourteenth Street. Young enough, luckily, to have escaped the spell-binding attractions of bewitching boudoir painters of the "since Cézanne" regiments, or the National Academy banalities, or the aerial Stieglitz acrobats, he has, by virtue of the "pernicious" Miller influence, studied the more mature methods of the great schools, which beg to show us that, after all, there is a world of real people, both male and female—flesh, blood, elbows, facial expression, unbroken necks—a world that has more in it than rubber clouds…"

While his easel paintings were included in the first exhibition at the newly formed Whitney Museum of American Art in 1931, Laning found renown through his Works Progress Administration (WPA) mural commissions. This included ones for the Ellis Island dining hall of the Immigrant Station, began in 1935, and the New York Public Library murals in the McGraw Rotunda titled The Story of the Recorded World, began in 1937.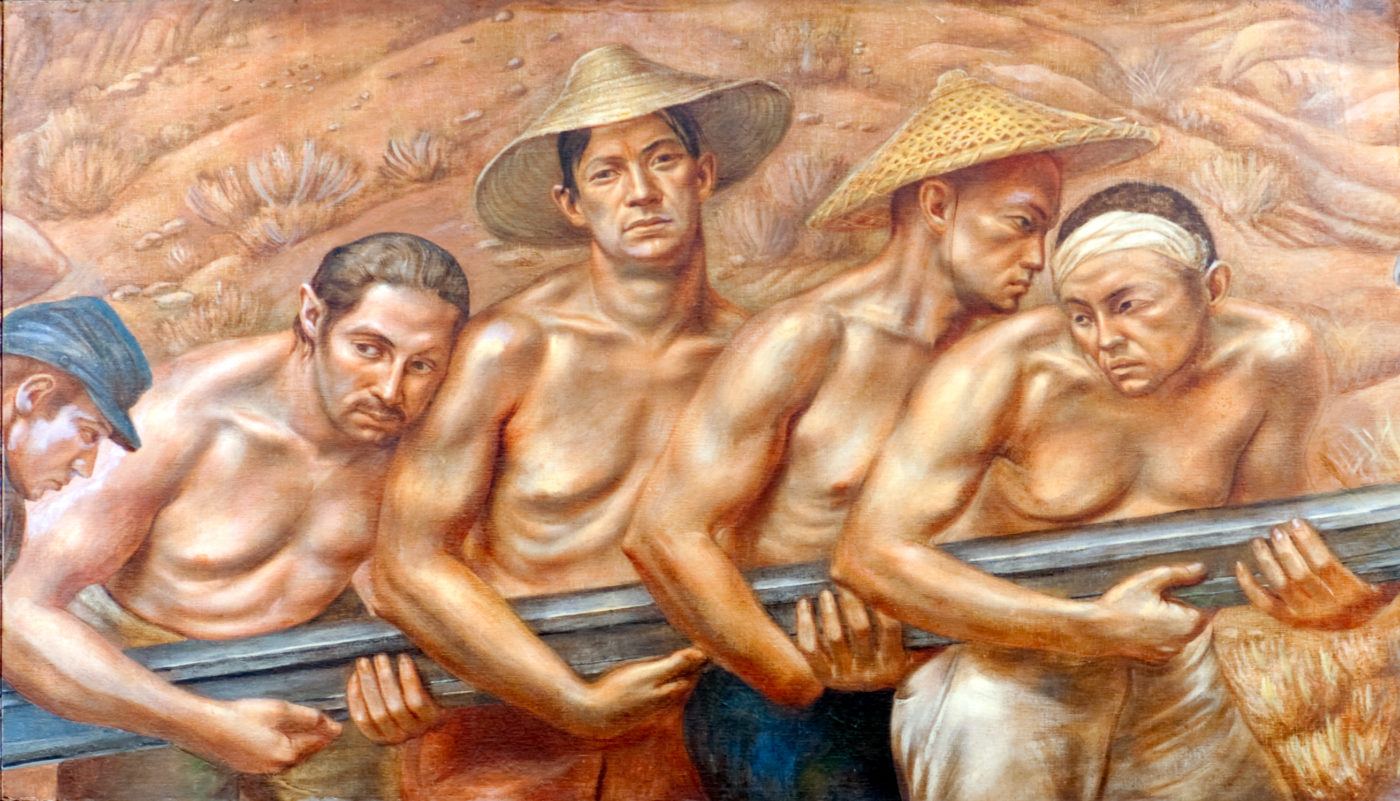 Edward Laning and his partner Mary Fife Laning, a successful Fourteenth Street School painter and muralist in her own right, kept studios in and around Union Square throughout their working life. Notably, Edward Laning kept a studio at 30 East 14th Street at the mid-century. The list of artists who worked at this location is long and impressive. and includes W. Hamilton Gibson, George E. Bissell, Samuel Halpert, Charles Keller, Minna Citron, Kenneth Hays Miller, Arnold Blanch, Harry Sternberg, Yasuo Kuniyoshi, Arthur B. Davies, Howard Daum, Robert deNiro, Sr., Virginia Admiral, Edwin Dickenson, Carl Ashby, Agnes Hart, George Wiggens, Sam Hartman, Raymond Katz, Joseph Presser, N. Cikowsky, Bayard Osborn, Helen Hyde, Howard Baar, M. Ponce de Leon, David Cohen, May Janko, Ben Myers, Lora Alkan, among many others.
In spite of its rich history, this building and most of those around it lack landmark protections and thus are vulnerable to demolition at any time. You can discover more locations in this neighborhood where painters and sculptors transformed the art world on our #SouthOfUnionSquare Map and Tours. Village Preservation has recently received a series of extraordinary letters from individuals across the world, expressing support for our campaign to landmark a historic district south of Union Square. To help landmark these incredible historic structures and other buildings in this area, click here.