← Back
2021 Village Preservation Public Programs Round-Up
As we close the chapter on yet another wild and successful of year of public programs at Village Preservation, we wanted to take the time to reflect and highlight some of 2021's best moments. Despite the twists and turns of this year's ongoing COVID-19 Pandemic, we've hosted 80 different educational lectures, book talks, and walking tours, reaching over 10,000 participants. Looking back, here are some lists and links to this year's programs-in-review:
If you missed any of these fabulous events, there's no need to fret! We've recorded them all for your convenience. So cozy up, grab a glass of wine (or hot apple cider), and relive some of our favorite moments of 2021 with us!
---
Top Attended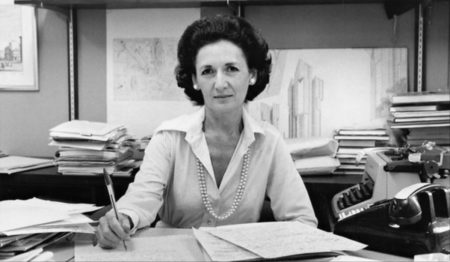 Ada Louise Huxtable's New York with Lucie Levine: Over 600 people joined us last March to learn all about Huxtable, a native New Yorker, pioneer of architectural criticism, and champion of livable cities. As the first full-time architecture critic at a major American Newspaper (The New York Times created the position specifically for her in 1963), she won the first Pulitzer Prize for distinguished criticism in 1970, and helped redefine architecture in the public consciousness as "a very real and important art [because] it affects us all so directly." Watch the Virtual Tour of the buildings she praised and decried during her reign as the queen of collective city-making.
Book Talk: It's a Helluva Town: Joan K. Davidson, the J.M. Kaplan Fund, and the Fight for a Better New York: Settling in comfortably as our second most popular program this year, our book talk with writer Roberta Brandes Gratz and Kaplan Foundation alum Anthony C. Wood explored the legacy of Joan K. Davidson and the J.M Kaplan Fund's legacy as a patron of the arts and artists, defenders of the natural and built environments, and innovators in activist philanthropy. Watch the recording and don't forget to support the author by purchasing her book.
Celebrating 150 Years of Emery Roth, Architect of Our City: And, closing our list of this year's most popular programs is our panel discussion with Professor Andrew Dolkart about Roth's life and legacy as an architect and Hungarian-Jewish immigrant to New York. Roth designed many of the New York City hotels and apartment buildings that defined the 1920s and 1930s, incorporating Beaux-Arts and Art Deco details to create the decorative streetscapes we know and love. Relive the moment by watching the event recording now!
---
Tour the South of Union Square
Virtual Plaque Unveiling: Frank Stella's East Village Studio, 128 East 13th Street: Few buildings in New York have had as distinguished a history as 128 East 13th Street. Believed to be the last surviving intact horse and carriage auction mart in New York City, it subsequently served as a women's assembly line training center during World War II, and from 1976 to 2005 as the studio where Frank Stella, one of the 20th century's most important artists, created some of his most significant work. The building was saved from demolition by Village Preservation, which successfully called for its designation as an official New York City Landmark. Watch the event recording with Frank Stella and Adam Weinberg, the Alice Pratt Brown Director of the Whitney Museum of American Art, to celebrate our newest plaque commemorating this building's place in history.
Suiting the World from Fourth Avenue: The International Tailoring Company Building: In 1997, when Jeanne Krier moved into a co-op at 111 Fourth Avenue and 12th Street, she was curious about the name "International Tailoring Company" across its facade. An amateur history buff, she began researching the history of the 13-story building and its previous occupants, leading to the building's re-branding and the restoration of its name as the "International Tailoring Company Building." Built in 1920, the building was the New York factory and headquarters of a company that manufactured exceptional custom-made clothing for men. Jeanne's talk shared her methodology exploring the building's history and the fascinating details about the land's previous use as Peter Stuyvesant's farm and home to a world-famous 19th-century author — all part of the rich but threatened history and architecture of the area South of Union Square. Watch the event recording today!
Robert Motherwell's Abstract Expressionism South of Union Square: Robert Motherwell (1915-1991), one of the most noteworthy figures of the Abstract Expressionist movement and 'New York School' of artists, had a studio during some of his most productive years at 61 Fourth Avenue, in the endangered area south of Union Square for which we are seeking landmark designation. Explore Motherwell's life, work, legacy, and art at a special panel with Mary Ann Caws, Jack Flam, and Lise Motherwell. Watch the event recording today!
---
Books to read
Sarah Schulman's Let the Record Show – A Political History of ACT UP New York, 1987-1993: For over two decades, Sarah Schulman has worked to document and preserve the history of ACT UP (The AIDS Coalition to Unleash Power), most recently with her book Let the Record Show. Watch our book talk with Schulman for a look at our neighborhoods' history of HIV/AIDS activism and the stories and lessons of ACT UP New York.
Walking Manhattan Sideways and The Art of Walking Manhattan Sideways: In 2011, Betsy Polivy had a crazy idea to walk the entire original Manhattan street grid sideways, from 1st Street to 155th Street. She traversed the side streets from the East River to the Hudson, documenting, meeting, and listening. In 2020 Besty published the book Walking Manhattan Sideways, and building on that success, she followed up with The Art of Walking Manhattan Sideways: Hidden Gems on the Side Streets to celebrate dance, museums, music, and theater, while also drawing attention to more scrumptious restaurants, splendid neighborhood bars, and one-of-a-kind shops. Pay tribute to the side streets by viewing our book talks with Betsy from last January and November.
Book Talk and Panel – The Daring Life and Dangerous Times of Eve Adams in the South Village: Jonathan Ned Katz recovered the extraordinary story of Adams, an early 20th-Century Jewish immigrant who befriended anarchists, sold radical publications, ran lesbian and gay-friendly speakeasies in Chicago and Greenwich Village, and, in 1925, risked all to write and publish a book titled Lesbian Love. Katz was joined by speakers from the NYC LGBT Historic Sites Project to discuss his new book The Daring Life and Dangerous Times of Eve Adams and to provide historic context for Adams' story in our neighborhoods. Extend her legacy by watching our recording of the talk!
---
Our personal favorites
Lorraine Hansberry's Village Voice: Playwright, activist, and villager Lorraine Hansberry is best known for her award-winning play "A Raisin in the Sun," which premiered on Broadway in 1959. Scholarship of Hansberry's life has largely been relegated to her one mainstream work, but biographer and scholar Dr. Imani Perry chose to explore Hansberry's life with careful attention to her queerness, feminism, and Black radical politics in her acclaimed 2018 biography Looking for Lorraine: The Radiant and Radical Life of Lorraine Hansberry. Relive our talk with Dr. Perry to explore Hansberry's work and life as a true Village voice.
Drag King History of the Village and NYC: Co-hosted with the LGBT Historic Sites Project, Mo B. Dick, Ken Vegas, Lisa E. Davis, and Elyssa Goodman, Drag King History presented the story of New York City's Drag King evolution from the 19th Century to today, showcasing the gender-bending performers who donned men's attire onstage. Rewatch the event recording today!
Black Bohemia – A Virtual Village Tour: Long-time tour guides Derrick Edwards and Eric Chase took us on a rollicking, inspiring tour focused on the interconnectedness of Black arts and artists in our neighborhoods and how they shaped and influenced much of what we know of the Village. Featuring Alex Haley to Audre Lorde, James Baldwin to Lorraine Hansberry, and so many more. Watch the virtual tour to see the sites where generations of artists forged new and enduring cultural visions, often in community and collaboration, creating beautiful, powerful works that continue to resonate today.
---
We want to thank all of our incredibly generous program and event collaborators for such an amazing year of public programs, and encourage everyone to check out our newly announced roster of events for January of 2022!