← Back
Suffragists of Greenwich Village
"The right of citizens of the United States to vote shall not be denied or abridged by the United States or by any State on account of sex."
Following decades of activism, the 19th Amendment was adopted on August 18, 1920. Unsurprisingly, many people and organizations located in Greenwich Village, the East Village, and NoHo played key roles in the women's suffrage movement. These neighborhoods have long been centers for progressive social change, and many of women's suffrage's earliest and most important proponents lived or led their efforts here.
The 19th Amendment was a huge step towards gender equality, although African Americans could still not vote in large parts of the country, and in most cases, Native Americans and Chinese Americans could not vote.
Our Women's Suffrage History Map includes 26 entries including women who dedicated their lives to the cause, and the men who backed them up; labor leaders and socialites; 20th-century movers & shakers, and lonely 18th-century pioneers; traditionalists, and revolutionaries. Today, we take a closer look at some of the women active in the battle for gender equality in Greenwich Village:
Crystal Eastman
Eastman was a lifelong advocate for women's rights. Her work resulted in the first workers' compensation law (which she drafted), and she was active in the National American Women Suffrage Association's Congressional Committee, the Congressional Union, the National Woman's Party, the National Woman's Peace Party (as a pacifist during WWI), the Heterodoxy Club, and the National Civil Liberties Bureau (which would become the ACLU). She lived at 27 West 11th Street and later, at 115 Washington Place. Eastman is one of the most important, overlooked historic figures in American history.
Sarah Smith Garnet
Garnet was the founder of the Equal Suffrage League in the late 1880s, the first organization founded by and dedicated to the suffrage of Black women. She was the first Black female principal in the NYC school system, and lived with her husband, abolitionist minister Henry Highland Garnet, at 175 MacDougal Street.
Margaret Woodrow Wilson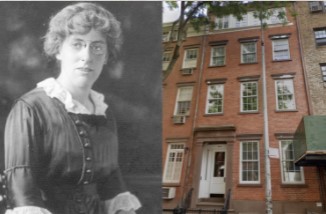 The eldest daughter of President Woodrow Wilson, Margaret lived at 134 West 4th Street. She was active in organizations such as the Women's City Club (now Women Creating Change) and lobbied her father for the passage of a constitutional amendment granting women the right to vote.
Louise Bryant
Louise Bryant was a fearless journalist, poet, activist, and suffragist in Oregon before moving to 1 Patchin Place in Greenwich Village in 1915. Her most famous work profoundly shaped the view of the Russian Revolution and its reports of powerful female revolutionaries.
Read about Suffragists of the East Village here.