← Back
Purdy & Henderson: Engineering NYC from #SouthOfUnionSquare
The neighborhood South of Union Square has no shortage of trailblazers in the arts, architecture, commerce, and social justice. Architects, like James Renwick, Jr., Louis Korn, Goldwin Starrett of Starrett & Van Vleck, and Albert Buchman of Buchman & Fox for example, typically get the lion's share of the accolades for the design and construction of striking buildings. However, this began to change in the late 19th century as the wide availability of iron and steel allowed buildings to rise to new heights. Since many architects did not have the appropriate technical knowledge to ensure the safety of these structures, civil and structural engineers became key collaborators in the design and construction process. 
One of the most prominent engineering firms at the time was Purdy & Henderson, whose New York City headquarters was located at 78 Fifth Avenue (between 13th and 14th Streets) on one of the most cohesive remaining historic streetscapes in the proposed South of Union Square historic district. Founded during the Chicago building boom in 1893, Purdy & Henderson became an internationally renowned engineering firm and created the field of structural engineering. (The firm also hired some of the first female civil engineers who were instrumental in the realization of many iconic New York buildings.) 
Corydon Tyler Purdy (May 17, 1859 – February 26, 1944) and Lightner Henderson (December 2, 1866 – March 17, 1916) met in Chicago when Henderson was working as an engineer for Purdy's first engineering consulting firm, Purdy & Wade. Following the success of the firm and Henderson's work on the 1893 World's Columbian Exposition in Chicago, Henderson was named partner and the firm Purdy & Henderson was born. In 1894, Purdy began considering relocating the firm's headquarters to New York City as construction regulations had rapidly evolved to allow for more steel-framed buildings. 78 Fifth Avenue, a Neo-Rennasiance style loft building constructed in 1896 designed by Albert Wagner, became the New York City headquarters of Purdy & Henderson in 1897. They remained at this location until 1908, and it is here that they undertook many of their most influential projects.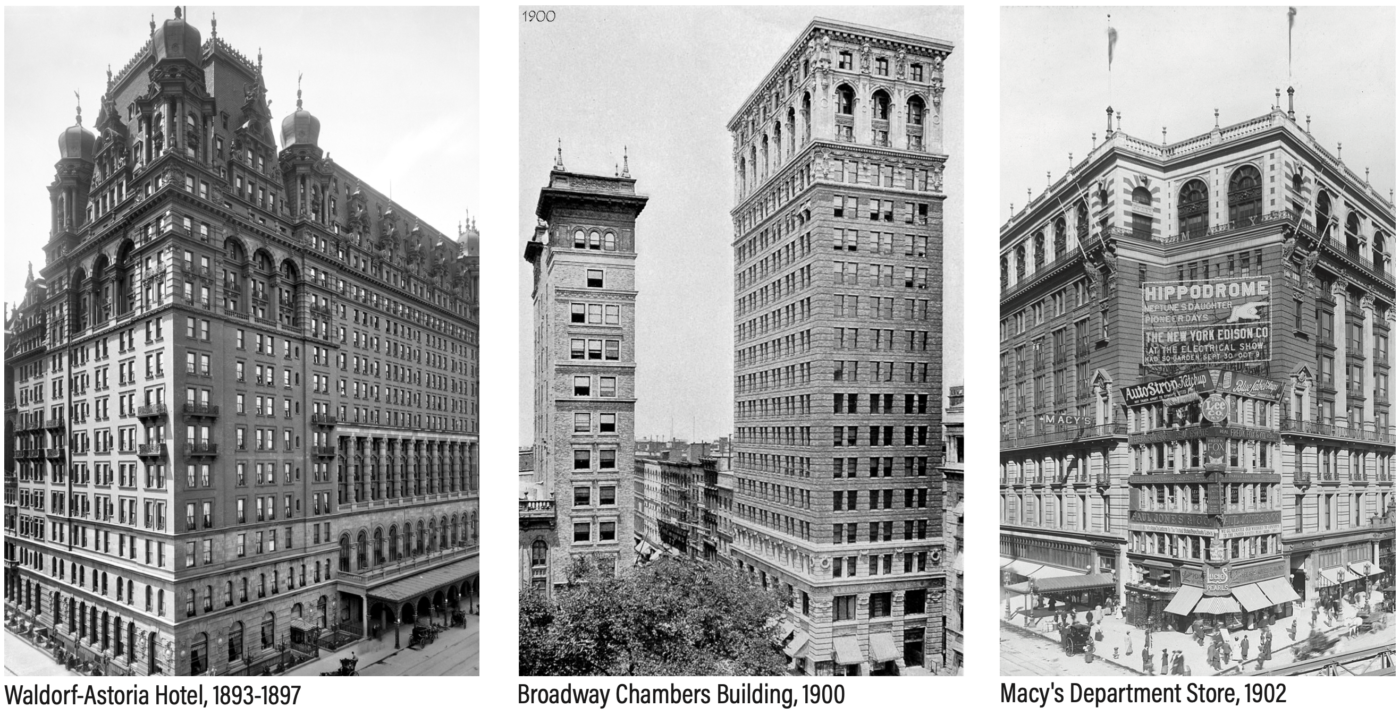 Purdy & Henderson were the consulting engineers for the following New York City landmarks: Cass Gilbert's Broadway Chambers building (1900), De Lemos & Cordes's Macy's Department Store (1902), Daniel Burnham's Fuller or Flat-Iron building (1903), Cyrus L. W. Eidlitz's New York Times building (1904), Henry J. Hardenbergh's Plaza Hotel (1907), Napoleon Le Brun & Son's Metropolitan Life Insurance Company tower (1909) – the tallest building in the world for four years — the Whitehall Annex (1910), and McKim, Mead & White's Pennsylvania Train Station (1911), in addition to the Reed & Stern and Warren & Wetmore collaborative project for the Grand Central Terminal (1913). These buildings characterize so many significant portions of New York City's architectural character, and this is only a fraction of Purdy & Henderson's New York City projects. The fact that Purdy & Henderson shaped so much of the City's built environment from 78 Fifth Avenue is truly astonishing.
With the new mayoral administration and influx of new council members, Village Preservation is releasing new information, programs, and initiatives about the area South of Union Square. To learn more about the neighborhood, check out our new and frequently updated South of Union Square Map and Tours. Village Preservation has recently received a series of extraordinary letters from individuals across the world, expressing support for our campaign to landmark a historic district south of Union Square. To help landmark these incredible historic structures and other buildings in this area, click here.
The research of Sarah Eccles, Village Preservation's Research and Preservation Associate, and Beatriz del Cueto, FAIA, FAAR'12 were integral to the creation of this blog post.