← Back
Business of the Month: Carmine Street Guitars, 42 Carmine Street
Your input is needed! Today we feature our latest Business of the Month — help us to select the next. Tell us which independent store you love in Greenwich Village, the East Village, or NoHo: click here to nominate your favorite. Want to help support small businesses? Share this post with friends.
Perhaps you dream of being guitarist extraordinaire Bill Frisell; perhaps you are Bill Frisell(!); or perhaps you're in the market for a well engineered wooden art object — a sculptural conversation piece that you can admire on a pedestal, but every now and then take down to rock 'n roll! Whatever the case, you can find the electric guitar of your dreams and much else at our April 2022 Business of the Month, Carmine Street Guitars, where master luthier Rick Kelly's creations both have beautiful tones and tell fascinating stories.
Carmine Street Guitars is located amidst a row of small businesses, down a block with a notable musical history, to which the store has added a new chapter, the culmination of the circuitous journey that led Rick there. Rick's background — the making of a guitar maker — is its own story, which you can find here. Highlights include childhood exposure through his machinist father to the tools of the trade, a formal arts education that included wood sculpture, and a first taste of basic instrument making — first, a cigar-box ukulele and then, for commercial sale, Appalachian dulcimers. His training in guitar making began subsequently and in reverse, through the dismantling of instruments for repair. It then entailed plenty of trial and error and experimentation.
Eventually, Rick's skills improved and found focus in an instrument that coincided with his musical inclinations: the solid bodied electric guitar.
I always tell people who are interested in the trade to make an instrument that you like the music from, because you'll be more passionate about the product that you make. If you don't like violin music, don't start making violins. I started off with classical guitars. I love classical music, too. But I was more interested in, you know, rock 'n roll and the electric guitar. So that's what I did!
Rick honed his craft over several decades. He worked out of several shops in Maryland (and was forced to move out of one of them by a swarm of angry carpenter bees, due to a fatal miscalculation); ran a store on Downing street, until being run out of town by the mafia (this time due to an innocent mistake); spent several years on the west coast; and came back to Long Island, whence he was raised. In time, though, he realized that the viability of his business depended on access to a larger customer base and decided to move back to the city. After considering going into manufacturing, he opted to limit his risk and instead open a mom-and-pop shop. Cheap rents and proximity to musicians narrowed his choice to Greenwich Village and the East Village. On Carmine Street, however, he found an ideal spot located mid-block, which meant lower rents, and with a friendly landlord living upstairs. The block had actually for many decades featured several noted guitar makers. None remained. But Rick still felt that he would benefit from synergies with the several record stores with which he would share the corridor (e.g. House of Oldies, Vinyl Mania, and Rockit Scientist) and especially from his proximity to noted luthier Matt Umanov, just a couple of blocks away.
Carmine Street Guitars has followed a similar approach from the outset. When it began, however, it operated at a more modest scale, carrying a few guitars and an assortment of guitar accessories, performing repairs, and manufacturing its own line of guitars. Initially, much of the work consisted of repairs and of assignments that spilled over from Matt Umanov. Gradually, however, word of Rick's handiwork spread among local musicians and, as his reputation grew, so did his clientele, which eventually came to include an ever-increasing roster of prominent musicians, such as Bob Dylan, GE Smith, Lou Reed, and Patti Smith. Rick's reputation, however, was built not just on the profile of musicians who embraced his instruments, but on the quality of his guitars.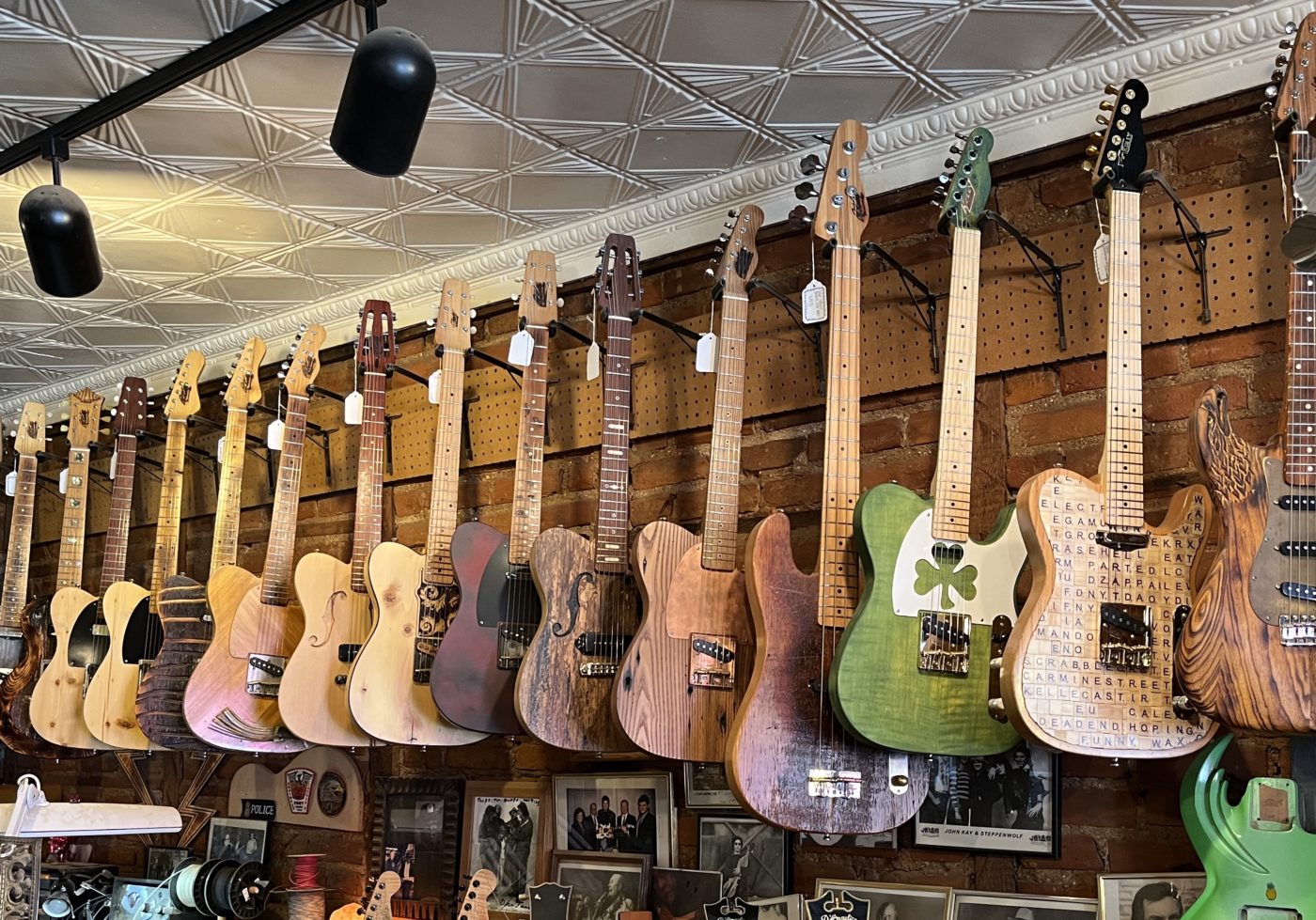 Their shape is based on Fender's first electric guitar model, the Telecaster — the model that Rick remembers people playing in the streets during his childhood visits to Greenwich Village, and the one that later captured his imagination as the instrument of choice of musical idols like Roy Buchanan and Jimmy Page. Over the years, Rick has made the blueprint his own, modifying and incorporating sculptural ideas and ornamental flourishes into his designs. And yet what truly sets his guitars apart is not beautiful form and embellishments, but the material out of which they are made.
Early on, Rick discovered the many virtues of using salvage lumber from local buildings to build his instruments. Some of these virtues are ecological, economic and, as the pictures below illustrate, aesthetic. But the advantage that most concerned Rick was acoustic. The properties of the wood determine a guitar's resonance and shape the tone that comes through the amplifier. Young, sappy, or denser wood absorbs sound; softer wood, by contrast, yields a warmer, more resonant tone. For this reason, acoustic instruments have for thousands of years been predominantly made with conifers. In reclaimed, local lumber, Rick hit upon, essentially, the corpse of white pines that centuries ago had grown to full maturity before being cut down to build New York.
The many decades this wood then spent seasoning indoors turned it into an ideal material for Rick's purposes: stable, perfectly straight, and incredibly resonant. Even the imperfections resulting from the wood's history of use proved to be an unexpected bonus when Rick, and then customers, began seeing them as marks of the lumbers' distinctive history — traces that cast each instrument as a unique piece of New York. Here are some examples.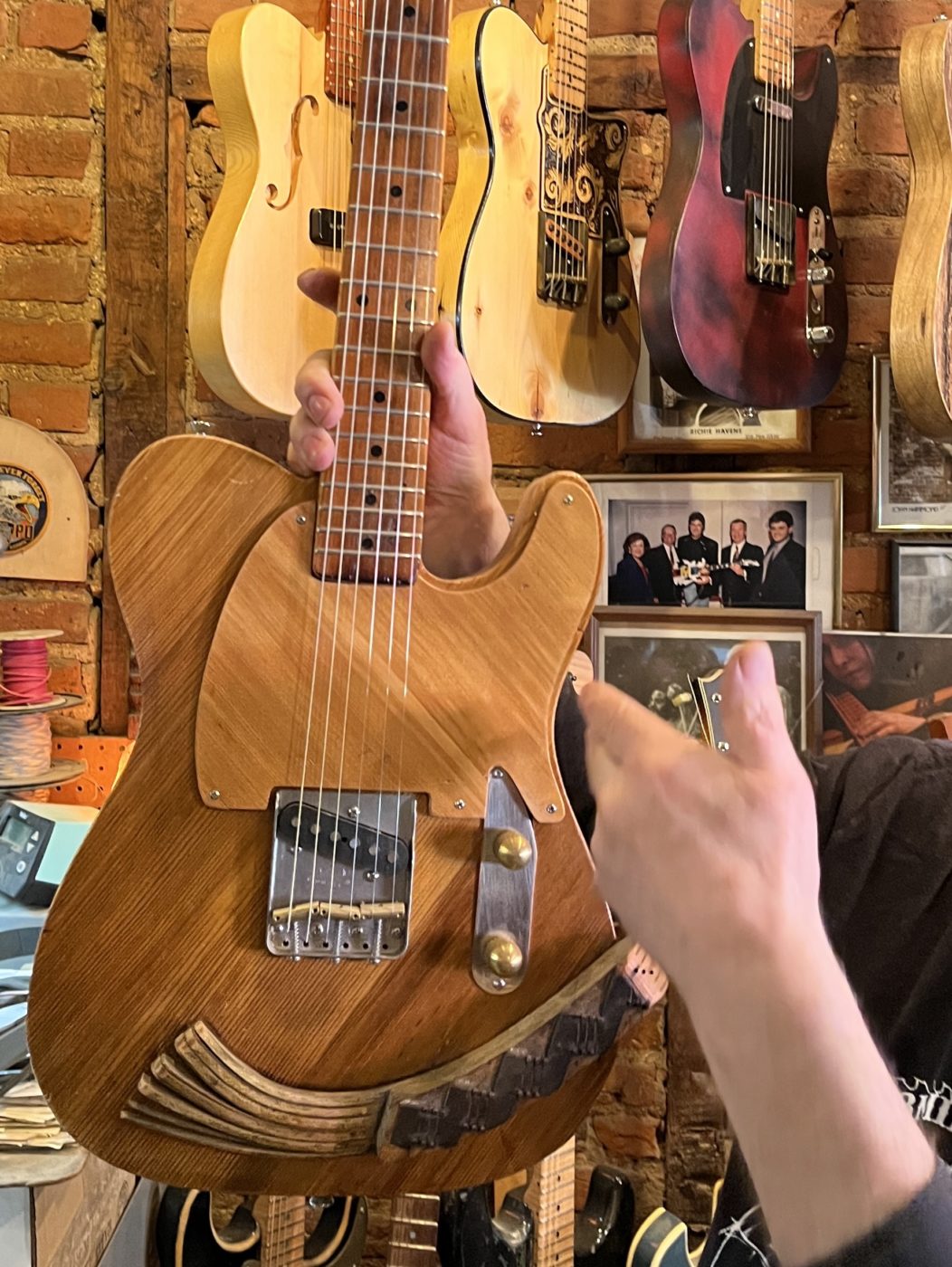 Rick's craftsmanship and reputation have allowed Carmine Street Guitars to thrive despite competition from far larger operations both online and in the city. Generations of good guitar players have kept finding their way there. In this respect, not much has changed at Carmine Street Guitars. And yet, much around it has. Matt Umanov's store has closed; all the record stores in the block are gone and so are numerous other well-established small businesses in the area. Nonetheless, Rick maintains an optimistic outlook:
New York City is alway changing; but this area I think will always be the same; because it's a historic district and many of the things are allowed to change. A lot of the buildings will stay the same.
And yet, despite this hopeful perspective, Rick recognizes that the viability of his own business in Greenwich Village has, in large measure, long been out of his hands.
I would never be able to do this without the lady who owns this building. She is a good friend, and we've become friends over the years. And she lets me stay here, basically. She could easily get more money for this store. I know it. She knows it. But she'd rather have me here than a restaurant or something else.
Rick's happy arrangement has proven a windfall for musicians, for the neighborhood, and for the city, allowing a master luthier to continue plying his trade locally. Rick never stopped making guitars, even when the pandemic forced him to shut down the retail side of his shop for months — a considerable financial setback from which the store is still recovering. And yet, taking stock of his situation, Rick can't help but marvel at the good fortune he has enjoyed in Greenwich Village.
I love the neighborhood here and the clientele I have here. And you get a lot of tourists who come from all over. And now that we've had a documentary about the store, you get tons of people from Europe who come to visit and from Canada. In the Greenwich Village area, all the musicians come here… play here. The clubs have always been here. Even when I was a kid, I used to come in to go to the Electric Circus, the Bitter End…. Being in the heart of that was something I wished I was able to do. And being here, it has met all my expectations.
For helping meet and exceed our own expectations of what a small business in the Village should be, we are thrilled to name Carmine Street Guitars our April 2022 Business of the Month.
Stop by at 42 Carmine Street or visit their website.
What special small business would you like to see featured next? Just click here to nominate our next one. Thank you! #shoplocalnyc
Here is a map of all our Businesses of the Month: