← Back
Bessie Smith: Blues Icon, Trailblazer with Village Connections
Bessie Smith (April 15, 1894 – September 26, 1937) was an icon. Her talent, accomplishments, and message lit a path for many who have come after her to rise to the top of their own profession.
Anita Baker nominated Smith for her posthumous induction to the Rock & Roll Hall of Fame. That was in 1989, the year Bessie Smith also received a Lifetime Achievement Award from the Grammys. There is good reason to celebrate Bessie Smith's work and legacy, some connected to our neighborhood. Here are just a few notable accomplishments from the "Empress of the Blues."
Recording Legacy
Bessie Smith's recording career began in Greenwich Village. In Carmen Moore's book Somebody's Angel Child; The Story of Bessie Smith, Moore chronicles the Smith's first recording sessions:
"'Let's go through that again, Clarence. Bessie, you'll have to stand closer. Yeh, sing right into that horn. We're staying at this thing until we've got a perfect take. 'Down Hearted Blues' sung by Bessie Smith–it's going to knock this country right on its ear. Okay. Take number four,' announced Frank Walker. The little recording studio of Okeh Records rang to the sounds of "Down Hearted Blues" for the fourth time that day."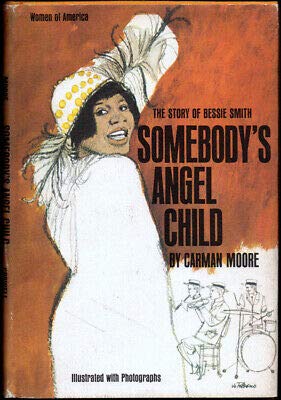 In 1923, she signed to Columbia Records, whose recording studios were located at 55 Fifth Avenue at 12th Street, in the area South of Union Square for which Village Preservation is seeking landmark designation. That first recording did indeed make a big impact on this country. "Down Hearted Blues" b/w "Gulf Coast Blues" sold over 750,000 copies and was a Billboard Hit in 1923. It is also credited as one of the first records by a blues artist and inspired confidence in music created by black artists for black audiences.
Presence on Stage and Screen
Recording is not the only industry where Bessie Smith led. She was a performer of great acclaim and has been noted as the highest paid African American performer of her era. She even starred in an early sound film, St. Louis Blues. The movie is opportunity for all to witness Smith's performance at a time where she was topping the popular charts, raising the profile of black artists, and being authentically herself in her performances, relationships, and her business dealings.
As the vaudeville era began to wane, Bessie Smith saw that by evolving her performance style, she would remain relevant and in demand as a performer. Her appearances at the Apollo Theater in 1935 demonstrated Smith's shift toward the swing era and her ability to evolve and use her unique talent in both timeless and timely ways.
Continued Legacy
Anita Baker's quote that Smith is a "Remarkable Woman who rose to the top of her profession," is just an initial look into the impact of Smith on artists and trailblazers throughout time. Artists from Louis Armstrong to Janis Joplin point to Smith's influence. Beyond her talent and accomplishments, Smith's style and emphasis on authentic representations of women, the life of workers, and sexuality, broke boundaries that are credited by artists across the blues, rock and roll, and hip hop. Her legacy continues to be celebrated with honors like a U.S. Postal Service commemorative Bessie Smith postage stamp and "Downhearted Blues" being named one of the Songs of the Century by the National Endowment for the arts in 2001. In 2002, the song was placed on the National Recording Preservation Board by the LIbrary of Congress. Again, Bessie Smith was honored by the Grammy's with "Downhearted Blues" being placed in the Grammy Hall of Fame in 2006.