← Back
Neighborhood Bookstores in the Age of Amazon
We held a panel entitled Neighborhood Bookstores in the Age of Amazon in celebration of Independent Bookstore Day, featuring the Unoppressive Non-Imperialist Bargain Bookstore (34 Carmine Street), Printed Matter (38 St. Marks Place), and Book Club Bar (197 East 3rd Street). This national commemoration comes amidst a critical period for independent bookstores and for small business in general. A pandemic has wreaked havoc on local commerce, suppressing foot traffic and intensifying a turn toward online shopping. This current crisis, however, may have obscured the fact that this has been only the latest installment in an enduring battle for small business survival. We all have noticed the vacant storefronts — some of them chronically vacant, like gapped teeth in what was and should be toothy-smiled commercial corridors.
When it comes to bookstores, each generation seems to introduce a new existential crisis. First, the television was going to reduce us to couch-ridden, passive consumers of the moving image; Then chain bookstores were going to drive their far smaller, independent counterparts out of town. Ebooks were going to relinquish print to museums and musty, under-utilized libraries. And most recently, social media apps were going to whittle our attention span down to that of gerbils.
And then every few years, we get a lamentful article either quantifying the loss ("380+ bookstores in NYC the 1950s, to fewer than 80 today") or documenting the unquantifiable with pictures and reminiscences of Brentano's, Scribner's, Coliseum, The Gotham Book Mart, Doubleday, Bookmasters, or our own St Mark's Bookshop. I'll stop the list there before it drives us all to tears. Because through the tears, it is hard to see the great bookstores that actually endure, and the ones that have improbably opened their doors for the first time. And while lamentations are great over a drink, they won't help us either shore up what we have or consolidate our gains.
With that in mind, we organized a panel that was part celebration of current independent bookstores in our neighborhoods and part exploration of how these places manage to survive and thrive, of the challenges they face, of how we might reverse their long standing decline, and, crucially, why we should. What do neighborhood bookstores do that social media and their outrage algorithms can't?
Our panelists helped us tackle these questions and more, offering along the way insight into their lives as booksellers and as integral members of our community.
Bookstore Bar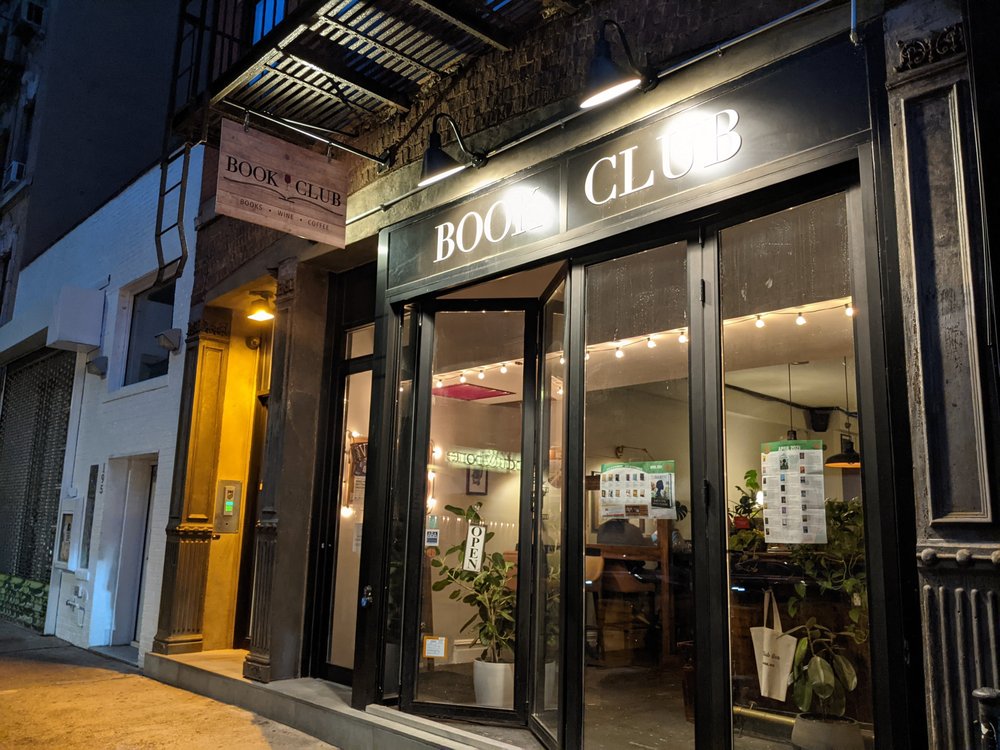 Erin Neary opened Book Club Bar with her husband in the fall of 2019. This was a long contemplated but nevertheless dramatic change of careers for her. Still, she let herself be led by her lifelong passion for books and a conviction that her corner of the neighborhood would prove receptive to the hybrid space she envisioned, a sort of cozy community living room where visitors could grab a beer (or a glass of wine or a cup of joe) from the bar, buy a book from a selection tailored around East Village tastes, and plop down on a couch to either read or meet other book lovers.
The plan was good; the timing not so much. The pandemic hit before they could get their liquor license or make much headway in fostering the community space they had planned. This meant months of navigating an evolving set of public health restrictions and operating in survival mode, relying on e-commerce and even making deliveries themselves throughout the city by bike. It was great exercise, but not the arrangement they had hoped for. Gradually, however, the bookstore has resumed normal operations, begun to welcome a surprisingly diverse clientele, and even started to host a wide array of programs, not just book signings, but also "literary adjacent" community-building events like writing workshops, adult spelling bees, and "drinking and drawing". According to Erin, this is just the beginning. They expect to expand their programming and collaborations with neighboring businesses as they develop a better sense of what the community wants.
Unoppressive Non-Imperialist Bargain Bookstore
Jim Drougas hardly needs introduction. The proprietor of Unoppressive Non-Imperialist Bargain Books (our January 2022 Business of the Month and the subject of the great documentary 34 Carmine Street), Jim has been a book seller in various capacities for well over forty years (you can read about the twists and turns of his fascinating career here). He launched the store with his wife at its current location in 1991. The couple lived behind the store and essentially raised their children there, growing into and with the community. Gradually, the store developed into a sort of collective unconscious of the neighborhood, offering at bargain prices an ever evolving selection of the sort of books that Villagers (and Villagers in spirit) would want to read, as well as serving a place where people could go to for comfort, companionship, and, occasionally, therapy.
Despite the store's strong following and success, the pandemic posed formidable challenges, and Jim struggled to get his landlord to agree to a feasible lease renewal. As a result, he is currently looking for a nearby location where he can write a new chapter in the story of unoppressive, non-Imperialist, bargain book selling.
Printed Matter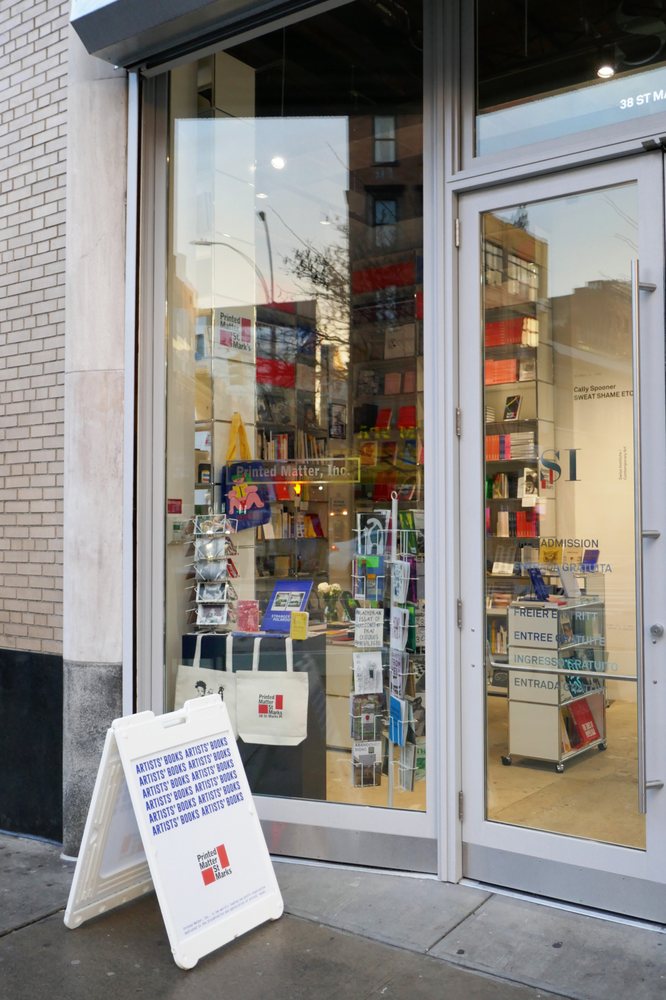 Emmett Pinsky is the manager of Printed Matter's second location, which opened in 2018 in the ground floor of the Swiss Institute exhibition space. Like its main location, which has been in operation since 1976, Printer Matter at St Marks specializes in artists' books — books conceived as art objects — and in related publications. The store's inventory is shaped by Emmett's appreciation for the craft of bookbinding and book design, as well as by a desire to support neighborhood artists and nurture a creative community. Both the Printed Matter's selection and its programming tend to showcase the work of local artists. With the pandemic, the store's operations ground to a halt; but this gave Emmett and his staff the opportunity to brainstorm ways to make the store more than just a purveyor of books. To that end, they started holding artist exhibits. During the pandemic, these consisted primarily of fund-raisers to help the store stay afloat. But as restrictions slackened, programming expanded to include collaborations, not just with artists, but also with non-profit organizations, and neighboring stores. Prominent examples include bookbinding and print making workshops done in conjunction with the Abrons Arts Center and a zine block fair. These events have amplified the store's synergies with the Swiss Institute, enhanced Printed Matter's reputation as a local creative hub, and greatly boosted sales.
All three panelists paint a surprisingly optimistic picture of the future independent bookstores in our neighborhoods and in the city. Although they recognize the vulnerability of most small businesses to the impacts of real estate speculation and to the vicissitudes of the commercial real estate market, they call attention to positive trends, such as the recent or planned opening of several hybrid bookstores in downtown Manhattan, as well as to a notable increase in conscientious consumption. It would seem that, since the pandemic, more and more customers have taken stock of the loss of meaningful businesses and have resolved to spend their money at places that matter to them. In the view of the panelists, the future of independent bookstores depends on their ability cultivate the connection that people already feel to them by making available experiences that are hard to come by elsewhere — by guiding unexpected discoveries, by preserving, contextualizing, and fomenting cultural legacies that can serve as sources of inspirations, and by providing a space for rich social engagement. Jim, perhaps put it most succinctly when I asked him to explain why their stores matter and why we celebrate Independent Bookstore Day: "I think we change people's lives. [Customers] tell us again and again what a tremendous influence what we bring to them has had. Whether it's just entertainment or aesthetic or philosophic, it's all very meaningful to people." Which is why we encourage our neighbors to support these essential members of our community and to let the celebration of their contributions last all year long.
You can catch the entire panel discussion here.