← Back
Celebrity Trees of Our Neighborhoods
New York City's trees shade us in the summer, beautify our neighborhoods, help reduce noise, clean our air, counteract heat islands, absorb rainwater, and support important urban wildlife, among an almost infinite number of their bountiful attributes. Did you know that the trees of our urban forests are publicly owned? They are every bit as much of an asset to us as our other publicly owned assets such as streets, sewers, bridges, and public buildings.
But did you know that our neighborhoods also host some of New York City's most noted celebrity trees?
The Hare Krishna Tree
One of Tompkins Square Park's most prominent features is its collection of venerable American elm (Ulmus americana) trees. One elm, in particular, located next to the semi-circular arrangement of benches in the park's center, is important to adherents of the Hare Krishna religion and has become known as The Hare Krishna Tree.
After coming to the United States in September of 1965, A.C. Bhaktivedanta Swami Prabhupada (1896–1977), the Indian spiritual leader, founded the International Society for Krishna Consciousness in New York. He worked from a storefront on Second Avenue that he used as the Society's American headquarters. Prabhupada and his disciples gathered in Tompkins Square Park in the fall of 1966 to introduce the East Village to the group's distinctive 16-word mantra:
Hare Krishna, Hare Krishna, Krishna Krishna, Hare Hare Hare Rama, Hare Rama, Rama Rama, Hare Hare
On October 9, 1966, Prabhupada and his followers sat beneath this tree and held the first outdoor chanting session outside of India. Participants chanted for two hours as they danced and played cymbals, tambourines, and other percussive instruments. The event is recognized as the founding of the Hare Krishna religion in the United States. Prabhupada's diverse group that day included Beat poet Allen Ginsberg. Krishna adherents continue to return to the tree to acknowledge its significance.
American elm trees are known for their towering canopies, which provide abundant shade through spring, summer, and fall. It is rare today to find such a collection of American elms since many of the mature elms planted across the country have been killed by Dutch Elm Disease. This incurable disease, a fungus carried by bark beetles (Coleoptera Scolytidae) which colonize the branches of the elm tree, swept across the United States in the 1930s and remains a threat to the collection of elms. Despite having lost at least 34 of the trees, Tompkins Square Park still hosts a large assemblage of elms, which continue to this day to enchant park patrons. The East Village Parks Conservancy, a volunteer group, raises significant private funds for the ongoing care and maintenance of the American elms and other historic trees in Tompkins Square Park.
Our Historic Image Archive is full of thousands of images that give us unique insights into New York City life. You can find many images in the archive of the Hare Krishnas, including the founder of the group, here.
English Elm in Washington Square Park
The English Elm located at the northwest corner of Washington Square Park was believed to have been planted in the 1790s. In 1989, the New York City Department of Parks and Recreation determined that the tree was 310 years old, although that was subsequently revised to "more than 300 years old". As a result, it is considered to be Manhattan's oldest tree, outliving Peter Stuyvesant's pear tree (see below), as well as the great Tulip poplar in the Inwood neighborhood uptown. When last measured, the grand Elm stood at 135 feet (41.15 m) tall and has a diameter of 67 inches (1.70 m).
There are early references to the elm as a "hanging tree" that date from the late 19th century, including in the records of Marquis de Lafayette. However extensive research into the park's history by more than one historian has shown that the tree was on a private farm until the land was bought by the city and added to Washington Square in 1827. No public records exist of hangings from this tree.
Peter Stuyvesant's Pear Tree
In 1647, Peter Stuyvesant, the Dutch colonial governor, whose Stuyvesant Farm (Bowerie) encompassed the land between present-day 5th and 20th Streets, from Fourth Avenue to the East River, planted a pear tree that he imported from his native Netherlands. The 1811 street grid covered over the farm and erased what vegetation remained, but one pear tree survived on what became the northeast corner of 13th Street and Third Avenue, and, perhaps more surprising, it was honored by busy, productive New Yorkers. The Stuyvesant Pear Tree was spared the development of the street grid. And as fate would have it, it wasn't developers who killed this particular tree, but another New York City menace — traffic. The tree remained in its revered spot until February 1867 when two wagons collided, sending one into the trunk of the beloved tree, toppling it. However, a plaque marking the Stuyvesant tree's spot remains at the corner of 13th Street and Third Avenue. In the East Village neighborhoods, pear trees are still planted to commemorate the original pear tree planted by Stuyvesant.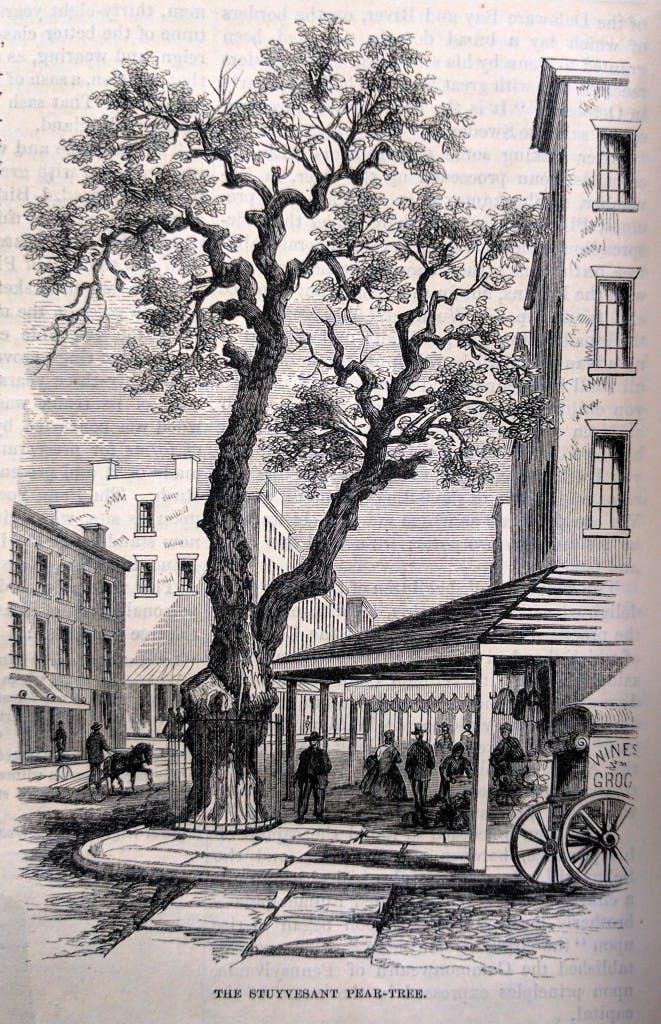 Did you know that there is an online map of every street tree in NYC? Now, instead of wondering what variety of tree you have just encountered, you can easily utilize the app and look it up! The New York City Street Tree Map brings New York City's urban forest to your fingertips, providing access to information about every street tree in New York City. Through the website, you can learn about the trees that make up our city's urban forest, mark trees as favorites and share them with your friends, and record and share all of your caretaking and tree stewardship activities.
Spring is the perfect time to notice and delight in the variety of glorious trees that line our streets and fill our parks with infinite shades of green. Go out and visit the celebrities, to be sure, but please stop along the way to take in the sights and smells of the supporting cast!