← Back
Joe Papp Created a Theater By and For The People
It's hard to believe today, but the currently thriving, electric, prolific Public Theater was once a scrappy, homeless, almost improvisational group of theater makers whose very meager existence was due to the sheer will of a group of young idealists led by an accused (and admitted) Communist sympathizer. But that's the reality – and the myth – of the inception of The Public Theater. And its journey and legacy is a fascinating one which, fortunately for our neighborhoods and all downtown New York, arrived and lives on gloriously in its Lafayette Street former-library location. That leading light institution has become a beacon of culture and a haven for forward-thinking artists throughout the world. But it didn't come easily.
In 1991 when Joseph Papp, the founder of The Public Theater, died at the age of 70 after a battle with cancer, he had become such an icon of theater and theatrical literature that the New York Times ran his photograph and obituary on the front page of the newspaper. Across the country, newspapers cited his thirty-five years of producing Shakespeare free of charge as well as the contemporary plays that had originated at his theater: A Chorus Line, Hair, Sticks and Bones, for colored girls who have considered suicide/when the rainbow is enuf, The Mystery of Edwin Drood, and The Normal Heart by Larry Kramer, one of the first dramas to deal with AIDS.
Inside The Public Theater where the eulogy was held that November of 1991, Bernard Gersten, one of Papp's oldest and closest friends, said, "Joe was not a long-term planner. Joe didn't really know that he was setting out to build a theater when he created the Shakespearean Theater Workshop in 1954. We know it now. He couldn't have conceived or imagined the course that the next thirty-five years would take or how brilliantly he would stay that course… Joe was not a theoretician or a philosopher. Joe leaped into action driven by passion and rage and adrenaline and explained himself – if he felt like it – after the fact… Great numbers of us here spring from him, have learned from him, have loved and hated him, each in turn, have fought and argued with him, have wept because of him and have triumphed with him. And we are his legacy…"
Joe Papp's journey began as Yussel Papirovsky, the son of impoverished Jewish immigrants, on June 22, 1921. His mother left Lithuania as a 15-year-old orphan and his father had escaped from Poland to avoid conscription in the army. As Papp later said about his childhood and upbringing in the Jewish enclave of Williamsburg, "It was clear to me that there were two classes, the haves and have nots, the rich and the poor. For me it was not an intellectual matter. I was one of the poorest kids in my high school class." He was obsessed with his class and status in the world and worked tirelessly his entire life both to hide his Jewish heritage as well as to lift himself out of the relentless downward spiral of the underprivileged. That quest forged him into arguably the most important figure in American theater.
When Papp was a High School student, his teacher read a scene from Julius Ceasar to the class.
"It was a speech about rousing people to action and loyalty. I loved that speech," he said. "You blocks, you stones, you worse than senseless things. Oh, you hard hearts, You cruel men of Rome. I identified with the character. He was protesting some injustice done to someone he cared for. I didn't understand a lot of the things but it sounded so good. And I memorized it. I didn't admit to anybody that I loved Shakespeare. On my block, if you told that to any of those guys, they'd beat you up."
With a simple yet radical idea that Shakespeare, the greatest writer in the English language, was not the property of the educated, or the middle class, or the upper class, but belonged to everybody, it became Papp's fervent mission to take Shakespeare to the people of New York, free of charge.
The road to his ultimate success was neither clear nor straight. After high school, with no money for college, Papp enlisted in the US Navy in 1942 and served as a petit officer on board a ship until 1945. His superiors had heard tell of shows that Joe would stage and put on for the crew while at sea. When the Navy established an official entertainment unit, they transferred Papp to California. Interestingly, his last show for the Navy, staged at the Brooklyn Navy Yard in 1946, starred a young Bob Fosse who was also a Navy man and who had been stationed on board Papp's same aircraft carrier.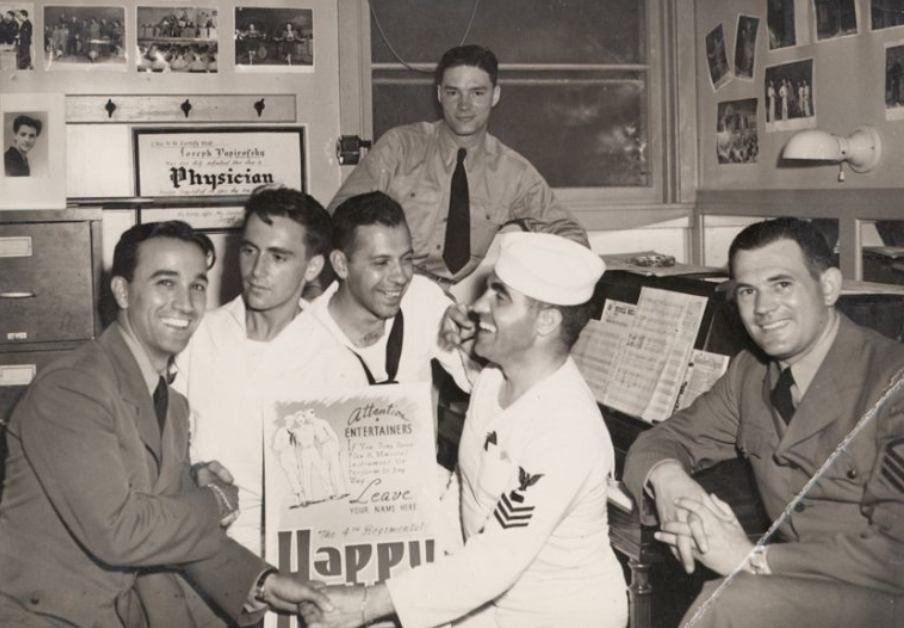 Once discharged from the military, Papp had no job and no skills, save for the stage skills he had acquired while enlisted. He eventually would find his way to the CBS headquarters in NYC to become a "Floor Manager" for the network. He did not care for the medium of television, but he needed a job and he soaked in all he could learn while working there. While most of those working in television would talk about wanting to break out and do legitimate theater, Papp seemed to be actively training himself to do it. He was called "The Floor Manager Who Loved Shakespeare," as he could recite the plays by heart and was always declaiming speeches at will!
Papp would also meet many of his strongest supporters, both financial and emotional, during his journey through the television industry. Ernie Kovacs, Richard Rodgers, Oscar Hammerstein, and Julie Andrews, among many others, would gravitate to Papp and befriend him.
While still working at CBS, with borrowed equipment and no small amount of hard work, Papp started staging free outdoor Shakespeare in 1956 at the East River Park Amphitheater on Manhattan's Lower East Side, one of the roughest neighborhoods in the city. He found an abandoned concrete stadium bandshell, and created a production of The Taming on the Shrew with an unknown Colleen Dewhurst. The show received positive reviews in the New York Times even though it was rained out after the first act.
"The first show that opened here, with no advertising, nothing, just opened the doors and the place was packed," said Papp.
"Old people, young people, Jewish people, Hispanic people, Black people. Hundreds of people. They laughed, they roared. The people would yell. They'd go, look out! Here she comes, look out!" says Colleen Dewhurst, whose career was launched by Joseph Papp and her work in his free Shakespeare productions.
In 1957, Papp created a mobile theater that traveled to neighborhood parks, ball fields, and playgrounds in all five boroughs. It was a thirty-five-foot trailer pulled by a retrofitted sanitation truck. The stage would unfold and would transform the park into a theater, complete with a stage, dressing rooms, lighting, and seating for more than two thousand people.
A Times review in 1964 of a mobile performance of A Midsummer Night's Dream said, "Civil rights and other weighty problems receded into the darkness for a few hours in Harlem last night as Shakespeare's wit and humor took over and captivated an audience. . . . An old woman, who refused to identify herself, said that she had been a resident of the community for 26 years. 'This is the first time that people have cared to come in here,' she declared. She asked for handbills to distribute to her friends and neighbors, and wanted one to put in her window."
Papp was one of the first to cast Black and Hispanic actors in major classical roles. "Joe wanted to fill the stage with the same kind of people he was going to fill the audience with, all the people of the city," says actor James Earl Jones. "He tried everything to open up the whole issue that you're casting human beings. He would cast Hamlet as a woman."
In the summer of 1957, after putting on shows throughout the city, the mobile theater was headed for Central Park. When it arrived near Belvedere Castle, the truck broke down. Papp decided to leave the truck there on a patch of civic grass, claimed squatter's rights, and staged Romeo and Juliet, Two Gentlemen of Verona, and Macbeth on a temporary stage. Thus a beloved New York tradition was born—free Shakespeare in the Park—drawing thousands for every performance, then and now.
After two successful seasons of free Shakespeare in Central Park, Papp ran afoul of the infamous Robert Moses, the most powerful politician in New York at the time. Moses claimed that theatergoers trampled the grass and Papp needed to charge admission to pay for the replanting. Papp categorically refused. In retaliation, Moses leaked to the press that Papp was a Communist.
Papp fought back in the press, suggesting his free plays didn't damage the park any more than football or any other sport. People took sides, even Eleanor Roosevelt: "It seems strange to me that Mr. Robert Moses, New York City Parks Commissioner, who once was enthusiastic about such things, should now want to ban the Shakespeare Festival from the city's Central Park. The real value that comes to our city through the production of Shakespeare and the fact that the performances would be open to all is so great that I cannot help wishing that his decision might be changed. We must realize that the city pays for health and education and gives its citizens other things in return for their taxes, and this seems to be one of the legitimate expenses for education."
In retaliation, hundreds of New Yorkers sent envelopes of grass seed to Moses.
Papp won in the court of public opinion and the court of appeals. The season went on, free of charge. Through sheer grit, Papp's New York Shakespeare Festival had become a major metropolitan institution. A few months later, Moses did a turnaround and requested $250,000 to build a permanent Shakespeare-style amphitheater in Central Park. The open-air Delacorte Theater was built on the same site near Belvedere Castle where the truck originally broke down.
In 1965, Joe Papp began to look for a year-round theater where he could stage Shakespeare and expand his mission to offer a home where American playwrights could create their own classics.
In 1967, in an excellent example of adaptive reuse of a building, he moved into the dilapidated former Astor Library on Lafayette Street, the first free public library in New York. The building had been converted into a shelter for homeless Jews after World War II, but HAIS had fallen on hard times and the building was slated for the wrecking ball.
After a massive renovation, Papp opened the New York Shakespeare Public Theater at 425 Lafayette with the tribal rock musical Hair.
Joe Papp believed great art was for everyone and he could engage what he called 'the culturally dispossessed' through theater. He argued that we have public libraries, why not public theaters? Well, Joe did his job sublimely. And in perfect symmetry, he transformed a free public library into a free public theater. Bravo Joe!
Not just someone who worked or created in our neighborhoods, Joe lived with his wife Gail Merrifield in Greenwich Village at the Sheridan at 40 East 9th Street.
The life and work of Joseph Papp will be on display as part of our 2022 Annual Benefit: VILLAGE VOICES. Our benefit will feature an engaging installation of exhibit boxes displayed throughout our neighborhoods featuring photographs, artifacts, and recorded narration that will provide entertaining and illuminating insight into the momentous heritage of the Village.