← Back
Business of the Month: Gaia Italian Cafè, 226 East 3rd Street
Your input is needed! Today we feature our latest Business of the Month — help us to select the next. Tell us which independent store you love in Greenwich Village, the East Village, or NoHo: click here to nominate your favorite. Want to help support small businesses? Share this post with friends.
Sometimes you find old values, big aspirations, and a spirit of community in places that are contemporary, modest, and commercial. These are among the paradoxes that you encounter at our October 2022 Business of the Month, Gaia Italian Cafè at 226 East 3rd Street (Ave. B/C) along with a revolving selection of freshly-made, delicious Italian dishes at surprisingly low prices. The owner's warm welcome comes free. You'd be hard pressed to find a better and more delectable deal in town.
Gaia Bagnasacco grew up in Milano, assisting her grandmother in the kitchen and, along the way, developing a passion for food. Memorable trips to different regions in Italy and fondly-recalled meals around the fireplace of the family's small, rustic mountain home additionally instilled in her a deep-seated affinity for the warm comforts of simple, fresh food eaten in good company. This inclination would serve her well when, in 2008, her career as a freelance graphic designer took an unexpected turn. She received from her brother a free ticket to New York, a place that she had long read and thought about, but never visited. At that point, she faced a choice. She could go as a visitor and come back, or she could stay for a couple of years and make an experience out of it. She opted for the latter; nearly a decade and a half later, she's still here.
When Gaia got to New York, she needed a job. Hoping to leverage her gastronomic passion and know-how, she applied for one at Enoteca Maria, cooking Northern Italian food part-time. But there was a catch: the concept of the restaurant at the time involved having Italian grandmothers from different parts of the country take over the kitchen on different days of the week. Gaia had plenty of experience in the kitchen, but no grandchildren to her name. Still, she pleaded her case to the restaurant, "I'm not a physical grandma. But I'm a soul grandma, because I'm old inside. I was raised by grandmas; my values are old; my way of living is very old." She got the job.
Gaia's time at Enoteca Maria inspired her to open a place of her own. She had no experience starting or operating a business, least of all in this country. But little by little she found a way. In 2011, she launched Gaia Italian Cafè on Houston Street — named not after herself, but after the Greek goddess of Earth, to reflect the values that guided the management of the restaurant from the outset. For Gaia, this meant basing her menu on a traditional Mediterranean diet, which she felt provided a healthy balance among foods in terms of both one's health and that of the environment. The portions would be European, the dishes would observe a traditional proportion among proteins, carbohydrates, and vegetables, and the menu would rotate among different types of foods on a daily basis.
Gaia's selection came to include fifteen different kinds of panini, all made with freshly home-baked bread and high-quality Italian ingredients, a pasta special (il primo), a variety of cheeses and meats (il secondo), and asserted hot dishes, including the popular lasagnas. In keeping Gaia's emphasis on serving the community, the prices were kept low (all panini were $5) and employees were all hired from among low-income neighbors and groups who struggle to penetrate the workforce. Before long, the cafe became a success and a popular venue for dinner parties. Over the course of ten years, it built a loyal following. But then unexpected challenges forced Gaia to shut down.
First, the construction company working on the development two doors down parked its equipment in front of her shop for two years. Then, her upstairs neighbor started an inexplicable campaign of harassment against her and her business with the apparent intent of forcing her out. It worked. Gaia's business suffered, and when she could not meet rent, her landlord, who had refused to intervene in response to her complaints, served her with an eviction notice.
Gaia struggled with the transition, especially in the middle of a pandemic.
I have been burned. It has been very difficult to accept the harassment and to shut down a business where I really gave my all… so much from early in the morning until late at night.
For a while, Gaia started selling prepared sauces and delivering dishes out of a new spot on the Lower East Side that did not work out. Eventually, however, she found her way to East 3rd Street alongside her longtime employee Kevin Espinal, who has worked for her since he was 17 and is now her chef. There, she reopened in a small storefront, much to her delight, and apparently to that of her customers (over the course of our short visit, four different people welcomed Gaia back or said hello to her as they walked by). Gaia loves the sense of community at her new location, and she is thrilled to be able to be serving her food once more. Nonetheless, the dimensions of her space pose severe constraints and have forced her to figure out how to run an entirely different business. For one, she can no longer provide the dine-in experience that was among her favorite aspects of the café. Moreover, she has had to limit her menu and find ecologically responsible ways of doing take-out and, in the future, possibly delivery — services that she avoided as a matter of principle at her old place. Still, the food quality is as high and the prices as low as they last were before her move, and the hospitality just as generous and exuberant.
In addition to a selection of her famous panini and her pasta dishes, Gaia now offers a variety of bruschettas and focaccias di recco (a Ligurian specialty hard to find in the city and completely unlike their more common, spongier counterpart), as well as type of piadina, "Ciao Papi," named as a tribute to her father, who passed away unexpectedly in 2019.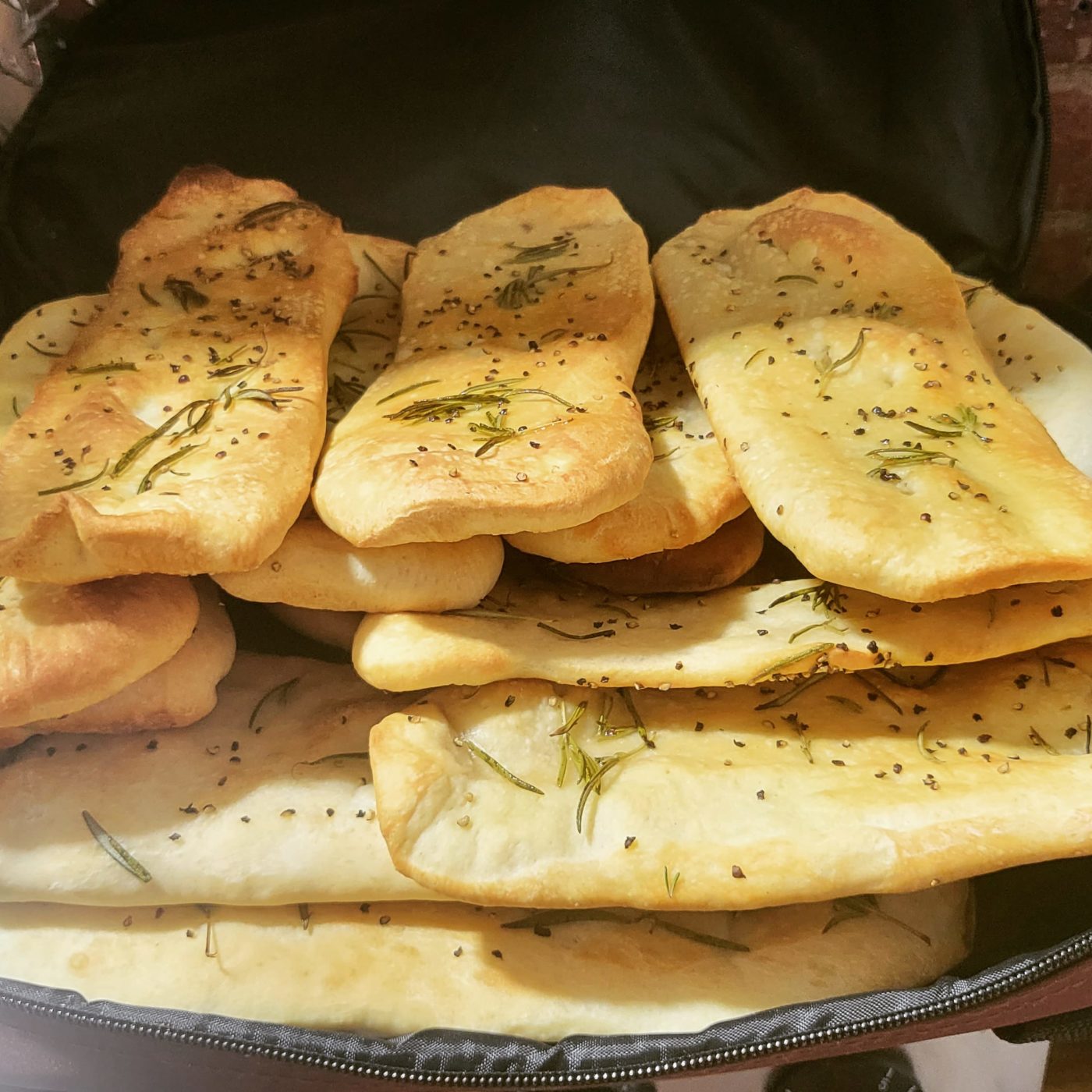 In addition, you'll also find packed into the small but bountiful store several home-made sauces, a range of Italian dry-goods, and a colorful collection of rubber ducks (selected from among several boxes of them that are kept in storage). Whence and why the ducks? They are all gifts from customers. The duck, as it happens, is the mascot of the business, and for Gaia, represents the encounter between sky-high aspirations and earth-bound difficulties.
Looking ahead, Gaia has been searching for a nearby space where she might resume her dinner parties, which she regards as the quintessential vehicle for nurturing community. Looking even further ahead, she would like to find a way to transfer her business to her employees, so that they can build equity in their neighborhood, and then replicate that model at similar future small restaurants. In the meantime, however, we can still swing by her cafe at East 3rd Street and feel like we've happily wandered into nonna's kitchen.
For continuing to prove that you can offer high-quality food at reasonable prices and, at once, serve the local community and the planet, we are thrilled to name Gaia Italian Cafè our October 2022 Business of the Month. 
What special small business would you like to see featured next? Just click here to nominate our next one. Thank you! #shoplocalnyc
Here is a map of all our Businesses of the Month: