← Back
Jeannette Rankin: the First Woman Elected to U.S. Congress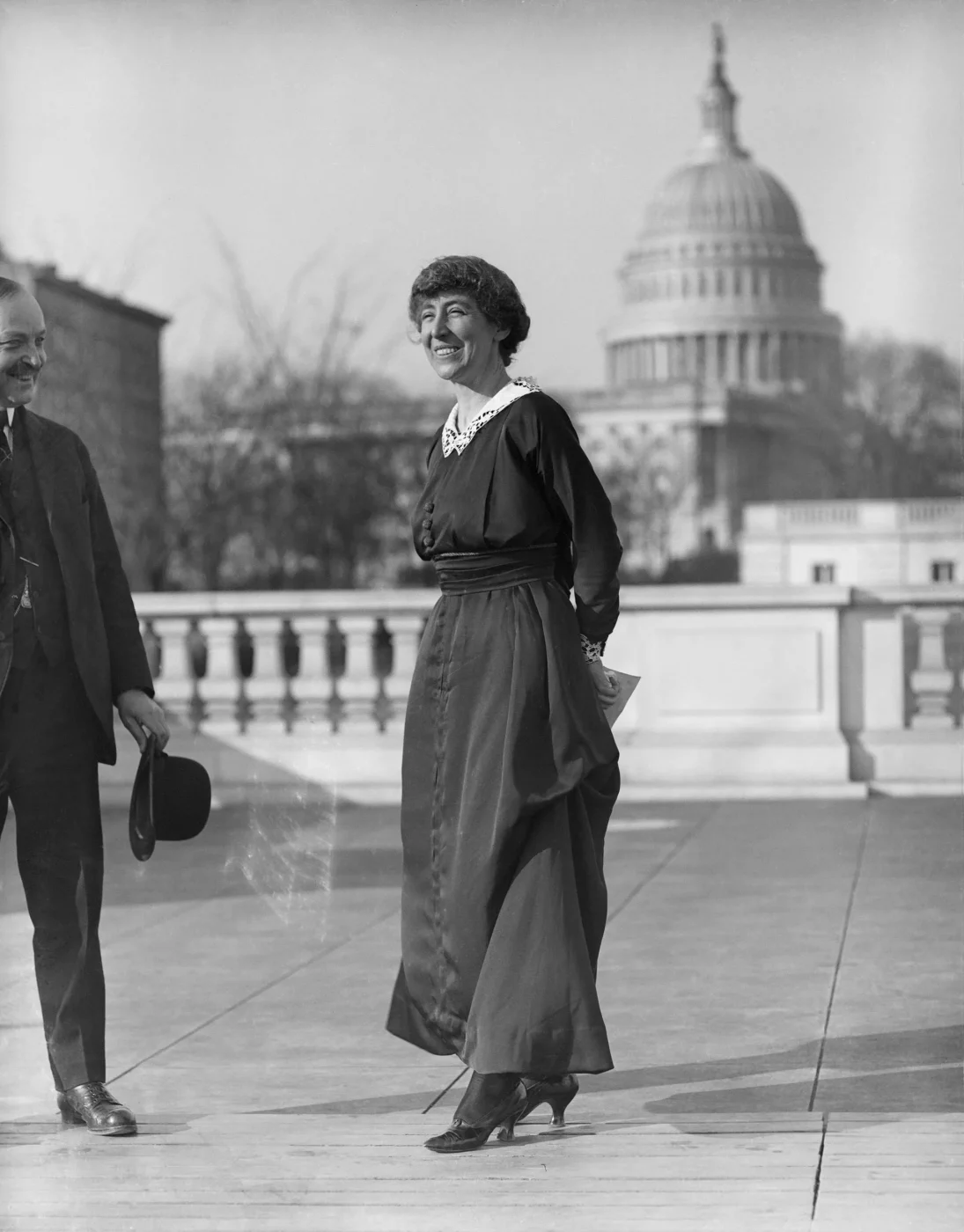 Fiercely independent and feverishly devoted, Jeannette Rankin was the first woman to be elected to Congress in 1916, three years before women across the country were granted suffrage by the 19th Amendment. She is known not only for this feat, but for being one of 50 members of the House to vote against American involvement in World War I and the only member to vote against World War II. A lifelong anti-war activist and political advocate for the social and economic rights of women and children, Rankin's dedication to radical thought led her to Heterodoxy, an early twentieth century Greenwich Village feminist group.
Rankin's upbringing was one of privilege, prosperity, and a restlessness that would fuel her for her entire life. She was born in Missoula, Montana in 1880, the first of seven children to Olive Pickering and John Rankin, whose success as ranchers and builders guaranteed Rankin's comfortable and educated youth. After earning her B.S. in Biology, a field chosen at her parent's urging, from the new state university in Missoula, Rankin began to teach at a rural school near the family ranch, but quickly found herself unable to quell the voice inside her that longed to leave Montana and pursue her passions.
After her father's untimely death in 1904, Rankin's mother turned over the household responsibilities to her eldest daughter, forcing Rankin to become the primary caretaker for her five younger sisters. Thankfully, her father left the family a sizable estate, managed by Rankin's younger brother Wellington, that granted Rankin the freedom to travel across the country. During a visit to her uncle in San Francisco, Rankin started volunteering at the Telegraph Hill settlement house. The experience she gained there of providing hands-on care to those in need gave her a new sense of direction: Rankin applied and was accepted to the prestigious New York School of Philanthropy (now the Columbia University School of Social Work.)
Rankin seized the opportunity to leave Montana and moved to New York City in 1908 to attend the master's-level program. Her new life in New York exposed her to a new "woman-centered" life that imbued her with a passion for social reform and a desire to transform conceptions of a woman's place in the world. Though she ultimately found social work dispiriting, she became deeply invested in grassroots activism and political organizing. Between 1910 and 1915, Rankin crossed the nation demonstrating her skills as a sidewalk campaigner, lobbyist, and field organizer for the New York Woman Suffrage Party. She became renowned for her distinctive, magnetic speaking style which compelled people across the United States to rethink their support for the suffrage movement.
It was during these years that Rankin became involved with Heterodoxy, the secretive and alluring radical feminist group founded by Marie Jenney Howe that made Greenwich Village their meeting grounds in the early 1900s. The group would meet at 137 MacDougal Street every Saturday, where they would hold lively debates on issues ranging from childbirth techniques to labor reform, and economic policy to psychology. Notable Heterodoxy guest speakers included Hellen Keller and Margaret Sanger, whose activism in their own fields are legends in themselves. The organization asked little of their participants other than a dedication to the unorthodox and an openness to the kaleidoscopic perspectives that came to light each Saturday. The group's frequent dialogues surrounding pacifism would have been particularly interesting to Rankin, who was perhaps known best for her lifelong anti-war activism.
Taking her lessons from New York back to her home state in Montana, Rankin campaigned for and won one of two seats from Montana in the U.S. House of Representatives. The state's at-large voting system provided Rankin with a unique opportunity to appeal to the newly-enfranchised women voters in Montana, but it was her magnetic charisma, commitment, and undeniable intelligence that allowed her to become the first woman ever elected to Congress. At that moment, Rankin became the best-known woman in the U.S. and a symbol of female achievement to so many.
Rankin's first term in Congress coincided with American involvement in the first World War. Though she faced pressure from all sides to vote in support of America's declaration of war against Germany, including from fellow suffragists who worried that her vote against the war would portray the movement as anti-patriotic, Rankin joined 49 other House members to vote against the war. "I wish to stand for my country," she said when delivering her decision, "but I cannot vote for war." During her second term in Congress in 1940, Rankin was the sole vote against the declaration of war against Japan in response to Pearl Harbor. Though that would be her last term as an elected official, Rankin dedicated the rest of her life to using her platform to fervently support anti-war movements at every turn.
The history of Greenwich Village is one of radical thought, joyous celebration, and a commitment to political activism, and Jeannette Rankin's life embodies that history. A symbol of the power of American women to enact political change, Rankin's trailblazing legacy serves as a reminder to us all of our duty to fight for progress.
As a reminder, we all have an opportunity to continue the fight for progress during tomorrow's midterm elections. We hope you'll join us in the fight, and honor Rankin and all those who fought for suffrage, by exercising your right to vote.