← Back
Literary Rebels: Five Banned Book Authors Connected to the Village
Everyone knows our neighborhoods have been home to some of the world's most celebrated literary icons. However, for some of these icons, their revolutionary writing has been a magnet for scorn and animus as much as it has been for admiration. These authors have often found their work censored by private individuals, government officials, or organizations who considered the works' content to be offensive or incendiary, who sought to "ban" these book by removing them from libraries, reading lists, bookstores, and more.
The practice of book banning is undoubtedly controversial and often reflects a desire to "protect" readers from supposedly inappropriate content; or simply snuff out fiery ideas that could set the souls of readers ablaze. Luckily, literary excellence and the free exchange of ideas are tenets which our neighborhoods not only live by, but celebrate. Below are five authors connected to our neighborhoods whose banner books have made them not only literary icons, but literary rebels as well.
1. Zora Neale Hurston – Their Eyes Were Watching God
Zora Neale Hurston's (January 7, 1891 – January 28, 1960) work as an author, anthropologist, and filmmaker have earned her a spot in the pantheon of great American authors. Her 1937 novel Their Eyes Were Watching God tells the epic tale of Janie Crawford, a proud, independent black woman in Florida in the early 20th century. Janie embarks on a journey of self-discovery that sees her awaken to her own potential and empowerment. In 1997, sixty years after its publication, parents in Brentsville, Virginia attempted to ban the novel from their child's Advanced English curriculum for "sexual explicitness," but the ban was swiftly overturned.
Long before she published Their Eyes Were Watching God, Hurston was a contributor to The Crisis magazine, the NAACP's house magazine. The NAACP, and The Crisis, were headquartered at 70 Fifth Avenue (a building Village Preservation got landmarked in 2021) from 1912 into the 1920s. W.E.B. Du Bois, founder of The Crisis, harnessed the magazine as a platform both to raise awareness of nationwide racism and to uplift the voices of promising young Black poets, essayists, and writers, including Zora Neale Hurston.
2. Alex Haley – The Autobiography of Malcolm X
In the 1960s, Alex Haley rented out a tiny studio at the back of 92 Grove Street in Greenwich Village (marked by a historic plaque placed by Village Preservation in 2019). From 1963 until 1965, Haley would use this space to conduct over fifty interviews with one of the most prominent civil rights activists of the time: Malcolm X. At this point, Malcolm X had come to national prominence as a spokesman for the Nation of Islam, as well as a vocal advocate for Black empowerment, who demanded civil rights "by any means necessary" — a demand which drew the attention of the FBI. His passion and politics were often polarizing, and garnered both intense support and scorn.
The Autobiography of Malcolm X was published in October 1965, just months after Malcom X was assassinated in New York City. The book provides a detailed look into its subject's views on Black pride, nationalism, and protest while also analyzing the true insidiousness of America's systemic oppression of minorities. The already-controversial nature of Malcolm X's philosophy led many to fear that his autobiography would lead to a contagious spread of radical ideas. The book has been banned since its publication by numerous individuals and organizations who oppose its ideology. Notably in 1993, parents in Florida demanded the book be censored as it "disrupted racial harmony." This criticism spread across the state to Jacksonville where library students were only allowed to check the book out with a permission slip signed by their parents.
Nevertheless, the autobiography has stood the test of time to become a classic of activist literature. As a co-writer, Haley exerted his own style and voice to guarantee its place as what the Library of Congress calls, "one of the books that shaped America."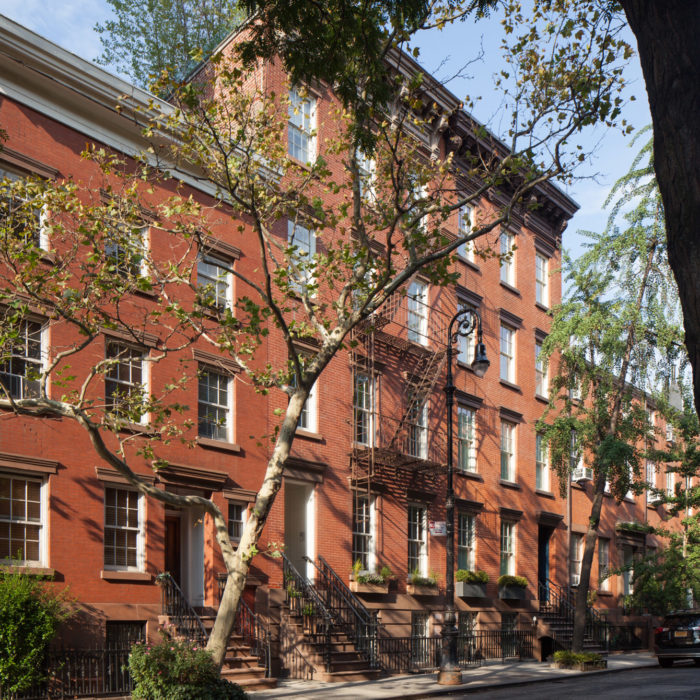 3. James Baldwin – Go Tell It on the Mountain
James Baldwin's searing condemnations of ghettoization, poverty, and racial privilege were core to his work both on and off the page. He was born and raised in Harlem, an upbringing that profoundly impacted his writing, before moving downtown in 1958. He called 81 Horatio Street (where Village Preservation placed a historic plaque honoring his residency there in 2015) his home until 1961. During those years, Baldwin frequented and drew inspiration from the literary camaraderie he nurtured in the bohemian clubs and cafes of Greenwich Village.
His 1952 novel Go Tell It on the Mountain is a semi-autobiographical work about a teenage boy named John Grimes who lives in Harlem in the 1930s. Grimes navigates issues of religion, adolescence, and sexuality while contending with racial discrimination and socioeconomic hardship. The novel was banned in Prince William County, Va. in 1988 and in Hudson Valley, N.Y. in 1994 over its language, sexual themes, violence, and depiction of degrading treatment of women, but has long been considered one of the most influential novels of the 20th century.
4. Art Spiegelman – Maus
In Maus, Art Spiegelman commands the graphic novel medium to tell the life story of his parents, who survived the Auschwitz-Birkenau concentration camp, by portraying Jews as mice and Nazis as cats. The novel, published in two volumes in 1986 and 1991, is one of the most well-known and acclaimed graphic novels of all time, winning multiple awards including a special Pulitzer Prize in 1992.
Before Maus became the landmark graphic novel that it is, however, Spiegelman was a young, unknown illustrator growing up in New York City after immigrating from post-WWII Stockholm with his parents. His passion for cartooning bloomed in the 1960s when he began to emulate the artistic styles of his favorite comics, like Mad, and sold his comics on street corners. Before long, he became involved with the underground, countercultural comix scene, contributing the publications including The East Village Other, previously located at 147 Avenue A and considered a pivotal comix magazine so countercultural it made "The Village Voice look like a church circular," according to The New York Times.
Since its publication, Maus has been a transformative work in educating young Americans on the tragedy and reality of the Holocaust. Its allegorical yet impactful approach to the subject matter provides a unique and accessible conduit to themes of genocide, discrimination, mental health, and poverty. Yet the book has been challenged multiple times within the past year in Tennessee and Virginia, where school boards have protested its use of profanity and depiction of nudity, suicide, and violence. However, a national outcry has since followed to protect the use of Maus as an educational tool and classic graphic novel.
5. E.B. White – Charlotte's Web
E.B. White is most popularly known for writing the beloved children's books Charlotte's Web and Stuart Little, but was also an accomplished (and very adult) essayist, novelist, humorist, and poet. Charlotte's Web, one of the most cherished pieces of American literature, was banned in Kansas in 2006 by parents who argued that "talking animals are blasphemous and unnatural" and that the passages about Charlotte's death were "inappropriate subject matter for a children's book." Despite these critiques, Charlotte's Web has sold more than 45 million copies and been translated into 23 languages.
White made Greenwich Village his home during the 1920s, 30s, and 40s, when the Village was brimming with exciting young minds and bold ideas. He moved to 112 West 13th Street in 1925 where he lived for a few lean, hungry years that were nevertheless some of the most creatively fruitful of his life. After marrying Katharine Angell in 1929, White moved into her home at 16 East 8th Street until he was (very unhappily) forced to move in 1935 in search of a more spacious home. Thankfully, he was able to stage his glorious return in 1944 when the Whites moved into a furnished apartment on West 11th Street. Within a week of being back in his Village, he joyously wrote Village Revisited elating:
Beauty recalled me. We bowed in the Square,
In the wonderfully westerly Waverly air.
She had a new do, I observed, to her hair.