← Back
#SouthOfUnionSquare, the Birthplace of American Modernism: Peggy Bacon
"South of Union Square, the Birthplace of American Modernism" is a series that explores how the area south of Union Square shaped some of the most influential American artists of the 20th century.
Throughout the 20th century, the area South of Union Square attracted painters, writers, publishers, and radical social organizations. Art, politics, industry, commerce, the New York elite, and the working class collided to create an eclectic culture and built environment in this neighborhood that helped shift the center of the global art world to New York City. In addition to its namesake social realist art movement — the Fourteenth Street School — the neighborhood South of Union Square and its environs were host to a number of influential artists and movements, including Abstract Expressionism, the Ninth Street Five, and "The Club."
Peggy Bacon (May 2, 1895 – January 4, 1987) was one of many artists who moved to Greenwich Village and the neighborhood South of Union Square in the 1920s to be at the center of the American art world. After bouncing between numerous studios in the neighborhood, Bacon ultimately kept a studio at 20 East 13th Street, in Village Preservation's proposed South of Union Square Historic District, from 1941 to 1961. Peggy Bacon is exceptionally well known for her witty drypoint illustrations that expertly satirized the New York art world and absurdity of New York street life, but she was also an accomplished painter, portraitist, lithographer, writer, and art educator.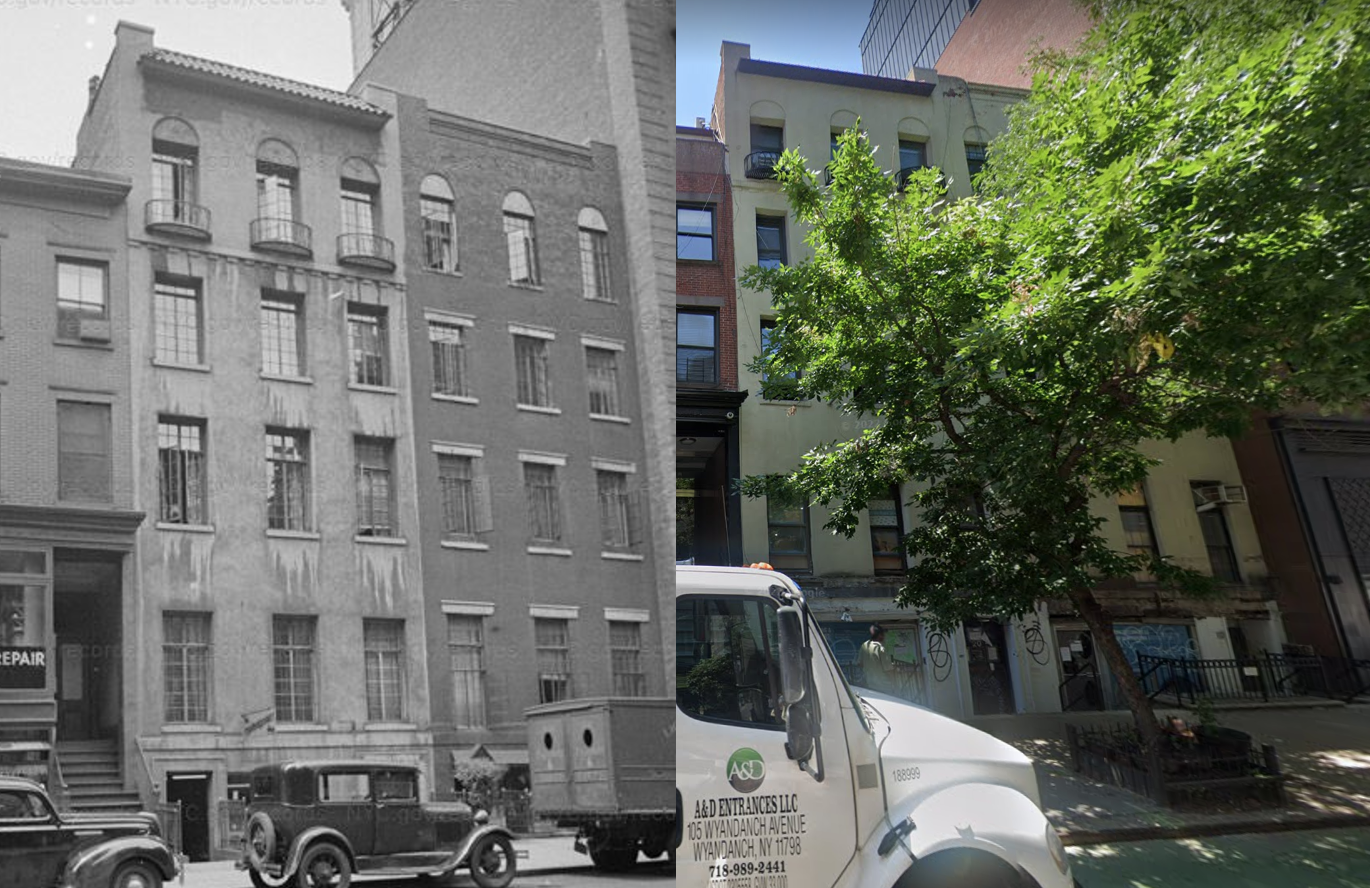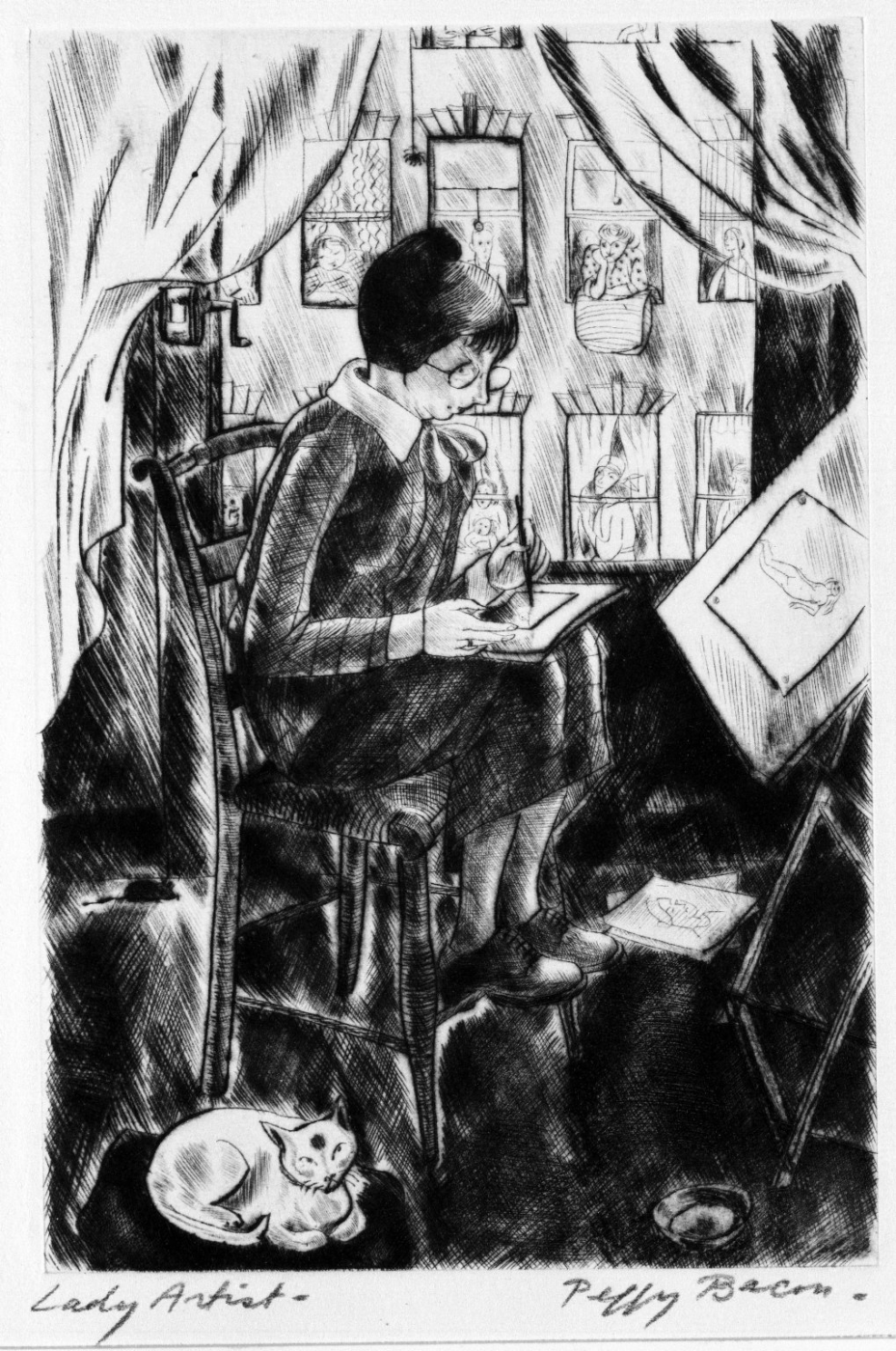 Bacon moved to New York City in 1913 to study art. By 1915 she was taking classes at the Art Students League with leading neighborhood art world figures Kenneth Hayes Miller and John Sloan. While Bacon experimented with abstraction and modernism early in her training, she ultimately, like many other students from the League, found her niche in the realist style. Of her choice of subject matter, she told the Smithsonian Archives of American Art in 1973, "The thing that keeps any artist's work alive and healthy is the constant observation and recording that should be part of his daily life like breath."
Peggy Bacon's career took off with her first solo show at Alfred Stieglitz's Intimate Gallery in 1928. Following an exhibition of her portraits at the Downtown Gallery in 1931, Paul Rosenfeld wrote: "No one has brought a greater wit and penetration to caricature than she." The next year, Holger Cahill claimed that Peggy Bacon "is the most talented of our caricaturists." Bacon's 1934 book of caricatures, Off With Their Heads, was funded by a Guggenheim Fellowship. In 1953, she was even nominated for an Edgar Award for the best first mystery novel by an American author, for The Inward Eye.
Bacon's career spanned over seven decades. In addition to her well-known drypoint drawings, she created paintings and prints, and wrote poetry and novels. She is known to many as the illustrator of more than sixty-four children's books, including The Lionhearted Kitten (1927). Her sketches frequently appeared in publications like The New Yorker and Town and Country. Today, Bacon's work is in the collections the Metropolitan Museum of Art, New York; the Whitney Museum, New York; the Museum of Modern Art, New York; the Guggenheim Museum, New York; and the Smithsonian American Art Museum, Washington DC, among others.
Village Preservation's proposed South of Union Square Historic District was recently named one of 2022-2023's "Seven to Save" — the biannual list of the most important endangered historic sites in New York State — by the Preservation League of New York State. This designation shines a spotlight on the incredibly valuable and varied architecture of this neighborhood, and its deep connections to civil rights and social justice history as well as transformative artistic, literary, and musical movements.
To learn more about the neighborhood, check out our new and frequently updated South of Union Square Map and Tours. We have received a series of extraordinary letters from individuals across the world expressing support for our campaign to create a historic district for the neighborhood South of Union Square. To help protect these incredible historic structures and other buildings in this neighborhood, click here.