← Back
A trip through our neighborhoods down Cheesy Street
It is perhaps the most versatile of foods, easily customizable to cultural and personal tastes and endlessly variable in style and ingredients. It is somehow both simple enough for home cooks who want to pop whatever they have on hand into a toaster oven, and complex enough for chefs who want to turn its ingredients and their application into a gastronomic delight. Easy to transport, share, and eat on-the-go, it also satisfies those who want to enjoy a leisurely solo meal at a sidewalk cafe as they watch the world go by. It is as perfect with a cold pilsner on a hot summer day as it is in the dead of winter, when you want to wrap yourself in it, like a cheesy blanket, and eat your way out.
I am referring, of course, to pizza —the pre-eminent fast food of the western world and arguably our national dish. It is estimated that 13% of the U.S. population eats pizza on any given day. And given the prevalence of pizzerias in the city, that figure is probably even higher among New Yorkers, Villagers most certainly included. A full survey of pizzerias in our neighborhood would require a team of hungry researchers and an ongoing blog series. Today, however, we're making do with a single hungry researcher; so we will limit our focus to a just few notable pizza styles that are well-represented in the area. Before getting there, however, let us look at how pizza came to us.
You can find precursors to the pizza almost wherever you look. The Levantine manakish, the Catalonian coca, and the focaccia (especially the focaccia di Recco) all bear a strong resemblance. But people have been putting stuff on flat bread since antiquity, and variations on the concept can be found throughout the world. The term itself derives from the ancient Greek word that also gave us "pita." But the earliest example of something that looks specifically like what you eat at a Superbowl party arose in Naples in the not so distant past, the late 18th century. At the time, Naples was a major trading hub, one of the largest cities in Europe, and on its way to becoming the densest city in the world. Immigration from the countryside fueled its explosive growth in population and increased the ranks of its urban poor. Pizza arose to meet the needs of the many who had little time or money to spend on food. Sold by street vendors in slices, pizza consisted of flatbread topped with cheap but flavorful ingredients, like garlic, anchovies, basil, horse milk's cheese (caciocavallo), and tomato, which had been introduced to Italy not long before and which, like pizza itself, inspired little regard among those who could afford more expensive foods. By the mid-19th century, certain preparations had been formalized, like the marinara, thus named because it was popular among fishermen after a day at sea, and the combination of tomatoes, mozzarella, and basil, a seasonal variation often attributed to early pizzaiolo Raffaele Esposito.1 (These two particular styles are often regarded by purists as the only two authentic types of pizzas; and, indeed, certain long standing Neapolitan pizzerias sell no other kind).2
Pizza's reputation enjoyed a positive reappraisal only toward the late 19th century, after the Risorgimento. It is said that, on the occasion of a visit by King Uberto I and Queen Margherita of Savoy to Naples, Esposito prepared for the royal guests three types of pizza, including his tomato, basil, and mozzarella specialty, which he chose because its colors evoked those of the new Italian flag. The Queen was delighted by the meal and especially by the three-color pizza, which was subsequently renamed in her honor, pizza margherita. The royal endorsement elevated the reputation of pizza both in Naples and across the rest of the new nation, where it still remained a rarity. The dish's wide diffusion would still take several more decades and follow a circuitous route.
Neapolitan emigrants brought their cuisine with them when they flocked in large numbers to northeastern cities in the United States during the first decades of the 20th century. They opened pizzerias, some of which, like Lombardi's in Little Italy, Papa's Tomato Pies in Trenton, and Frank Pepe Pizzeria Napoletana in New Haven, remain in operation today. Although pizza at first remained primarily a food of Italian immigrants and their children, the dish eventually traveled westwards and to the suburbs along with Italian-American migration. The acceleration of this trend during the decades that followed WWII spurred pizza's popularity across the country and, subsequently, abroad (including Italy), where American cultural influence ran at an all-time high. The emergence of pizza chains, pizza delivery services, and frozen pizza all served as further accelerants. Closer to home, however, the expanding pizza landscape remained primarily the domain of independent, neighborhood pizza shops. At last count, there were over 1,500 pizza establishments in the city, and well over a hundred in our neighborhoods. Today, we will focus on four that we consider delicious representatives of their respective styles.
Joe's Pizza (7 Carmine Street)
This Greenwich Village icon is one of the foremost purveyors of the classic New York City slice. Launched by Naples native Joe Pozzuoli, who still owns and runs the establishment, Joe's has been a fixture on this block of Carmine Street, first on the corner and now doors down, since 1975. Old-school to the point of still being cash-only (alas!), this joint offers an authentic local experience.
The plain slice is true to style, large, thin-and-crispy crusted, meant to be folded, and topped with full layers of tomato sauce, dry, grated mozzarella, and additional optional ingredients, in that order — a New York City institution. Condiments like dried oregano, dried chili pepper flakes, garlic power, and grated parmesan cheese are available at the counter.
Those wanting a more structured but still basic style can go with the fresh mozzarella, which, having a more sparing cheese application, is lighter, less oily, and better capable of retaining its horizontal integrity.
Ribalta (48 E 12th Street)
Another pizza traditionalist, this one of the old-world, Neapolitan variety, is found south of Union Square. Not a slice joint but a restaurant, Ribalta offers a full menu of Italian specialties. But let's not kid ourselves.
You're there for the pizza, which you'll find in several of its classic permutations (including the marinara and the margherita) as well as in more idiosyncratic versions, some conventional in their approach, like the delicious negrano (a white pizza with smoked mozzarella, fried zucchini, and mint), others affirmatively outré, like the americano (a red pizza with fior di latte, hot dog, and fries).
Whatever the variety, however, Ribalta's Neapolitan chef hews closely to the style of his hometown, going so far as to import Italian natural yeast, certified Le 5 Stagioni Flours, and Campanian buffalo-milk mozzarella. The result is a fork-and-knife pie with an airy, chewy, and fragrant, soft crust topped with a fine layer of high-quality ingredients. It is light enough that, after you're done with yours, you'll want to eat your neighbors'.
Unregular Pizza (135 4th Avenue)
Our neighborhoods have always welcomed dreamers and out-of-the-box thinkers. Among them, we now have an unconventional restaurateur, Gabriele Lamonaca, who, seeing the plans to open his first restaurant thwarted by the COVID shut-down, dreamed up an alternative that originated with the barter exchange of his personal, unconventional and instagramable pizza creations.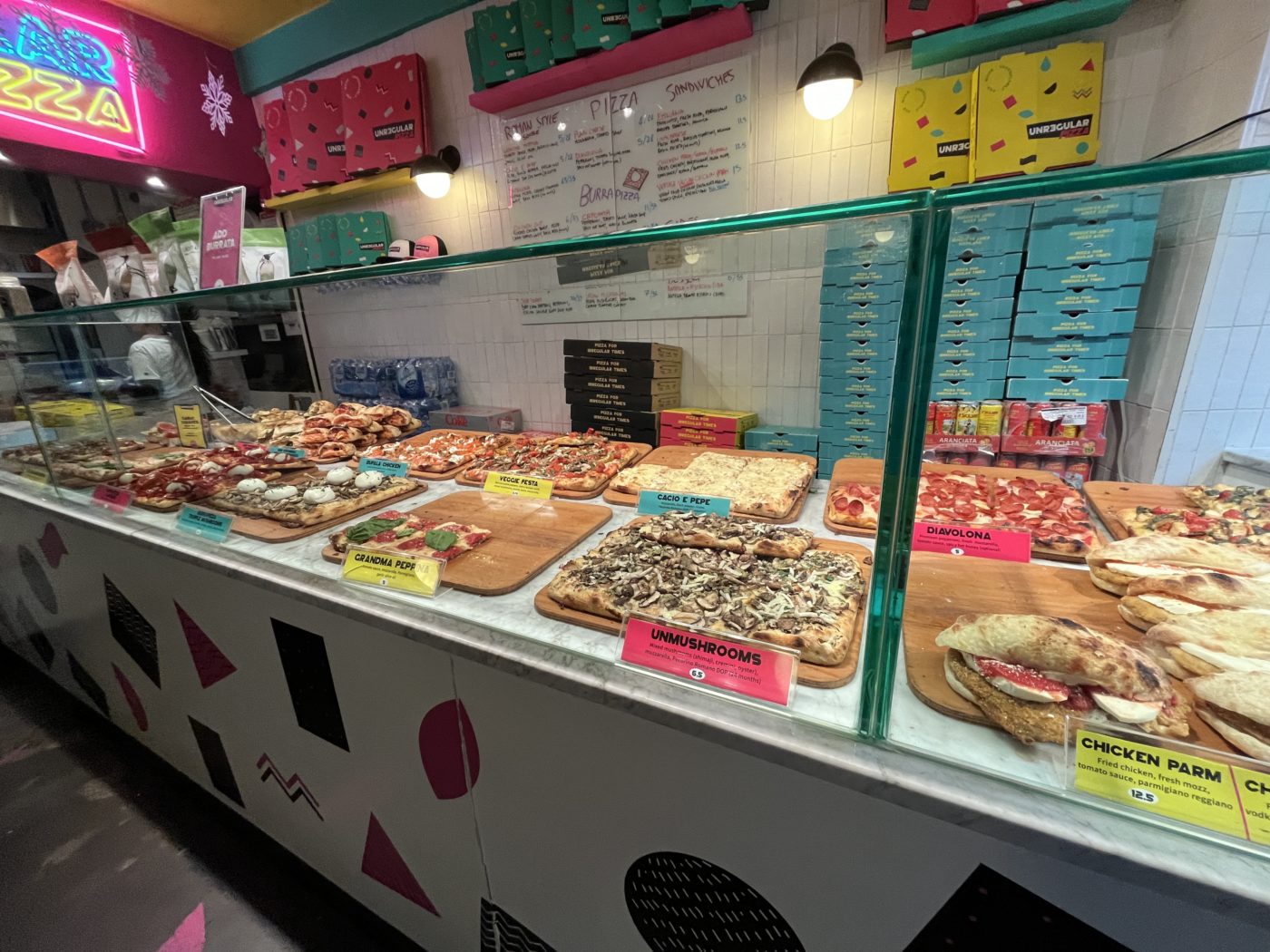 The pizza is roman-style, with a thickish, focaccia-like crust and sold in squares. Standouts include the unmushrooms (oyster, cremini, and shimeji mushrooms, mozzarella, and aged pecorino romano) and the bufalona (cherry tomato confit, bufala mozzarella, basil pesto, and tomato sauce).
The version that became an Instagram sensation is the burrapizza, a Roman slice with a whole burrata on top. When Gabriele started fielding requests for a taste, he offered to barter a slice in exchange for other home-made foods. Now that he has managed to finally open a place, the barter tradition continues on a weekly basis, as does the option to add a burrata to any slice. Not that the slices need it. They are decadent enough already. Then again, need has nothing to do with it.
Moustache (90 Bedford Street; but soon at 29 7th Avenue South)
The inspiration behind the pizza or "pitza" at this beloved Greenwich Village eatery probably predates the emergence of its Neapolitan counterpart. When aspiring Syrian restaurateur Salam La-Rawi moved to the city for a second time, he wanted to open a place modeled after Lebanese bakeries known as Furns — establishments that bake bread with toppings brought by customers — except providing the ingredients himself. After some trial and error, the result was Moustache (our June 2022 Business of the Month), which, in addition to a full array of Middle Eastern specialties, offers a selection of Middle Eastern-style pizzas. Some of them resemble traditional Italian pizzas. Others, however, fall more in line with Middle Eastern gastronomic traditions, because of their spicing and ingredients.
Highlights include the zatter pitza — a favorite of supermodel and frequent patron Bella Hadid, the lahambajin pitza, with spiced lamb, onion, tomato and parsley, and the delicious, ghormeh sabzi-inspired green pitza, with leeks, scallions and herbs.
You can chase them down with a baklava, which is imported from Gaziantep, Turkey, its reputed birthplace.
This brief overview introduces four delicious directions in which to take your pizza journey. Any of them will open the door to the numerous other great pizza possibilities that our neighborhoods have to offer.
Want to explore the history of other gastronomic staples and their many exemplary purveyors in our neighborhoods? Click here for beer, here for croissants, here for bagels, here for lasagna, and here for ice cream. And to find out more about how to support local small businesses, see our Businesses of the Month, explore new local small businesses, and learn about how small business and local history intersect, click here.
Notes:
1. Today, the marinara consists of tomatoes, oregano, garlic, EVOO, and basil. Back then, it typically included anchovies, capers, oregano, black olives, salt, and oil.
2. By the 1980s, Neapolitan pizza had undergone an even greater level of formalization, with the emergence of an official body, the True Neapolitan PIzza association, that has promulgated the rules for the preparation of authentic pizza. It must, for instance, be hand-kneaded, baked in a wood-fired, domed oven, and be less than 35 centimeters in diameter and .33 centimeters thick at the center (sorry, Chicago-style).