← Back
You Are Here: Lawrence Henderson Guides Village Preservation through Historic NYC Black Heritage Sites
Author and NYC tour guide Lawrence Henderson is sharing his research and walking tours with Village Preservation in February 2023 as we celebrate Black History Month. First, Village Preservation participants were treated to a free tour of the first hour of Lawrence's "You Are Here: African American Walking Tour of NYC." Lawrence offers a unique three-part, 3 hour, downtown walking tour to New Yorkers and visitors alike. The tour is based on Lawrence's book, You Are Here – A Geographical History of Enslaved and Free Africans in Manhattan: 1613 – 1865. He will be updating a new edition of this book, which we hope to celebrate when it relaunches with a future book talk.
Lawrence's also offers Soul of Harlem and In the Footsteps of Malcolm X walking tours. Many Village Preservation tour participants asked for the second part of Lawrence's tour, which we're fortunate to be able to offer on Wednesday, February 22nd:
History on our Path
Lawrence frames the experience of his walking tour with insights into the path we take and the sites chosen to be included. Lower Manhattan is so rich in history, there is only so much that can be discussed in 90 minutes (or even three hours.) Lawrence directly addresses the history many of us were taught in school versus what historians and researchers know to be a fuller picture of history.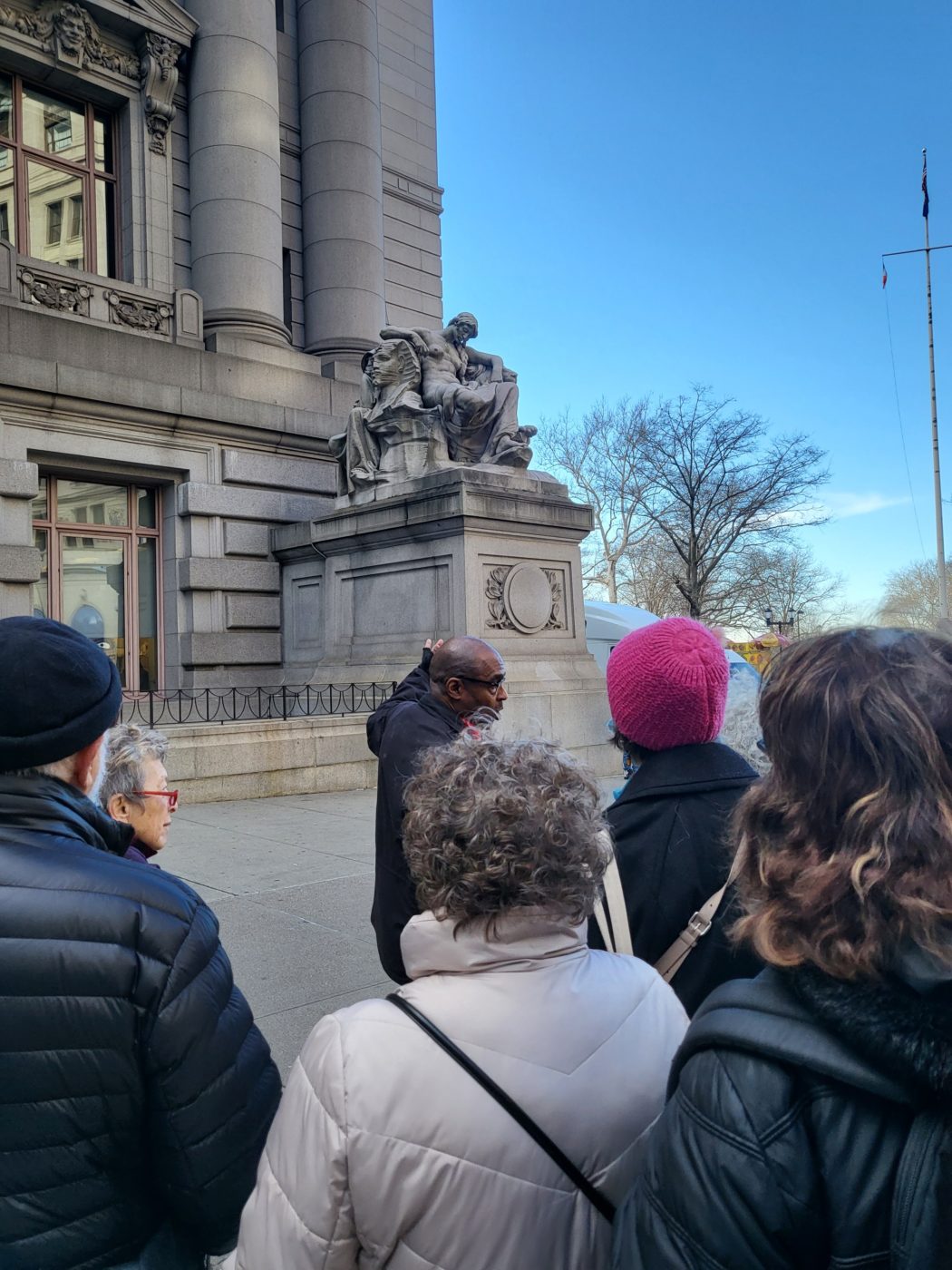 We begin the tour outside of the Smithsonian Museum of the American Indian. From the beginning of our tour, we see how history is shaped by artists' and architects' interpretations. For example, Lawrence asks us to look at the inconsistencies in the relief sculpture that is part of a monument that was a gift from the Dutch Government, located in Battery Park. Take a look below — does anything look inconsistent to you?
Just one inconsistency that is noticeable are the two different weather conditions reflected in the dress of the two subjects. One person is either going to be very warm, or the other is likely to be very cold. At a glance, this is not a very realistic interpretation of the meeting of two people in lower manhattan.
But the portrayal of the Lenape person is also not inaccurate, according to David Penney, the associate director of museum scholarship at the Smithsonian's National Museum of the American Indian, and curator of a 2020 exhibit on "native New Yorkers." The Native American's dress in the relief sculpture is typical of a Plains Native American rather than the Lenape. The inaccuracy is reflective of the long-standing inaccuracies, that can and have led to systemic oppression, in our portrayals of and understanding of Native Americans and their histories and experience. Lawrence's tour gives us the context and information needed to assess historical representation with a critical eye and leads to discussion from participants, about how our perception of history can evolve. This is a great framing as we expand our understanding of Black and African American history in New York City. We learn of historic sites we pass every day, many with no public marking or acknowledgement, and how to understand these sites in the context of other historic events.
More Opportunities to Learn about Greenwich Village and Black History
Along with these programs with Lawrence Henderson, Village Preservation is excited to announce the launch of our first Black History in Greenwich Village public programming series. Mark your calendar to spend your final Mondays from February to May with us (though it's the 3rd Monday in May due to Memorial day.) Based on our very popular Children's Education program, this webinar series is being adapted to an adult audience to share the rich Black History that is a key component to our American History here in New York City and beyond. Register for this free webinar series and continue to evolve your understanding of history as we endeavor to have a more accurate and inclusive view of how our city and culture has been built over centuries.
Register here for the Black History in Greenwich Village Series.