← Back
Welcome to the Neighborhood: India & Purry by Jessica Hollander, 147 Sullivan Street
Today we welcome a new small business to our neighborhoods — help us welcome the next. Tell us which new independent store in Greenwich Village, the East Village, or NoHo you're excited about by emailing us at info@villagepreservation.org.
As advocates for local small business, we find great satisfaction in hearing of new independent establishments opening in our neighborhoods. These arrivals give us hope that reports of the death of mom-and-pops have been greatly exaggerated. Whenever such occasions present themselves, we like to share our enthusiasm with the world in the hopes that others will join us in wishing our new neighbors a warm welcome, and more tangibly, patronize and spread the word to help ensure their success and survival.
There is joy to be found in the colors of springtime flowers blooming amidst the grayness of our urban lives. This joy is magnified by the surprise of coming upon such floral displays unexpectedly, in the dead of winter and hidden in the shadows of scaffolding that has long outlived its purpose. And that's the surprise in store for those who wander down Sullivan Street between Houston and Prince Streets and into one of our neighborhood's most recent additions, India & Purry, a home decor, stationery, and accessory store that will not only brighten your life during your visit, but help you enliven your home all year round.
The brainchild of Jessica Hollander, India & Purry is the brick and mortar manifestation of a decade's worth of experiments in translating art into consumer products. The experiment stemmed from Jessica's artwork. A large-scale figurative painter, Jessica started depicting trees and blossoms when she had no one to sit for her. In 2013, she started applying her paintings as surface pattern designs to throw pillows, notecards, art prints, and ceramic coasters and trivets, and selling them at pop up stores, especially at holiday markets, where her products were greeted enthusiastically.
Jessica's early success jump-started her business, which, in keeping with her love of animals and reverence for nature, she named after her newly adopted cats. For several years, the enterprise was built around the pop up model. During that time, Jessica's increasingly floral artwork evolved, shaped now not just by her inspiration, but also by her sense of applied potential. Then one day, something came over Jessica that she can't quite explain, except to say, "I was just ready to have a store. I'm so passionate about what I do and so driven to constantly make things, that I need to sell them all the time, or I won't be able to keep making them! So I needed a permanent space." And that's what she found at her current location, which was love at first sight — the first and last place she looked at, in a neighborhood where she felt that people would appreciate her work.
Having a physical store has provided Jessica with the freedom to expand her range of merchandise and increase production. To her ever-popular throw pillows and coasters, she has now added a collection of serving trays, tote bags, and umbrellas, all of which have been a big hit, as well as, most recently, scarves and summer dresses.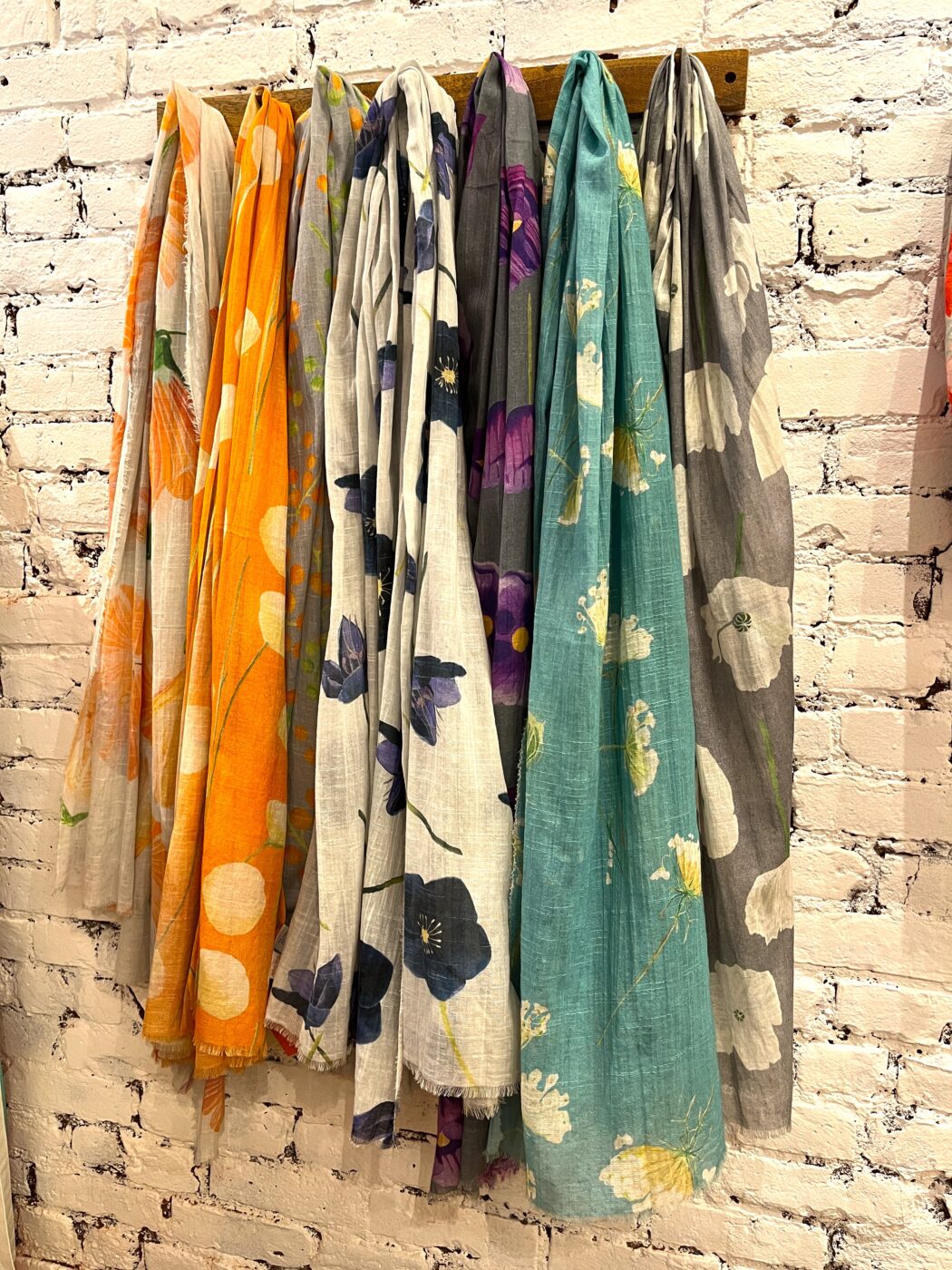 Jessica also has in development mugs that she believes will greatly improve on the already beautiful prototypes she currently has at the store.
Beyond allowing Jessica to branch out into different product lines, her new store has provided an invaluable opportunity for her to interact with customers and gauge how they respond to her work. This has almost been a mixed blessing, because she now has to balance demands of her artwork and business operations with her desire to be at the store every day, drawing inspiration from customers' positive reactions and explaining what she's trying to communicate with her designs:
Why should anything not be beautiful? The most mundane object should be uplifting. Why should an umbrella just be black? Everything should be making us happy.
Don't wait to get in on this happiness business. Swing by India & Purry today and welcome Jessica to the neighborhood.
If you would like us to welcome another independent business to the neighborhood, please let us know at info@villagepreservation.org.