← Back
Celebrating Irish Heritage On the Town!
St. Patrick's Day is finally upon us! While we deeply appreciate the cultural, political, social, religious, and economic heritage that the Irish have brought to our neighborhoods, let's not forget the infusion of important gathering places and civic centers that the Irish brought to our shores: The Irish Pub.
New York City's drinking culture has been shaped by Irish pubs since Irish immigrants began arriving here, first in the 1820s and again during the Great Famine in the 1840s. Between 1820 and 1930, over 4.5 million Irish arrived in America, making up nearly a quarter of New York's population. Soon after, Irish-run saloons abounded, acting as gathering places and civic centers, places to find jobs, post mail, hold public meetings, and gather news of relatives back "on the old sod," all while drinking ale. Let's explore just a few in our neighborhoods.
McSorely's Old Ale House
15 East 7th Street
Opened in 1854 or some time in the 1860s, depending on who you ask, McSorely's is as close as you can still get to a kind of Tammany Hall-era watering hole. With its sawdust-scattered floors, obsolete beer taps and coal-burning oven, the bar's uncanny stasis telegraphs the rough-hewn texture of another century, its rooms haunted with memories and traditions of a people seeking solace in drink and community. For this reason, it's become a sort of spiritual touchstone for an Irish pub outside of Ireland.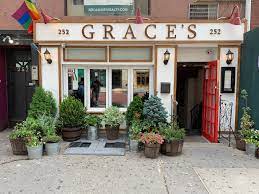 Grace's
252 West 14th Street
Grace's Irish Pub is modeled after traditional Irish pubs built on warmth, hospitality and community. Grace's serves a vast array of drink, local beer, well-crafted cocktails, premium whiskey and plenty of stout. Owned by Irish immigrants Danny McDonald and Mike Jewell (see below for Swift's), all of the delicious dishes they serve are based on old family recipes. Join them for brunch or a pint. Or both!

Hudson Hound
575 Hudson St, New York, NY 10014
A true gem in Greenwich Village, Hudson Hound has a seleciton of awesme brew options ranging from small local New York State breweries to a classic pour of Guinness, as well as other Irish brews to experience. The atmosphere is modern Irish pub, including a toasty fireplace for when it's damp and cold out. We mentioned that they have a fireplace for the damp days, but they also have a nice outdoor sidewalk set-up for the warmer months. Inside or outside, you're going to love Hudson Hound!

The Four-Faced Liar
165 West 4th Street
The Four Faced Liar, a haven for Irish ex-pats and neighborhood locals, is a traditional pub that is what the Irish refer to as your 'local,' the place where the bartenders know your name and your drink and other patrons recognize you. With its tin ceiling and the inviting glow of the lighting, there is a sense of an earlier era here, while the eclectic music and absence of shamrocks, blarney, and kitsch signify an update of the standard Irish bar. Whether you choose to cozy up to a pint of creamy Guinness at the bar or bury yourself in one of snug nooks with a cocktail, the pub combines a Manhattan sensibility with a rustic warmth reminiscent of the country pubs back in the homeland. The Four Faced Liar offers music, board games, poetry readings, and of course, great drinks!
O'Hanlons Bar
349 E 14th St
O'Hanlon's is a favorite for sports fans. This "red faced bar" offers 16 beers on draught ranging from craft to international and includes a lovely Guinness. It has 12 big screen TVs, so you can have your pick of games to watch, and plenty of things to do including great pool tables and classic darts.
Bull McCabe's
29 St. Marks Place
From the decor of the space to the drinks, Bull McCabe's is another quintessential Irish pub in the city. It has a fun atmosphere with sports playing on the TVs, a pool table, and a jukebox supplying the tunes. Take advantage of the open air beer garden in the back during the warmer months.
Swift Hibernian Lounge
34 East 4th Street
Finally, if a natural descendant of McSorley's exists, it would be Swift Hibernian Lounge. A huge, cavernous space just off of the Bowery, Swift was opened in 1995 by Irish immigrants Danny McDonald and Mike Jewell. "You feel the soul and this history as soon as you walk in," says Mike O'Sullivan, the Kerry-born co-owner of two new Irish pubs, Grace's and Hartley's.
A dark, warm bar that features NO TELEVISION, (read "not a Sports Bar") its Irishness is of an older, more literary tradition. Named for Jonathan Swift, a 17th-century Irish writer, the bar often hosts live Celtic music and readings, and its drink list can compete with any new fangled bars in town.
There is no shortage of both old and new Irish bars in the Village, and St. Patrick's Day is a perfect opportunity to break out and explore one or more! But if you're not going out on the town today, any day is a good day to check them out.

Click here for an Irish History tour South of Union Square.