← Back
Oklahoma! Meets Greenwich Village
On March 31, 1943, the classic musical Oklahoma! opened on Broadway at the St. James Theatre. It ran for five years, setting a record with its 2,212 performances before closing on May 29, 1948. Oklahoma! was a groundbreaking show in several ways, and one of its stars lived right here in Greenwich Village in the two years preceding the show's opening, in a historic building that was recently demolished despite vociferous opposition.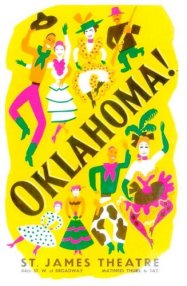 Although Oklahoma! is now considered one of the most significant musicals in Broadway history, it was viewed as a risky production at the time. It was the first show undertaken by the already legendary composer Richard Rodgers without his longtime partner, Lorenz Hart, who was unable to work due to his drinking and other personal problems. Rodgers would undertake Oklahoma! with a new partner, lyricist Oscar Hammerstein II.
The new couple of Rodgers and Hammerstein, who were yet to prove themselves as a duo and become the household name we know today, took some huge risks with the show — the degree of which only later became clear. It was the first show to use music, song, and dance as the key part of storytelling rather than as spectacle. And at a time when Broadway musicals opened with a big musical number, Oklahoma! would open with a lone cowboy singing gently about corn and meadows.
One of the show's stars was Celeste Holm. Born on April 29, 1917 in Manhattan, she grew up moving around the country and the world with her parents, but came back to New York in 1938 to launch her career as a performer. After several smaller roles, she was cast in Oklahoma! in her break-out role as the ever-willing Aldo Annie, and her memorable performance of  "Cain't Say No" is one of the highlights of the show.
Holm undertook this role while living in a ground-floor apartment at 14-16 Fifth Avenue, a former pair of 1848 townhouses that were combined into a single apartment building in 1936, not long before Holm moved in in 1942. Village Preservation led the efforts to reject a plan to demolish these 170-year-old houses in the Greenwich Village Historic District and replace them with a dramatically out-of-scale high-rise tower. Unfortunately, after a three-year fight, the Landmarks Preservation Commission (LPC) approved the demolition of the historic landmarked structures by a rare split 6-5 vote, with the chair casting the deciding vote in favor of demolition. Adding insult to injury, in early 2023 work on the new tower approved by the LPC to replace 14-16 Fifth Avenue did grave damage to 10 Fifth Avenue two doors south, an early 19th-century rowhouse built by the Brevoort family which is a near twin of the original 14 and 16 Fifth Avenue (to help stop the plague of landmarked buildings being destroyed on the city's watch, demand reform from city officials to their lax system of oversight).
Nos. 14-16 Fifth Avenue had a remarkable history connected to some of the biggest names in the early development of New York and were the homes of great writers, inventors, jurists, philanthropists, railroad tycoons, and civil war generals, among others (read details here and here).  
Oklahoma! gained huge popularity during World War II, when it was performed overseas for the troops. In regard to the musical's namesake song, Frank Sinatra commented: "Rodgers and Hammerstein gave one state in the union probably the best state song ever written."
Broadway historians generally concur that Oklahoma! paved the way and set the standard for the modern musical. In addition to its unique use of song and dance as storytelling, it was the also first Broadway musical to record an original cast album and not just the show's score.
Click here to read more about Celeste Holm and here to read more about 14-16 Fifth Avenue.