← Back
Welcome to the Neighborhood: Kinka, 63 East 7th Street
Today we welcome a new small business to our neighborhoods — help us welcome the next. Tell us which new independent store in Greenwich Village, the East Village, or NoHo you're excited about by emailing us at info@villagepreservation.org.
As advocates for local small business, we find great satisfaction in hearing of new independent establishments opening in our neighborhoods. These arrivals give us hope that reports of the death of mom-and-pops have been greatly exaggerated. Whenever such occasions present themselves, we like to share our enthusiasm with the world in the hopes that others will join us in wishing our new neighbors a warm welcome, and more tangibly, patronize and spread the word to help ensure their success and survival.
Milled rice, papier-mâché monsters, ceramic sake cups, art puzzles, potted plants, aprons, and chocolate may have only one thing in common. They can all be found at Kinka, a great new store in the East Village organized around an expansive concept that is hard to capture, except to say that it connects plants, arts, and food in unexpected and exciting ways through constantly evolving events, merchandise, and services. It is the type of place that rewards repeated visits. So you might as well pay your first one today and set a baseline for the surprises that will await you when you pay your second.
The store began as a business idea that brought together skills and interest that Tom and EunYoung Sebazco have developed over the course of their professional careers. Tom is a decadelong fine artist, sculptor, and muralist who has also found success in puzzle design with the Eni Puzzle, a rotating puzzle that he devised along with his father- and brother-in-law, and then sold at museum stores.
EunYoung is a landscape architect and horticulturist who trained in Japan and who, for many years, worked as Randall's Island's horticultural manager. Since moving to New York, she found herself missing two things about Japan: its ceramics, and its tea ceremony. In 2019, an opportunity arose that allowed her to pursue these interests and, at the same time, collaborate with Tom.
A friend had opened a sushi restaurant on 13th street, Kosaka, and wanted EunYoung to curate art and cultural events for the establishment. EunYoung agreed and, together with Tom, organized her work around ceramic arts, plants, and food. When Kosaka opened Kosaka Maki, a sister restaurant on 19th Street, the couple's efforts spun off a small, 80 square foot pop-up shop that sold artwork and plants of the sort that, while exhibited, customers had expressed interest in buying. The enthusiasm for the couple's work convinced EunYoung and Tom that there might just be an audience for a more fully developed realization of their idiosyncratic business model. So they set out to find a space that would make that possible.
Tom kept his preferred location from EunYoung, so as to let her form her own opinions. But his own choice was never in doubt:
This was the first place we saw, and I didn't want to be too crazy about it. But my entire life, my favorite part of, not just New York, but the planet has been the East Village.
A mohawked kid during the 80s, Tom found a sense of belonging in the neighborhood during his visits that was hard to come by back home in Texas. As luck would have it, EunYoung (after checking out fifteen or so other places) found the artsy and food-oriented character of the neighborhood perfect for what they were doing. Though modest in size, the new space would allow the couple to expand their programming and their inventory.
In keeping with EunYoung's focus, a considerable portion of the store is devoted to potted plants and ceramic art.
The plants are a natural complement to the horticultural and florist services that EunYoung still offers. (Those with a tendency to inexplicably kill every last leafy lifeform that passes through their door would do well to visit on weekends, when EunYoung is there, ready to offer professional advice and perhaps a word of consolation).
The ceramic work comes from local artists selected on a revolving basis by EunYoung. The two products complement each other from a business perspective, the former being high-volume / low-margin and the latter being the converse.
Once you move past the Kinka's main two product categories, the store's eclectic inventory seems to observe no rhyme nor reason… until you learn that most of it has emerged from past events or exhibits. A sake tasting held while still at Kosaka Machi, for instance, left as legacy Japanese rice and sake cups, as well as aprons, tote bags, and tenugui towels from Tomita Brewery, a 10th generation sake brewery, one of the five oldest in Japan.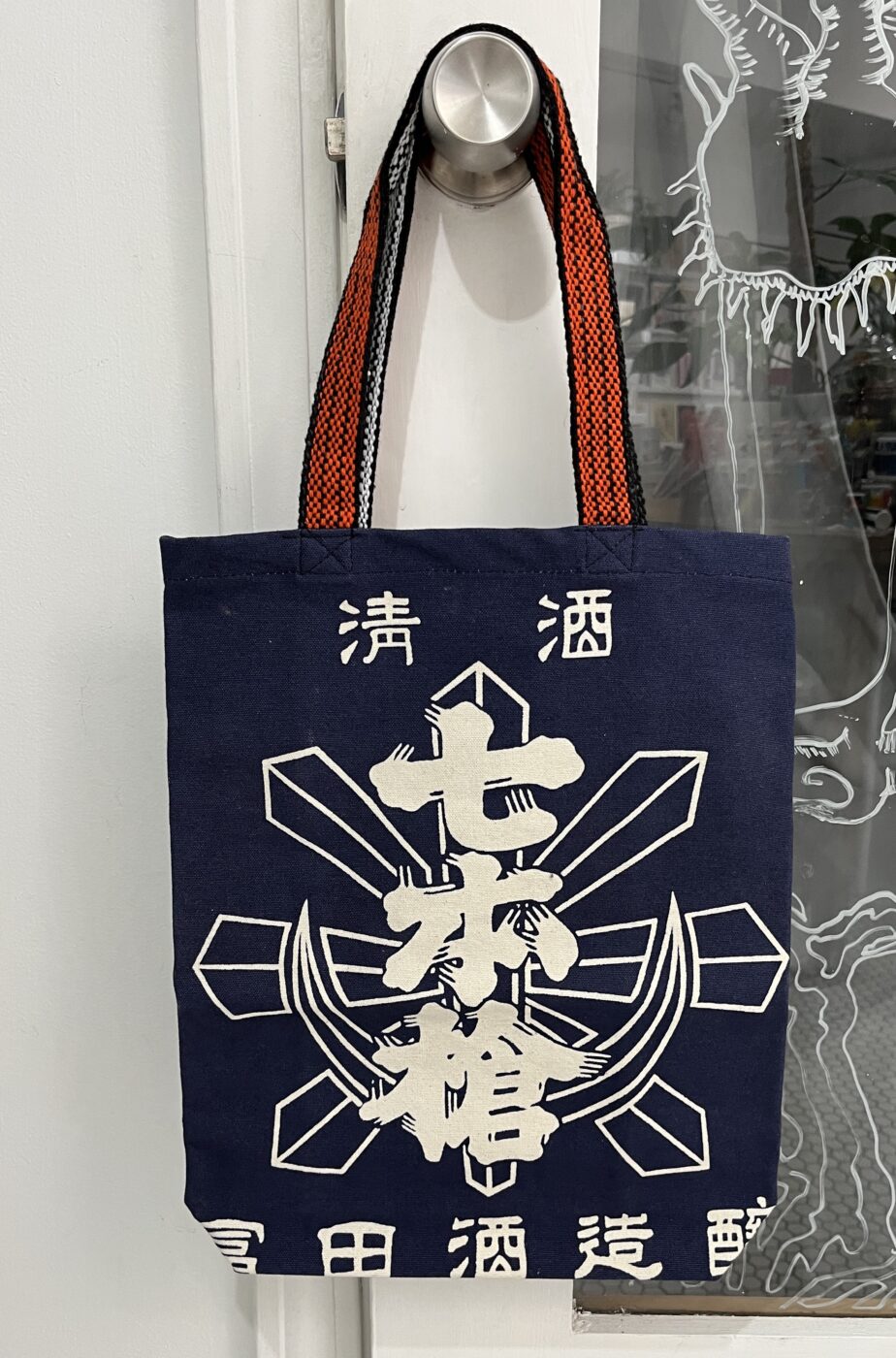 The playful papier-mâché monsters emerged from a papier-mâché workshop.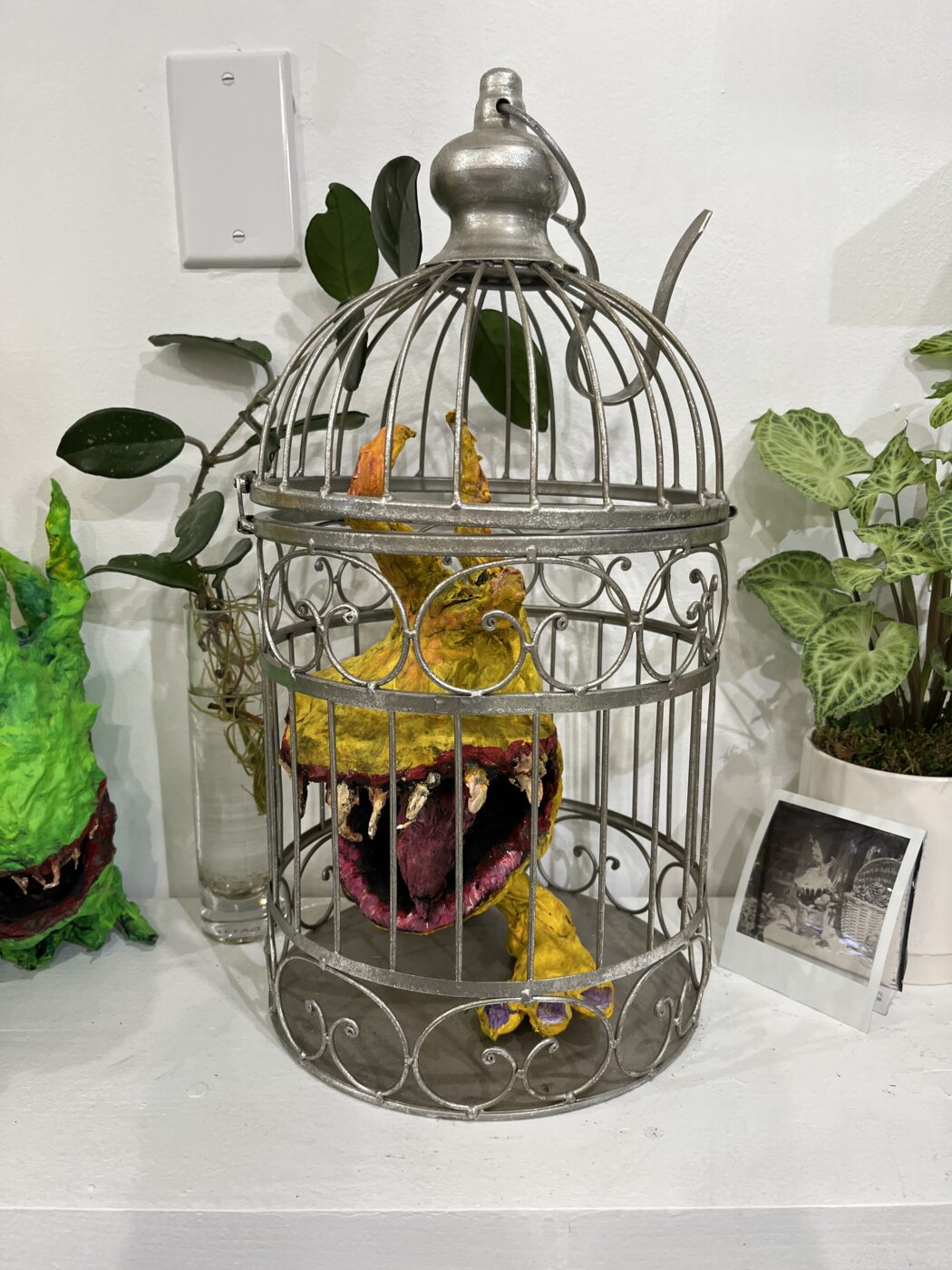 Occasionally, it is the product that leads to the event, as when Kinka became an asian vegetable CSA (i.e., community supported agriculture) pickup site and EunYoung decided to hold a kimchi-making workshop.
Kinka's programming is varied, as befits a business that locates itself at a point of convergence of the arts, food, and plants.
As a result, a tea tasting event might follow an art exhibit, which might follow a Japanese floating garden (i.e., kokedama) workshop, which might follow a free movie night. These events are conceived less as revenue generators than as a way to explore new directions for the store's work and to build a community around them. They hardly needed to bother, as the community seemed to be lying in wait, ready to welcome them. Beyond greeting them upon arrival, visitors have filled with well-wishes large comment boards installed by Tom and EunYoung to get a sense of their neighbors. But don't fret. There is still a little space left on the board for you to add yours. So swing by Kinka today and welcome EunYoung and Tom to the neighborhood!
If you would like us to welcome another independent business to the neighborhood, please let us know at info@villagepreservation.org.