← Back
Edward Hopper's Village
The locations of sites around the Village portrayed in Edward Hopper's works have been hotly debated, especially in light of the MTA's plans to construct an
emergency ventilation plant
on Mulry Square (which many people think may have housed the restaurant portrayed in
Nighthawks at the Diner
). GVSHP will weigh in with our own theories at next Tuesday's panel discussion
Painting the Neighborhood: Edward Hopper and Greenwich Village
, which we are excited to co-sponsor with the Whitney Museum of American Art. In anticipation of the event, I thought I'd reveal a little taste of our findings…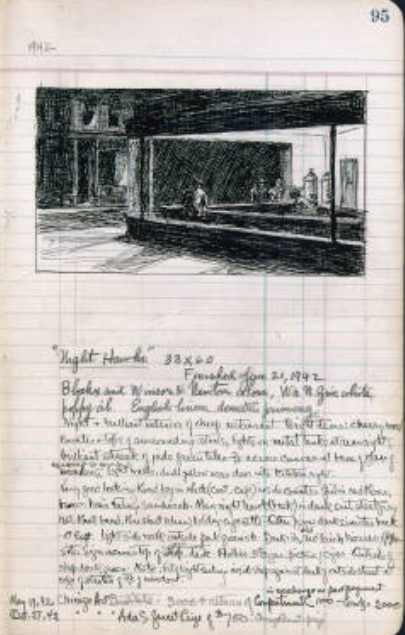 I was enthralled while perusing the Whitney's current exhibit Modern Life: Edward Hopper and His Time, on view through April 10th, which displays Hopper's work alongside that of his contemporaries. The Whitney's collection contains over 2,500 of Hopper's works in addition to ledger notes kept by Hopper and his wife Jo. These notes provide details about each painting and have proven to be an invaluable resource to Hopper scholars.
Unfortunately, the ledger notes fail to give clues as to the whereabouts of the buildings shown in Early Sunday Morning and Nighthawks at the Diner, two of Hopper's most iconic Greenwich Village scenes. Hopper did allude to possible sites in various interviews, alleging that the former was based on buildings on Seventh Avenue South and the latter on "a restaurant on Greenwich Avenue where two streets meet." However, our own research has led us to believe that the artist may have relished being a touch misleading.
It seems more likely that Early Sunday morning was based on 233-237 Bleecker Street, a group of buildings for which GVSHP recently succeeded in securing landmark status as part of phase I of our proposed South Village Historic District. Seventh Avenue South was, after all, cut through older streets in 1917, so few of its buildings are as old as those portrayed in the painting (which are rich in 19th century details). As for Nighthawks, it seems increasingly evident that the subject was based an amalgam of several different restaurants around the Village, and that the diner in the painting existed only in Hopper's mind. Our panel will delve more deeply into our theories behind each of these claims.
Edward and Jo Hopper's charming studio on Washington Square North, which is now owned by NYU and houses much of the original equipment used by the artists, was featured on GVSHP's Annual House Tour in May 2009. To purchase tickets to this year's house tour or to become a volunteer docent, please visit our 2011 Benefit page.