← Back
Village Halloween Parade Origins
Earlier this week, we were thrilled to announce that Westbeth – the country's first subsidized housing complex for artists and the first large-scale adaptive re-use of an industrial building for residential purposes – was designated an individual NYC landmark. Originally built as the Bell Telephone Labs, the complex was a birthplace of numerous modern technological inventions, including chain broadcasting, the vacuum tube, and the transatlantic telephone.
But one lesser-known fact is that Westbeth was also the birthplace of a certain beloved Village tradition. That's right – in 1973, Westbeth was the site of the first-ever Greenwich Village Halloween Parade!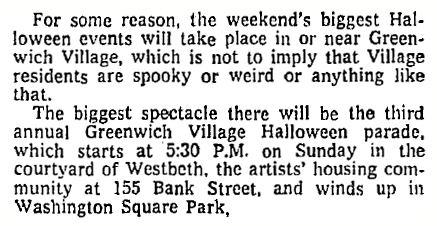 The year of the parade's founding, Westbeth resident Ralph Lee, who also happens to be an Obie-winning puppet and mask maker, staged a wandering neighborhood puppet show in the complex's courtyard. The event was repeated annually, with Lee as its director for several years. Today, the annual Greenwich Village Halloween Parade attracts over 2 million visitors annually!
Shelley Seccombe, photographer and friend of GVSHP, shared with us some scenes from the parade's early years: