← Back
East 9th Street Then and Now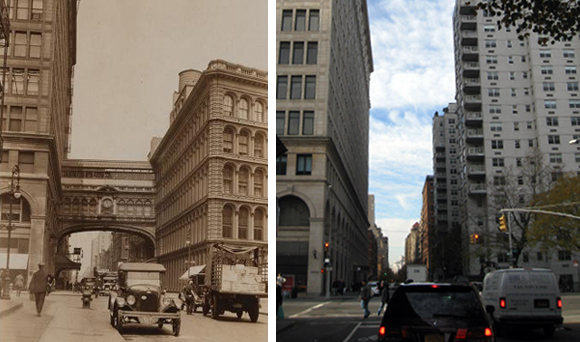 Yesterday we explored some of the history of elevated train lines in the Village. Today we're going to take a quick look at another elevated part of our neighborhood's history.
As the 'then and now' comparison above shows, East 9th Street between Broadway and 4th Avenue (looking west) used to be bridged by an ornate elevated walkway. Called "The Bridge of Progress," the sky bridge connected Wanamaker's Department store to the north with the Wanamaker's annex building to the south. The photo to the left was taken in 1924.
Originally built in 1862 by early department store magnate A.T. Stewart, the north building between East 9th and 10th Streets was purchased in 1896 by Philadelphia-based John Wanamaker as the first New York location of Wanamaker's department store. From 1903 to 1907 an annex building (which still stands today and houses a Kmart store on the lower levels and offices above) was constructed and later connected to the main store building via the sky bridge.
The annex building is included within the boundaries of the landmarked NoHo historic district — you can read the report here.
In addition to Wanamaker's, this area around 14th Street housed many notable department stores throughout the late nineteenth and early twentieth century including Macy's (its building on 14th Street was recently proposed for landmark designation), Lord & Taylor, B. Altman, and S. Klein. It was the southern end of what would be called the "Ladies' Mile" — an area with a concentration of department stores through the early twentieth century.
In the same way that New York's theater district made a progressive march northward as neighborhoods went out of fashion and the city's growth continued – from the city hall area downtown, up to Union Square, and finally up to Times Square/42nd Street – so too did the city's major retail outlets. By the mid-twentieth century most of the city's retail giants had moved themselves from Union Square/Ladies' Mile area and firmly planted themselves in the 34th Street/Herald Square neighborhood.
By 1955, Wanamaker's sold its northern store property between East 9th and 10th Streets. Before the planned demolition of the building, a fire broke out in 1956 and gutted the structure. In its place was built a huge white-brick-clad residential building called Stewart House in 1960.