← Back
The Awe Inspiring Interior of 62 East 4th Street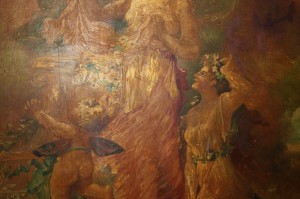 Last week the National Trust for Historic Preservation and American Express announced that Duo Multicultural Arts Center (DMAC) was one of the 40 sites in New York City selected to compete for grants for preservation projects for the Partners in Preservation program. We are so excited that Duo is one of three sites selected in the Village along with St. Marks Church-in- the Bowery and the Jefferson Market Library. Earlier this week we posted about the sites and today we take a look at the interior of the Duo Multicultural Arts Center at 62 East 4th Street and see where those grant funds may be used.
DMAC, a founding member of the Fourth Arts Block and a Village Award Winner, is housed in a former German social hall built in 1889.  Many recognize the building for its unique exterior spiral staircase.  Executive/Artisitc Director Michelangelo Alasa' first visited the building in the 1960's when it was Andy Warhol's Fortune Theater. Today he considers himself a steward for the building which over the years hosted John Phillip Sousa and early meetings of the International Ladies Garment Workers Union.  It's been quite a month for Michelangelo and DMAC, as last week they received a Lucy G. Moses Award for their restoration of the buildings facade from the New York Landmarks Conservancy (before and after pictured at left).
They are now seeking funding to restore the interior of the building which retains much of its original features including murals from the late 19th century and decorative ceilings. As striking as the exterior, the second floor ballroom that is now used as performance space has elaborate plaster ceilings and a series of murals depicting classic romantic themes.
Michelangelo was kind enough to give us a tour and we wanted to share the pictures of the interiors that will be restored.
 Please remember to cast your vote for your favorite place in New York City to receive preservation grants from Partners in Preservation.  You can vote once a day and voting is open until May 21.  If you want to see the fabulous interiors of the Duo Multicultural Arts Center, you're in for a treat.  This weekend the building will be open for tours as part of the Municipal Arts Society's Jane's Walk program.  You can find information about scheduling and other events at DMAC here.
Speaking of Jane Jacobs and walking tours don't forget this Sunday is GVSHP's Annual House Tour of seven unique homes and sites.  If you haven't already please make your reservations now as space is limited.  You can purchase tickets and get more information here.