While we're not yet technically at the 'silver' (i.e. 25th) anniversary, but November 18th Mark's the date in 2008 when we were able to get Silver Towers in the South Village landmarked. On that day the city's Landmarks Preservation Commission voted unanimously to designate this I.M. Pei-designed complex, first proposed by GVSHP in 2003, including its landscaping and Picasso sculpture, "Portrait of Sylvette." You can read the full landmark designation report from the City here.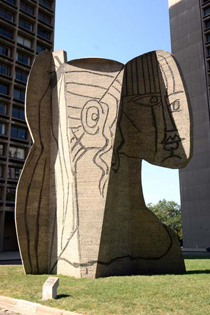 The landmark designation culminated a five-year campaign by GVSHP, and was a groundbreaking victory for the preservation of Modern architecture in New York. Silver Towers was the first post-war urban renewal superblock development in the city to be landmarked. While many other urban renewal projects of the 1950s-1970s rarely receive high marks for sophisticated design, Silver Towers is considered a watershed moment for one of the late 20th century's most respected and influential architects. The landmarking not only honored a great work of architecture, but it also acknowledged the importance of our city's past efforts to create affordable housing and public art.
The landmarking was also instrumental in mitigating some of the effects of NYU's recent expansion plans. NYU owns the land under the complex and two of the three towers (the third is a moderate-income housing complex for neighborhood residents NYU was required to build). In 2010, NYU proposed to shoehorn a 400 foot tower (what would have been the largest building in the Village) within the three-tower complex. After pressure from GVSHP, community groups, and architect I.M. Pei himself, the 40-story tower plan was dropped.
As you likely know, the superblock that houses Silver Towers falls within the bounds of NYU's newest expansion effort — NYU president John Sexton's '2031 Plan.' GVSHP and others are keeping up the fight to overturn the approvals this expansion plan received.