It's Awards Season! The Obie Awards for Off-Broadway theater will be presented on Monday, May 20th, and the Tony Awards for Broadway theater on June 9th. So it's an exciting (or excruciating) time in the theater world.
Theater is so important to the economy of New York City. Going to a Broadway show is a popular activity with tourists who come here to visit. But one of the reasons I love living in New York is the wide variety of theater that's available. The smaller, less publicized theaters that make Greenwich Village their home may be off the radar screen for some visitors, but that means I have a better chance of getting a ticket!
Some of my favorite Greenwich Village theaters, in no particular order, are:
The Cherry Lane Theatre
Love, love, love the Cherry Lane Theatre. It's just oozing history, and that little corner of Commerce Street is just about the most picturesque spot you'll ever find. Recently Jesse Eisenberg and Vanessa Redgrave appeared in his play, The Revisionist.
The Lucille Lortel Theatre
If a building could talk, oh the stories this place could tell. If you haven't already been there, check out the Playwrights' Sidewalk in front of the theater.
Rattlestick Playwrights Theater http://www.rattlestick.org/
Providing a supportive, nurturing environment for emerging playwrights is nothing short of essential in order for theater to flourish. Friends of mine saw Michael Urie in Buyer and Cellar here recently and loved it. It will be moving to the Barrow Street Theatre next month so I hope to catch it sometime soon.
Barrow Street Theatre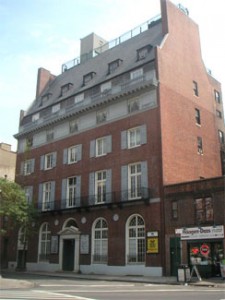 Located in the historic Greenwich House, Barrow Street Theatre presents one top-notch production after another. A few years ago, I saw a performance of Thornton Wilder's Our Town directed by David Cromer that blew me away. You know the kind of performance that stays with you for days? This was one of those.
Our good friends at Fourth Arts Block deserve a mention as well. Two of their members that are favorites of mine are LaMaMa and New York Theatre Workshop
Jonathan Larson's Rent began at New York Theatre Workshop in 1996, before moving to Broadway, where it still runs. And LaMaMa began in 1961 by the late great Ellen Stewart in a basement – how can you not love a scrappy beginning like that?
This is by no means a comprehensive list of Greenwich Village theaters. I encourage all of you to get out there and discover these, and find your own as well! And of course while you're wandering around, stop and get a bite to eat. But that, my friends, is a completely different blog post.
If you want to find out more about GVSHP's efforts around theaters, click HERE