← Back
The Real Obstacles to Affordable Housing Construction
For stalwarts of the affordable housing scene in New York City, what obstacles come to mind that block the path to construction of new affordable units? We asked a few experienced hands, and they said the cost of land, construction and operations, as well as less access to capital at the outset of a project.
There's one thing that doesn't cross their minds: Landmarking.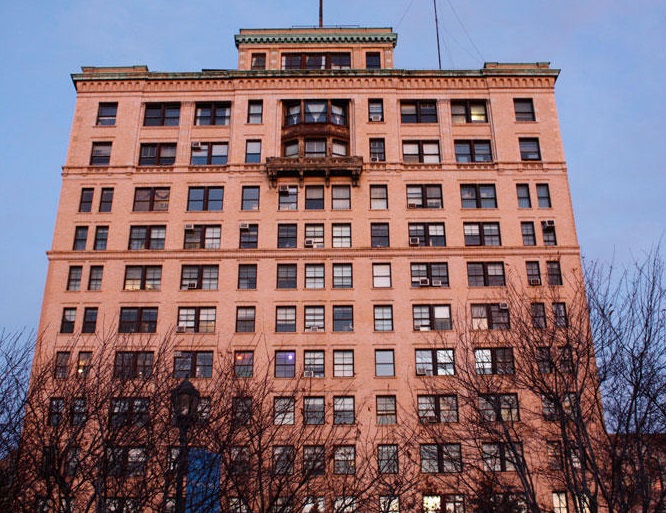 That's ironic, given that the Real Estate Board of New York (REBNY) is busy promoting the baseless idea that landmarking "sharply curtails new housing production, particularly the creation of affordable units." Apart from becoming such an ardent supporter of affordable housing – who knew? – REBNY is a powerful player in business and politics, an energetic protector of the interests of its member builders, owners, brokers, banks and many more who have a stake in the city's lucrative real estate market.
REBNY isn't a big fan of landmarking, because those pesky protected historic buildings can get in the way of clearing areas for new development to rise. And REBNY has hardly been a major advocate for affordable housing, with its constraints on profitability. The group's members are generally more interested in projects promising higher returns.
Yet REBNY has recently been attacking the thing it doesn't like very much, landmarking, with the moral cudgel of something it doesn't support very much, affordable housing. (As in this specious "report," which could be assigned to any college logic class as a fine document to rip apart. If correlation were causality, pigs would fly.)
But for the people working hard every day to create or preserve affordable housing in New York City, landmarking isn't even on the radar as an impediment. Here's what is:
According to Denise Scott, managing director of the Local Initiatives Support Corporation in NYC, which finances the development and preservation of affordable housing:
"The suggestion that the slow rate and growth of affordable housing is due in some way to the prevalence of landmarking is specious and sidesteps some hard realities in the New York City housing landscape. In the past few years we at LISC NYC have financed thousands of units of affordable housing and not once has landmarking been an impediment. The issues that we and other affordable housing advocates face include the scarcity of available property; the cost of said property; rising construction costs, which begs the need for higher subsidies; and the fact that when land is identified, many plans call for market-rate development over low- and moderate-income development. The reality is there exists a scarcity of subsidies and the levels of subsidy today (relative to development costs), have remained flat, and may have even receded, compared to those of decades ago."
According to Amie Gross, president of Amie Gross Architects and architect for many affordable housing developments in NYC:
"One of the reasons there's not more affordable housing in New York City is that its developers don't have access to the same economies of scale that market-rate developers have. In larger developments, you can amortize the large costs such as construction, legal fees, design fees, financing fees. Also, market-rate developments have the seed money to invest in the beginning of a project to give it momentum. If you think about it, major for-profit developments today are large – buildings with hundreds of units. And they often use zoning variances to allow for buildings that are larger than as-of-right zoning would allow. Those developers are able to spend the time and money to get what is needed to build larger buildings. They can get it done. If the teams that come together to finance and build affordable housing could reap the benefits of scale, with more capital available at the outset, they could get it done, too."
According to Brenda Rosen, executive director of Common Ground, which develops affordable housing in NYC:
"It is really about the cost of land, and about the operating subsidies. That's the issue with creating our kind of affordable housing, which is supportive housing."
According to Michael McKee, longtime treasurer of TenantsPAC, which calls itself "the only organization in New York State devoted to advancing the tenant cause through election activity":
"The biggest impediment to creating affordable housing is the value of land in New York City. Land values add significantly to the cost of development. As for preserving existing affordable housing, I believe that the tendency of government policy makers and the chattering classes to treat affordability as a temporary boon instead of a permanent requirement is a serious problem. They tend to think, why should we not allow landlords to buy out of Mitchell-Lama and Section 8 housing after 20 years, even though we gave them significant government subsidies and they invested very little of their own money? Why should we not allow permanent deregulation of rent-regulated apartments upon vacancy? Why should we not allow conversion of rent-regulated buildings to market-rate co-ops and condos, despite the ongoing shortage of affordable rental housing? This mindset, and the deregulation policies that flow from this mindset, are major contributors to the ever-worsening affordable housing crisis."