← Back
2013: The Year In Review
We at GVSHP want to wish everyone a happy holiday season and best wishes for the new year. We'll be posting intermittently for the next week or so until we pick up a normal schedule again at the beginning of 2014.
It's been a momentous year of course. What better way to end the year then to look back on just some of the highlights?
In December, GVSHP secured landmark designation of the new South Village Historic District, Phase II of our proposed South Village Historic District, a 250-building, 13-block district between Washington Square and Houston Street. This was the largest expansion of landmark protections in Greenwich Village since 1969 and the brought to over 1,100 the number of buildings GVSHP helped get landmarked in the Village, East Village, and NoHo over the last ten years.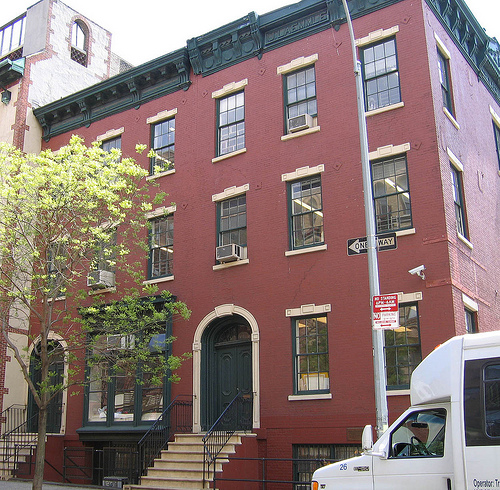 Also in December, New York State also approved GVSHP's nomination of the entire South Village for listing on the State and National Registers of Historic Places.
In November, GVSHP convened a Town Hall co-sponsored by twenty other West Side groups and attended by several hundred people about newly enacted state legislation which allows the transfer of air rights from the Hudson River Park for increased development inland; GVSHP made it a priority to mobilize and educate the public about this provision and its potential dangers, as well as to seek solutions for how to support the park without allowing overdevelopment of areas of our neighborhood adjacent to our waterfront.
Also in November, GVSHP members were treated to an exclusive advance showing of the new Coen Brothers film "Inside Llewyn Davis," with a presentation and Q & A from the location director.
In October, GVSHP organized a demonstration in front of the headquarters of the Real Estate Board of NY with affordable housing advocates to refute REBNY's recently published reports claiming that landmarking negatively affected the affordability of neighborhoods in New York.
In October, GVSHP published its report "Ten Years – A Thousand Buildings Landmarked – A Hundred Blocks Rezoned" outlining the progress made during the Bloomberg Administration, as well as preservation priorities for the next several years.
In September, GVSHP exposed that City officials had completely ignored their commitments regarding the Trump SoHo and had never asked the developer to supply legally required independent audits to prove that zoning regulations were not being violated in the occupancy of the building.
In July, GVSHP and the Two Boots Foundation unveiled a historic marker at the location of the legendary former San Remo Cafe at MacDougal and Bleecker Streets. The ceremony was attended by scores of former patrons, including noted musician and composer David Amram, as well as members of the family which owned the San Remo.
In June, hundreds turned out for GVSHP's Annual Meeting and Village Awards, at which some of our favorite local businesses, activists, and institutions were recognized — Avignone Chemists , Block Drug Store, NYU Faculty Against the Sexton Plan, Sir Winston Churchill Square and Jeremiah Shea.
In May, our Annual Benefit House Tour was our largest grossing benefit ever, granting hundreds of tour goers exclusive access to some of the most appealing and intriguing homes in the Village.
In April, GVSHP and Parents and Friends of Lesbians and Gays (PFLAG) unveiled a historic plaque to be placed on the Church of the Village at 13th Street and 7th Avenue, the site of the founding of PFLAG forty years earlier in 1973. The plaque was mounted in June during Gay Pride Month.
In February, after months of investigation, GVSHP revealed that community "givebacks" touted by the City Council in its approval of the upzoning of Chelsea Market, such as requiring that 75% of the ground floor market remain for food related uses, and excluding chain stores, were neither permanent nor guaranteed, as there was absolutely no enforcement mechanism attached requiring adherence to the agreement, although the rezoning granted for Chelsea Market was irreversible.
2014 should be even more spectacular!