← Back
Coming Soon — Greenwich Village Stories
GVSHP works to preserve the architectural and cultural heritage of Greenwich Village, the East Village, and NoHo in many different ways.  Landmark designations and zoning protections, though challenging to secure, can at least ensure the perpetuation of that special physical fabric.  But culture, while inevitably intertwined with that physical fabric, is more ephemeral; harder to quantify, and even more difficult to preserve.
To help document and celebrate that culture, GVSHP is embarking upon an exciting new book project.  On March 25th, in collaboration with Rizzoli International Publications, GVSHP will publish Greenwich Village Stories — a collection of personal reminiscences about the Village and East Village by more than sixty great artists, musicians, writers, directors, designers, restaurateurs, and other neighborhood habitués. Contributors include Lou Reed, Malcolm Gladwell, Hettie Jones, Simon Doonan, and Karen Finley, among many others. Each generously contributed their time and talent to this wonderful project, proceeds from which will support GVSHP's education and advocacy work.
Greenwich Village Stories is a love letter to Greenwich Village with each author's favorite memory of this beloved place.  Every corner of the Village is represented in the book: recollections of jazz clubs and existentialism on Bleecker Street to rock music on St. Mark's Place and folk singers in Washington Square Park.
You'll get to relive with Lenny Kaye the Village music scene in a vignette as beautifully erratic as jazz played at the Village Vanguard, and view the neighborhood post-WWII from Anne Waldman's childhood eyes as she spends time with Pete Seeger and begins her life in poetry. Reflect with Dave Hill on how if he had stayed in his native Cleveland, he would have never lived on a street prominently featured in a Bob Dylan song. Join Brooke Shields as she renovates a home in the West Village and discovers its legacy.
This book is perfect for anyone interested in culture, the arts, history, or New York. It will fascinate those who are already beguiled by the Village, as well as those just discovering this fabled place.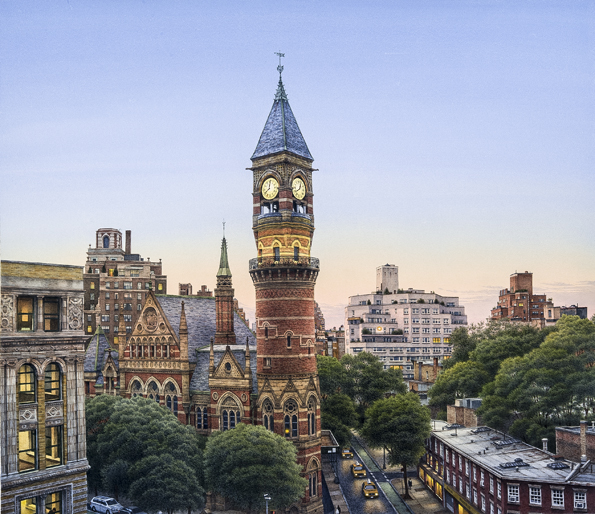 Greenwich Village Stories will be available for sale, and GVSHP will be presenting programming around the book with some of its many brilliant authors.
To keep informed about Greenwich Village Stories, visit our Facebook page dedicated to the book, or check in on our webpage for the latest information.
Also, put these upcoming launch events on your calendar in April:
April 10th at 7:00pm: Launch reading featuring actor and comedian John Leguizamo at Strand Bookstore (located at the Strand's 3rd floor Rare Book Room at 828 Broadway at 12th Street). Click here for more details.
April 16th at 7:00pm: Reading with musician Lenny Kaye and performance artist Penny Arcade at Writers Room (740 Broadway, 12th floor). Event is for GVSHP members only. Click here for more details. Become a GVSHP member.
April 23rd at 7:30pm: "Greenwich Village Stories" at Symphony Space (2537 Broadway at 95th Street) featuring performance artist Penny Arcade, Barneys New York creative ambassador Simon Doonan, writer Dave Hill, organizer of the Village's first Halloween parade Ralph Lee, and fashion designer Isaac Mizrahi reading alongside other well-known Village residents Jane Curtin and Parker Posey as part of the Selected Shorts series. Click here to learn more and to purchase tickets.
Never underestimate the power of the written word, or the resonance of personal stories.  The cultural dynamism and special sense of place found in the Village is vividly captured in GVSHP's new book Greenwich Village Stories.