← Back
End of Summer Reading: Greenwich Village Stories
The recent piece on PBS' MetroFocus series about GVSHP's book, Greenwich Village Stories (watch here) reminds me what a perfect end-of-summer read the book is (the book can be purchased here).  Where else can you find sixty-six reminiscences about the Village and East Village from some of the great musicians, politicians, performers, artists, writers, actors, activists, chefs, and designers of the last half-century?  And where else can you find them illustrated by some of the greatest painters and photographers to ever chronicle these neighborhoods?
Inspired by the book, I thought I'd share just a few of the great quotes and images from it.
"If I lived above 14th Street, I'd be a regional sales manager for an office supply concern.  But…the magical fairy dust of the Village settled on my shoulders and I became a potter."
— Jonathan Adler
"Today, the landmarked sign of the Village Gate across from the very spot on Thompson and Bleecker, where the taxi first dropped me [when I first arrived in Greenwich Village at 16], has my name on it….Penny Arcade: Politics, Sex, & Reality.  Destiny, I suppose." 
— Penny Arcade
"My first and fondest memories emanate from that most excellent corner of Cornelia and Bleecker.  On Sundays, intoxicated by both the bells of Our Lady of Pompeii and the fragrance of Zito's Bakery, I would…head over to Faicco's to buy fixings for our Sunday staff supper.  I'd…sometimes trade recipes with the sweet Village ladies on the way to or from confession…After Faicco's I'd pick up some nice ripe taleggio at Murray's Cheese…next door I'd grab a couple of still hot loaves of Zito's poetic, sesame-coated "Italian bread" and then maybe peek into the Aphrodesia herb store to smile at my favorite cats."
— Mario Batali
"I grew up on east 14th Street and Third Avenue in the 1970s and it was kind of hairy…There were certain skills I had then, such as judging if the junkies on the nod would fall in a slow motion or stagger to the right so I could navigate past them, and learning how to push our front door open when a passed-out drunk was blocking it."
— Rudy Burckhardt
"John [Badum, whose apartment floor I was sleeping on in 1985] was the quintessential Village eccentric…In appearance, John was a cross between Mama Cass and Orson Welles. He was fat and fabulous and regal, and enormously proud of his glossy mane of jet-black nipple-length hair that followed him down the street…He'd founded a club for himself and his camp followers called the Disco Modelling School.  Outings took place on a weekly basis and involved matching satin outfits, lots of booze, vintage platform shoes, and the occassional run-in with law enforcement." 
— Simon Doonan
"In 1953, for my fifteenth birthday, my parents took me to the Leonard Bernstein, Comden and Green musical Wonderful Town.  By the time the opening number — "Here we live, here we love, right in the heart of Greenwich Village" — was over, I knew my heart's destination."
— John Guare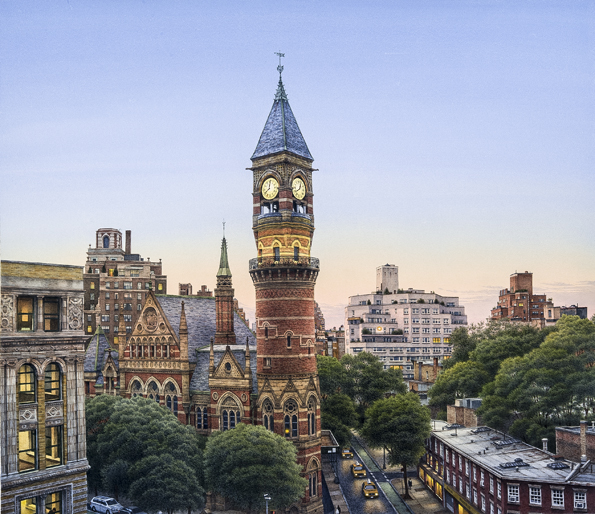 "Along MacDougal, Washington Square, folks singers gathering around the fountain imagine a more rural time, when all this was farmland.  Nearing West 3rd, the Velvet Underground at the Bizarre to the left, the Magicians and Spoonful and UFO and Blues Magoos echoing right, from the Night Owl…Past the Cafe Wha?, where Jimmy James strolls out after playing a set with the Blue Flames, andheads towards the Cafe Au Go Go." 
— Lenny Kaye
Want more?  Click here for more about the book, including how to purchase it.