There are only a few seats left for tomorrow evening's program with photographer Richard Blair and his new book New York 1969.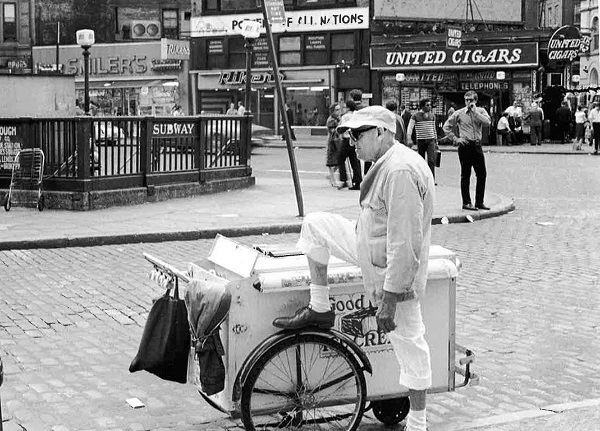 Richard moved from New York to California in 1969 – he was official photographer of Yosemite National Park in the 1970s – but before he left, he photographed street scenes of New York, especially the neighborhood around Sheridan Square. These black & white images are now paired with poems written by his late father, Ed Blair, in this new book.
For a while in the late 1960s Richard lived on Christopher Street near Seventh Avenue South, in the same building as Yoko Ono. He discovered his love of photography, spending most of his time with a camera or in the darkroom. He spent time in nearby Sheridan Square, studying and conversing with the locals, some of whom became his subjects. He was hired by The Villager and some of his front-page photos included such notables as Salvador Dali and Dr. Benjamin Spock.
Richard's father, Ed Blair, was among other things, a poet and actor who lived in the East Village and performed in various neighborhood venues, including Judson Memorial Church. He also founded a poetry reading group that met on the Gansevoort Pier in the Far West Village on the Hudson River. He was also an early pioneer of the international language, Interlingua.
According to the book's liner notes:
"The 60s were a time of great change; baby boomers were coming into their own; independent from their parents. The Vietnam war was raging, hippies were getting very high, and gloomy talk in New York City was of bankruptcy. Richard Blair was roaming the streets taking dramatic photographs of the city, while his father Ed Blair was living with the Beats in the East Village, performing in off-off Broadway plays and reading his remarkable poetry to the avant-garde.
This book is a collaboration of a father and son, whose work in these different art forms has something in common; a love and respect for the common man, (particularly the vulnerable), whimsy and humor, and a subtle underlying sense of the blues.
The photographs were mostly taken in the late sixties and the poems written a few years earlier. It is an unusual pairing, poetry and photography, but the father and son relationship which made this book possible was a deep one. They spent almost three hours talking most nights. Ed had a photographic memory, able to recall practically anything he had read line for line. He was a walking encyclopaedia and a brilliant tutor for Richard. Now over forty years later their work is together in these pages."
Richard will show images from the book and recite some of Ed's poetry, and the book will be available for purchase and signing. If you would like to attend, please rsvp here.