← Back
Celebrating the 50th Anniversary of the Landmarks Law
A lot can happen in 50 years, and many of us are celebrating the 50th anniversary of the New York City Landmarks Law. It was signed into law on April 19, 1965, by Mayor Robert Wagner after much work by early preservationists, motivated in part by the demolition of the original Penn Station.
Since then, more than 33,000 buildings have been landmarked, most of which are located in 114 historic districts and 20 historic district extensions in all five boroughs. (Buildings such as Grand Central Station, and the Merchant's House Museum on East 3rd Street are individually landmarked.) There are also over 117 interior landmarks and 10 scenic landmarks. Some of our local historic districts include the Greenwich Village Historic District, NoHo Historic District, Gansevoort Market Historic District, East Village/Lower East Side Historic District, and the South Village Historic District).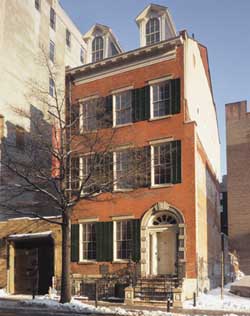 Aren't we lucky that we chose to save our history, rather than demolish it?
Last night, members of the Landmarks50 Alliance, led by Barbaralee Diamonstein-Spielvogel, celebrated the anniversary at the Four Seasons restaurant, located in the landmarked Seagrams Building. Speakers on the roster included former Mayor David Dinkins, First Lady of New York City Chirlane McCray, writer and preservation advocate Fran Liebowitz, and Chair of the Landmarks Preservation Commission Meenakshi Srinivasan.
The celebration was also acknowledged by the Empire State Building, where lights illuminated the building in the official New York City colors of blue, white, and orange. There was also an aerial banner flown over the city yesterday afternoon that read, "Honor our Past, Imagine our Future: Landmarks50 Alliance." And on Monday, members of the Alliance rang the closing bell at the NASDAQ market. Quite a week!
There will be more events throughout the year to honor this milestone, so check this website, as well as our own website's program page for the latest.