← Back
What Was Here Before Bagatelle?
Many people know the restaurant Bagatelle located at 1 Little West 12th Street for their lavish brunch parties, where as one recent brunch reviewer stated "I've never seen so many bottles of Dom Perignon ordered in my life". Bagatelle helped changed the face of NYC brunch in 2008 from a laid back Sunday afternoon meal to a party atmosphere featuring live DJ's and $15,000 bottles of champagne. 1 Little West 12th Street was built in 1909 and is located in NYC's Gansevoort Market Historic District. It is also part of the Gansevoort Market National Register Historic District.
This building plays a role in several important aspects of NYC history including the famous Astor family, the meatpacking industry, and currently, the tech industry, which according to Bloomberg News is now NYC's second largest industry, employing almost 300,000 people.
According to the designation report, "This Arts and Crafts style building, which is largely intact, contributes to the historically mixed architectural character and varied uses – including market-related functions – of the Gansevoort Market Historic District. Constructed in 1913, during one of the major phases of development of the area when storage- and market-related buildings continued to be constructed in the district, it further contributes to the visual cohesion of the district through its brick facade and metal canopy."
This property has a long and storied history. When built in 1913 by William Vincent Astor, a member of the prominent Astor family, the address was 5 Little West 12th Street, a.k.a. 2 Ninth Avenue. From 1913-1922 it served as a warehouse for the provisions firm of C. Percival, which was established in 1868, and according to the book History and Commerce of New York, published 1891, supplied "hotels, restaurants, and steamers on a large scale, as well as the general public, with pressed larding pork, breaded pig's feet, sugar cured ham, bacon, pure lard, and provisions of a like description".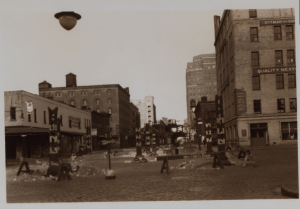 1 Little West 12th was then owned by Ottman & Co. for use as a packaging and processing plant, with storage on one floor, and butchering and packaging on other floors. Ottman & Co. was owend and operated by Jacob "Jack" Ottman, descendant of Phillip of  Philipp Ottmann & Company which was founded in 1859 and later renamed William Ottmann & Company (around 1876) of Fulton Market. William Ottmann & Company was sold around 1916 to rival Beinecke & Company, who were originally in the meatpacking business, and were also owners at the time of the Plaza Hotel. Note one of the n's was dropped from the last name to work around a non-compete clause that was part of the sale of the original company.
Ottman & Co., after a brief stint at 446-448 West 13th Street moved into part of the building in 1919, with C. Percival using the rest, and eventually bought the entire building along with the neighboring buildings 1 and 3 Little West 12th street, which Ottman & Co. had used as administrative offices. The former 1 Little West 12th Street was built in 1887 and was also known as the Middendorf building and housed Middendorf & Rohrs grocery company. The former 3 Little West 12th Street was built in 1918 and also housed the Middendorf & Rohrs company for many decades.
The three buildings were sold in 1987 to Peter J. and Richard P. Kleinknecht, who ran Kleinknecht Electric Co. Inc. from the space. This company was founded in 1916, and is still "solving all of your electrical needs" from West 37th Street.
In 1998 the property was sold to current owner William Gottlieb Real Estate.  In 2011, after remaining vacant for over 10 years, once bricked over windows that shielded refrigerated spaces that were devoted to the production and storage of portion controlled frozen meats, were opened up to house new "boutique" office tenants WeWork, a company that leases office space to startups. Bagatelle moved into the ground floor space from a different Meatpacking District location in 2012.
If you would like GVSHP to look into the past of one of your favorite addresses, please email us here.