← Back
Honorary Street Names: 2nd Avenue
As we here at GVSHP have previously discussed, many streets in Greenwich Village bear an honorary secondary name recognizing important people and institutions associated with the Village and its history. These honorary names are given in additional to the street's standard or existing name, and typically only applies to a specific block. These renamings are implemented by an action of the City Council with the approval of the Mayor and do not require any changes to the city's official street map. There is even a catalog of New York City's honorary secondary street names, listing almost all of them in the five boroughs. In today's post, we are focusing on the names that can be seen walking south down 2nd Avenue to Houston Street: Bill Grahams Way, Miriam Friedlander Way, Ellen Stewart Way, and LaSalle Academy Place.
Bill Graham's Way – Located on 2nd Avenue and 6th Street, Bill Graham's Way is named for rock promoter Bill Graham as this spot was the location of his venue Filmore East, which was open from March 8, 1968 to June 27, 1971 and featured some of the biggest acts in rock music at the time. Graham's Filmore East was colloquially known as "The Church of Rock and Roll," with two-show, triple-bill concerts several nights a week. Among some notables to play there were Jimi Hendrix, John Lennon, Crosby, Stills, & Nash, Led Zeppelin, and the Grateful Dead. Graham himself died in 1991; GVSHP has commemorated both Filmore East and Bill Graham with a commemorative plaque that can be found on 2nd Avenue and 6th Street.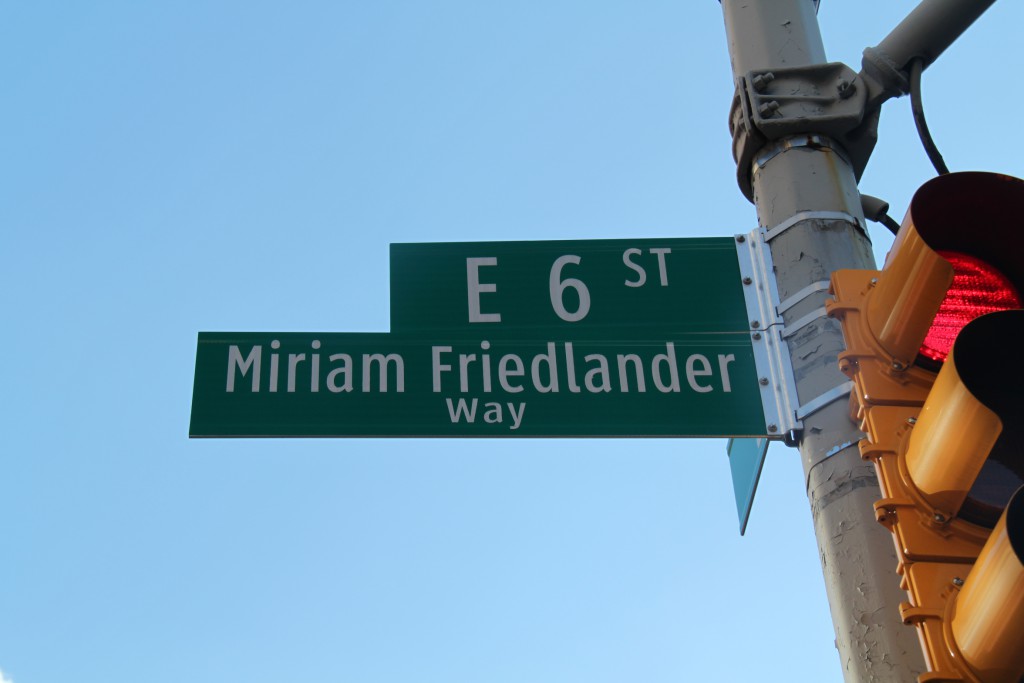 Miriam Friedlander Way– Miriam Friedlander was a New York City council member who represented the Lower East Side and the East Village from 1974-1991. She was an advocate for gay and lesbian rights, women, tenants, and homelessness issues. She passed away in 2009 and 6th Street between 2nd and 1st Avenues bears her name.
Ellen Stewart Way – 4th Street between Bowery and 2nd Avenue bears the honorific Ellen Stewart Way. Ellen Stewart was a cofounder and the original artistic director of La MaMa Experimental Theatre Club. La MaMa still resides on 4th Street and in a previous blog post we discussed the busts that adorn the building, which is a structure associated with Kleine Deutchland, or "Little Germany," the German immigrant community of the late 19th/early 20th century that inhabited the East Village.
LaSalle Academy Place– LaSalle Academy Place, located on 2nd Street between 2nd and 1st Avenues, bears the honorific of one of the oldest Lasallian Catholic education institutions in the city. Founded in 1848 on Canal Street as St. Vincent's School, the academy moved to 2nd Street in 1856 and changed its name to LaSalle Academy in 1887. While the building on 2nd Street still bears the academy's name, the school itself moved to St. George Ukrainian Catholic School on 6th Street in the late 00's. The 2nd Street space has been taken over by the World Class Learning Academy, a U.K. based independent school.