← Back
Business of the Month: Fresco Gelateria, 138 Second Avenue
Your input is needed! Today we feature our latest Business of the Month — and we need your help selecting the next. Tell us which independent store you love in Greenwich Village, the East Village or NoHo: just click here to vote for your favorite. Want to help support small businesses? Share this post with friends.
They grew up in South Africa and Greece, and considered opening a business in Cyprus or Dubai, but eventually the three Iliopoulos siblings found the East Village of Manhattan – and they and their customers consider that a very good thing.
Anna, Ilias, and Vanessa Iliopoulos own and run the popular Fresco Gelateria, on Second Avenue between East 9th Street and St. Mark's Place. They live in separate apartments in one building around the corner on St. Mark's. "It's a great neighborhood, and really fits us," says Ilias, who's come to prize the rich local history and wishes more people knew about it.
In fact, the row house whose ground floor Fresco occupies is an embodiment of local history. A Federal-style row house built in 1832-33 by Thomas E. Davis, a prolific developer, it was nominated for landmark designation by the city's Landmarks Preservation Commission in 2009, a move that GVSHP enthusiastically supported.
Because the LPC never actually voted on its own nomination, 138 Second Avenue is part of the "backlog" of nominees that the LPC is now working to address. First the commission proposed simply erasing this property, and 94 others citywide, from the LPC docket.
After a public outcry, the commission decided to consider each one in an expedited fashion, and No. 138 will be heard on Nov. 5. See hearing details here (public comments will be accepted through Oct. 29) and a fuller history of the building below.
The atmosphere inside Fresco is as contemporary as the façade's Flemish-bond brickwork is antique – yet the siblings feel an intimacy in their space that translates into happy customers and new friendships. "It really does kind of feel like a village," says Ilias. He hears many patrons "wanting to respect and wanting to belong" in the neighborhood's culture. There are plenty of regulars with whom the siblings enjoy exchanging news, gifts and playful banter. Among the student clientele, they've noticed that Cooper Union students in particular will introduce themselves and take an interest in the proprietors.
"People are super happy that you're doing well, and they bump into people they know," Vanessa says of the daily scene.
Food service is a challenging business, but it runs in the Iliopoulos family, so they could hardly avoid it. Fresco's roots are in a gelateria that Ilias founded in Athens some years ago; it was successful enough to become a franchise, but then he wanted to start a new brand. The global search for a location was on — and even once he selected New York, then it became a question of neighborhood. A Ukrainian landlord took an interest, where corporate landlords did not, in a small business without local credit history. "I think he saw in us a little bit of himself," says Ilias. Meanwhile, "it was so refreshing" to find clear-cut American rules for setting up a business, in contrast to the expensive, time-consuming customs in Greece.
Fresco started out serving just gelato and coffee, but shortly added salads, paninis, soups, and breakfast items, as well as sweet baked goods, all hearkening to a Mediterranean theme.
Each sibling has a distinct role: Ilias does the finances and operations; Anna is in charge of employees, and Vanessa oversees the menu, decor and visual branding. They work different shifts, and when they have some time off, they like to patronize neighborhood restaurants like Cafe Mogador and Cafe Orlin, or enjoy coffee at Third Rail or Box Kite.
"It's not competition: you're supporting your community," says Vanessa. "And sometimes you need someone to make you a coffee."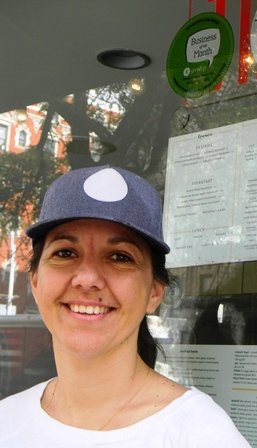 What special small business would you like to see featured next? Just click here to fill out a brief form. Thank you!
Here's a more detailed history of the building, from a forthcoming architectural history of the East Village by Francis Morrone:
One building that's weathered many uses is the four-story-plus-basement house at 138 Second Avenue built in 1832-33, located between St. Mark's Place and East Ninth Street. In 1850, the rowhouse became the home of the prominent merchant Duncan Pearsall Campbell (1781-1861) and Maria Bayard Campbell. The Campbells were very well-placed in New York society — as much so as Daniel Leroy (the son-in-law of Elizabeth Stuyvesant and Nicholas Fish, and brother-in-law of Senator Daniel Webster) of 20 St. Mark's Place. Campbell had been a partner in the legendary New York merchant house of Le Roy, Bayard & Co., and married Catherine, a daughter of William Bayard. When she died he married Maria, a second daughter of William Bayard. From 1810 to 1850 he lived at 51 Broadway, then moved to 138 Second Avenue, where he resided for the last eleven years of his life. He was a director of many companies and charities, and, as a trained physician, was a trustee of the College of Physicians and Surgeons.
In 1874, No. 138 was combined with No. 136 to form the Association for Befriending Children and Young Girls, operated by the Sisters of the Divine Compassion. In 1881, No. 134 was added to the complex. The stated object was "To rescue young girls who need reformation in any degree, or for any cause, and to protect children from evil influences." In the Charity Organization Society's 1888 New York Charities Directory, it was noted of the Association: "Laundry work and fine sewing done in the House at moderate prices. Also families in the country provided with servants." It was later renamed the House of the Holy Family by the Archdiocese and "besides having charge of children and young girls, now has a day school for neglected Italian children and an industrial school, in which between 300 and 400 children are taught to sew and are clothed." In 1916 it became the League for Foreign Born Citizens. The 1918 New York Charities Directory stated its purpose as "To interest immigrants in the ideals of American citizenship; to cause those who are not yet citizens to become citizens and to help bring about active public interest in the Americanization of immigrants." It is startling and sobering to see the speed with which the house went from being the fashionable home of a rich member of New York society to housing a Church-run charitable organization intended to aid the destitute girls in a neighborhood of tenements. The buildings it was combined with, Nos. 134 and 136, were both demolished and rebuilt in the twentieth century.
No. 138 Second Avenue is a grand Federal house that retains its Gibbs door surround, high stoop, pointed molded lintels, and Flemish-bond brickwork. It was altered in the late nineteenth century with an enlargement of the top story and installation of a heavy cornice, and probable removal of dormers, and the addition of a projecting bay to the right of the stoop at the basement and parlor levels. The stoop railing is from the late nineteenth century. There is more than enough substance here to remind us of when this was the home of prominent members of New York society on a fashionable thoroughfare. But the house is also an excellent vintage example of the sensitive conversion of a portion of a row house to commercial use. Its original appearance, including most of the façade, is essentially as intact as that of 4 St. Mark's Place.