← Back
Birthday Blog with Charles Busch!
Charles Busch is the quintessential Villager. A prolific playwright and actor, he has lived in the West Village for most of his adult life. This reporter has been a life-long fan of Charles and so on this, his ??? birthday, I caught up with him amidst his busy schedule to ask him for his thoughts on his favorite neighborhood.
LS: How long have you lived in the Village? And what inspired you to move here?
CB: I was born in NYC. Mount Sinai Hospital. Klingenstein Pavillion. Grew up in Murray Hill. But I've been infatuated with Greenwich Village since a very early age when my much older sister would regale us with her exploits in places with such strange and fascinating names as Minetta Lane, MacDougal Street, the Theatre de Lys, and the Café Figaro. As soon as I was able, I'd cut school and wander around the Village, vowing that some day I would live there. One particular afternoon when I was thirteen, I slipped into the glorious Loew's Sheridan movie palace on Seventh Avenue to see a reissue of "Gone With The Wind." I believe the theater was torn down that same year. I left NY to attend Northwestern University and I remained in Chicago for two years. When I returned to NY in 1978, it took me a while to establish myself, but finally in 1980 I found a small apartment in a very crummy tenement building on gorgeous West 12th Street. I lived there until 1995 until I was able to afford to move around the corner to Bank Street and Bleecker, and there I have remained.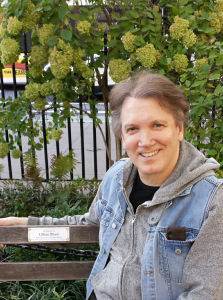 LS: What inspires you most about the neighborhood?
CB: I love living in a neighborhood full of charm and with low buildings that don't make you feel insignificant. I love our little parks. Abingdon Square Park is right outside my window. The Conservancy Group has done such a fantastic job with the garden. Every few months, the flowers change. It's like a dazzling show that keeps changing the bill. Last year I bought a bench in honor of my Aunt who raised me. I've become somewhat obsessed with that park. I can't sit in it without policing the area for trash. For the most part, people are very respectful and appreciative of the great work the Conservancy Group is doing.
LS: What is your least favorite thing about living here?
CB: Like most people, I miss the small eccentric shops which made the neighborhood unique that have been priced out of the area. But other than that, I have no complaints. I love it here. And I ain't goin' anywhere.
LS: How did you feel when the Provincetown Playhouse went the way of the buffalo?
CB: Well, when NYU took over the theater and gutted it to turn it into a University auditorium, I couldn't get outraged. The interior had been compromised so many times in its history that even when we were there for five years with "Vampire Lesbians of Sodom" from 1985-1990, little remained of the original architecture.
LS: Thoughts on the ever shrinking number of theaters, particularly in the Village?
CB: It seems like there's only the Lortel in the West Village. But perhaps I'm mistaken. Commercial Off-Broadway barely exists. The cost of producing a play Off-Broadway isn't that much lower than doing it on Broadway. I'm exaggerating a bit but it's not cheap. I'm very fortunate to have come along at the tale end of that era. My theatrical reputation is based on the plays that we transferred from Off-Off Broadway to Off-Broadway. Nowadays, you never hear of a non-profit theater transferring a play Off-Broadway. They go straight to Broadway.
LS: Thoughts on the ever changing complexion of the neighborhood?
CB: We just have to be vigilant about protecting the integrity of the area and fighting to maintain our zoning laws. I love this neighborhood so much. I have a romantic sensibility and so I see it as something of a Shangri-La. An oasis in the midst of Gotham. The outside world has encroached on it a bit, but it's still full of magic and beauty.
We agree, Charles. And may we just say that you are so like your neighborhood: full of magic and beauty!!! We wish you a very happy birthday, indeed!